I wanted to be a perfect work-at-home mum. It nearly killed me
While working on Saturday's (Sept 21) story on burnout in Singapore employees, I noticed striking similarities between work burnout and parental burnout. I am well-acquainted with the latter.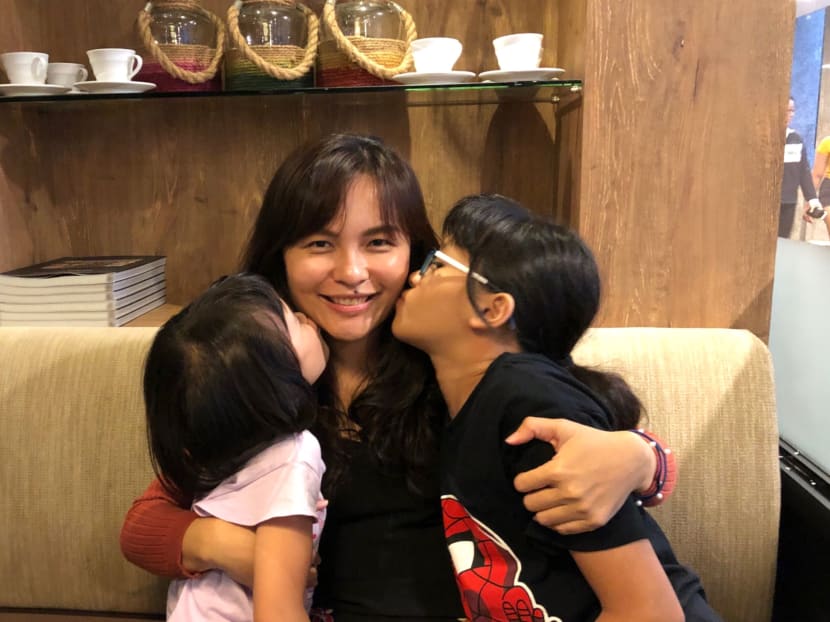 As a work-at-home mother (WAHM), I write for a living, keep the household running and handle the nitty-gritty of parenting two children aged six and 12 years.
While working on Saturday's (Sept 21) story in TODAY on burnout in Singapore employees, I noticed striking similarities between work burnout and parental burnout. I am well-acquainted with the latter.
Just like people suffering from job burnout, mothers and fathers can burn out too. New research on parental burnout confirms this.
A Belgium study, published in the journal Frontiers in Psychology in 2017, found that close to 13 per cent of over 2,000 parents surveyed had "high burnout", which meant that they experienced exhaustion, reduced efficiency and emotional detachment — symptoms that the World Health Organisation has identified as work burnout  at least once a week.
In another study published in Clinical Psychological Science last month, researchers found that parental burnout might have serious consequences for both parent and child, increasing the risk of parental neglect, harm and thoughts of escape.
Have I experienced utter exhaustion — physically and emotionally — and woken up in the mornings with feelings of pessimism and negativity? For sure.  
Another classic sign that suggested that I was severely burnt out? Not being able to complete tasks on time.
The burnout was especially bad last year and early this year. Although I felt like I was working myself to death, I accomplished much less than I used to.
Dirty dishes and laundry piled up. I forgot important dates, missed my children's doctor and school appointments and could not muster the strength to keep them well-groomed or make healthy meals.
Even worse, a severe case of writer's block descended upon me, fogging up every single word in my head until I could barely string coherent sentences together. An article that might have taken a day to complete dragged on to two, sometimes three, days. I am fortunate that the writing jobs are still coming in. 
READ ALSO:
As Mrs Singapore Universe, I want to talk about how I cope with my miscarriage 
Surviving on four to five hours of sleep daily for more than a decade has that effect. So does the pressure of staying on top of the family's obligations, chores, children's school work and extracurricular activities while managing the occasional tantrum or meltdown.
But I was also aware that at the core of my parental burnout was the pressure to be the Supermum who has it all and excels in everything.
This quest for perfection, I learnt from speaking with mental health experts, is what does many Singapore mothers in.
Consultant psychiatrist Dr Adrian Wang, whom I previously interviewed for a story on postnatal depression, sums it up well: "Here (in Singapore), everyone tries to excel. So when they start a family, they would also want to excel as parents and in turn, expect their children to excel too. There's a lot of pressure in keeping up with the Tans and Lims." 
THE TURNING POINT
Even as I struggled with all the classic symptoms of burnout, I continued my punishing WAHM routine.
The first few months of 2019 were particularly harsh. The kids kept falling ill, I barely had any sleep caring for them while fighting tight deadlines and attending to a family matter that required urgent attention.
What eventually forced me to rethink my lifestyle wasn't the physical exhaustion but increasingly-frequent thoughts of suicide — I guess that was my idea of "escape" as described in a Clinical Psychological Science study.
Although I had some postnatal blues shortly after the birth of my babies, the negative thoughts had been fleeting. This time however, thoughts of flinging myself against the oncoming traffic — and imagining how I would be crushed — kept coming up whenever I stood by the side of a road.
At the time, I remember telling my severely sleep-deprived self: "If I'm dead, I won't have to do anymore household chores, write another article, worry about my kids and ageing parents, or wipe another sick kid's snot."
In more lucid moments afterwards, I realised how irrational I had been and unkind I was to myself. Recalling those temporary moments of madness spurred me to get my physical and emotional health back on track.
TACKLING MUMMY BURNOUT
One of the first things I did after the June school holidays this year was to work on my sleep habits, which have been atrocious ever since my first child was born. While working until 2 or 3 am and waking at 6.45am to prepare the children for school used to be the norm, I now go to bed by 12.30am.
Studies suggest that co-sleeping with children on a regular basis can negatively affect a mother's mental health and disrupt sleep. So, I got my children, who love to bunk in the master bedroom, to sleep in their bedroom. There were a lot of tears and whining but it was worth it.
I am still not getting the ideal seven to eight hours of sleep recommended for optimal health in adults, but it is enough for me. Getting an uninterrupted six hours of sleep worked wonders for my mood, patience and focus.
I also changed my working style and how I manage my work-at-home routine. Although I still respond to work-related phone messages on "off" days, I have stopped checking my emails obsessively over the weekends and holidays.
As a WAHM, I consider the home my work place. To get out of my "work" environment, I started scheduling more outdoor time and play dates away from home — trekking at MacRitchie Reservoir, a day out at Fort Canning, a picnic on the beach.
I got my husband to look after the children more frequently while I went out on dates with friends whom I have neglected for years. I watched my first stand-up comedy show recently, without the kids. I had so much fun.
Lastly, I also peeled off my Supermum façade and made a conscious decision to be more compassionate towards myself.
Enough of the self-criticism ("Why can't I get my act together?"). Enough of the mum guilt ("Oh dear, the kids must have fallen sick because I did not feed them their vitamins or make them wash their hands!"). Enough of comparisons ("Wah, why my kid's grades so lousy compared to so-and-so's kid? Am I not helping her reach her potential?")
These days, even when I feel like everything is not going well, I take a step back and focus on all the good things that I have done for my family and for myself.
So what if the dirty laundry is piling up and there is dried snot on my sofa?  I would like to think that I have done my best as a WAHM and that's good enough for me. 
ABOUT THE AUTHOR:
Eveline Gan was previously a lifestyle writer with TODAY, where she now writes the health column as a freelance contributor.