I was traumatised by bullying but I'm no longer a victim
I am a public speaking and executive coach who regularly addresses large audiences of hundreds to thousands of people. Most who see me on stage assume that I am a confident person and would not quite believe that I was a victim of bullying when young.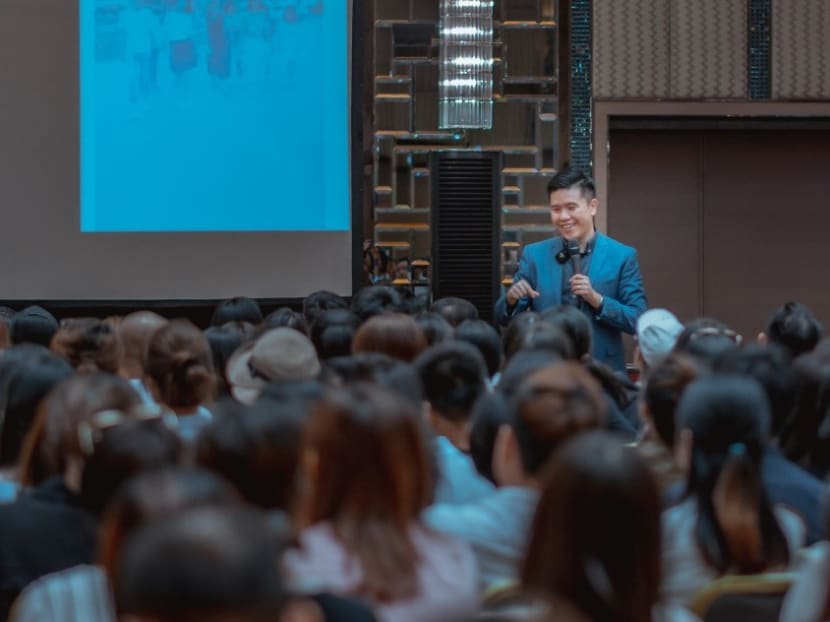 I am a public speaking and executive coach who regularly addresses large audiences of hundreds to thousands of people. Most who see me on stage assume that I am a confident person and would not quite believe that I was a victim of bullying when young.
An overweight kid, I was often the butt of the jokes in school. 
When I was seven years old, I was attacked by a classmate who was smaller than me but known to be the most mischievous kid in school. He jumped on my back, pinned me down and then started to claw at my face and neck with his nails. 
I struggled but he did not let go. It was in between classes and there was no teacher around.
My classmates cheered him on. Those who I thought were my friends just stood by and watched. No one helped me. 
When I finally got him off me, he was still laughing at me. I ran out of the class to cry.
In another incident, while on the bus to school, a middle-aged man whom I did not know came up to me and punched me in the right eye for no reason. I was too shocked to respond. 
Later that day, the discipline master walked into my class and said that a student had reported the incident to him and asked the victim to identity himself.
I stood up and broke down because I felt like a loser who couldn't defend himself. There were many pairs of eyes watching me in that classroom.
There was even one incident where my grandma had to defend me as I just froze after a bully threw a basketball at my face. My grandma saw that I was helpless and she came over and shouted at the bully. 
On those occasions, I felt completely powerless about being bullied. I did not dare not talk to anyone about the hurt I endured as a bully victim as I felt ashamed that I could not defend myself. 
I tried to brush aside the bullying incidents aside. But they deeply affected me, as I was to find out later. 
Many people think that bullying is just a phase you grow out of but from my personal experience, the scars stay with you unless you make a conscious effort to deal with the hurt. 
Five years ago, I decided to explore public speaking as a career despite having studied accountancy.
I had signed up for a life coaching programme which made me realise that I was more interested in communications and ideas rather than numbers and financial statements.
Although I was as an introvert, I did not find public speaking intimidating and it came quite naturally to me. I felt that it was an outlet for me to express myself.
I read books, attended programmes on public speaking and analysed how speakers presented themselves on stage and eventually launched my career in public speaking.
Initially, when I spoke in front of an audience, the many pairs of eyes staring at me brought back haunting memories of me being bullied. 
There was once I broke down in front of a large audience of youths and then had to dash off to the washroom to cry. That was a wake-up call that I needed help. 
I did not realise how much I was suppressing my feelings until my life coaching programme made me revisit incidents that were tied to negative emotions such as guilt, shame, sorrow and anger.
One such incident was when my father had an accident when I was 17 years old. He was an electrical engineer and had fallen off a ladder because of a heart attack. 
I saw him on the hospital bed with tubes inserted into his body. The doctor told us to be prepared as he might not be able to pull through. 
My mother and sisters were sobbing but I could not cry. Thankfully, my father eventually recovered. 
Through revisiting this experience, my coach made me realise that I was numbing myself because of past trauma and thus could not feel emotions. 
After breaking down so many times, I was conditioned to believe that being emotional was a sign of weakness.
The coaching journey lasted five years and helped me to fully confront these issues. Different people have a different recovery process.
I took a slightly longer time than others as I had to recount my stories multiple times to gradually get over the trauma they caused me. 
At the start, it felt extremely raw and painful, but over time, I could gain better control of my emotions.
The author (second from right) with fellow Boy Scouts from Maris Stella High School when he was 14. Photo courtesy of Benjamin Loh
Today, I use stories of my past as a bully victim in my public speeches and presentations. And when my audience draws strength from my experiences and empathise with me, it helps me heal and makes me a stronger person.
When I train clients in speeches and presentations, the topic of workplace bullying does come up, with some of them sharing their own experiences.
Bullying is definitely not something that happens only in schools. It can affect adults too.
As I look back at my past, I would like to share some observations.
First, do not trivalise bullying.
As Asians, we may not always be accustomed to talking about our feelings and pain. But it is important we don't brush them off and normalise bullying. 
Secondly, forgive your bully.
Bullies typically have difficulties controlling their own emotions and take advantage of others to make themselves feel stronger. The best way to fully get over the trauma of bullying is to accept that the situation and let go of any hatred you have for the bully.
I am no longer in contact with my bully but I was able to let go of animosity when I recognised that he probably acted out of his own insecurities.
Thirdly, understand that you are not a bully victim forever.
It's important to acknowledge your past as a bully victim but also recognise that it does not define your future.
Now, whenever I come across incidences of cyber bullying online, I find myself stepping in to stand up for people who are bullied online.
Once, I called out a cyber bully who created multiple social media accounts and was threatening a friend.
Together with this friend, we gathered the evidence and penned a strongly-worded mail to the bully stating that we planned to lodge a police report if he did not stop his threats. He eventually stopped.
I can't erase the fact that I was bullied but it has made me a stronger person. I'm now more sensitive to the effect that my words and actions have on others.
ABOUT THE AUTHOR:
Benjamin Loh, 33, is managing director of Flare Communications Coaching. He recently received the Certified Speaking Professional award from the Professional Speakers Australia.