Improving Singapore's land transport in 2019
We are unlikely to see the unveiling of any new major transportation project in 2019. There will be slow and steady progress in initiatives on infrastructure, technology, operations and legislation, all with the aim of not letting the transportation problems get out of hand in the foreseeable future.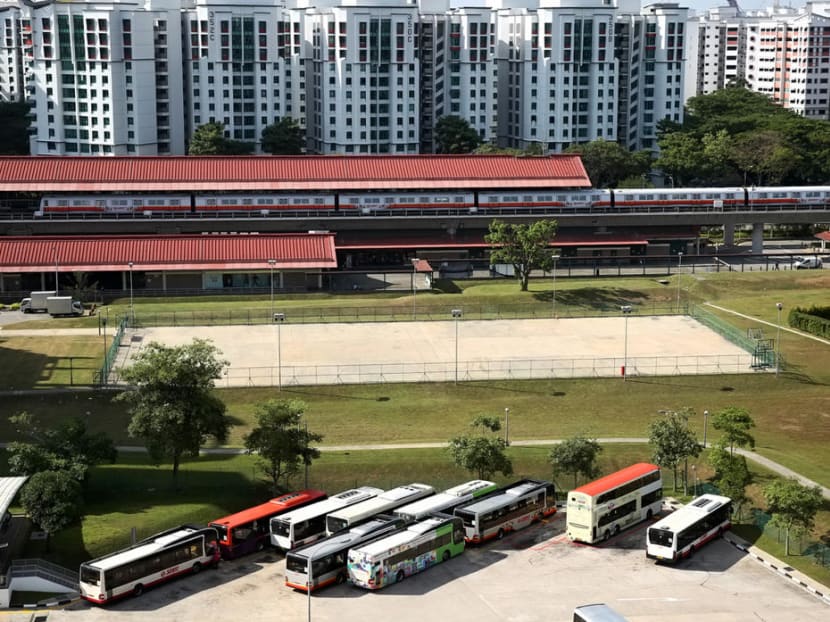 The government recently announced the award of civil construction contracts amounting to S$3.14 billion for the 21.5 km long North South Corridor from Admiralty Road West to the East Coast Parkway.
The main cost will be for the building of 13 km stretch of road tunnels for the expressway. This construction of a new North South expressway may seem paradoxical in view of the often-stated objective of a car-lite Singapore.   
However, the North South Corridor will also feature express bus routes and at-grade cycling trunk routes to better meet the needs of bus passengers, cyclists and pedestrians.
How far have we come in aiming for a car-lite society in 2019 and beyond?
In 2018, the permissible growth rate for cars and motorcycles has been cut from 0.25 per cent to 0 per cent; in other words the private vehicle population has been capped, with a possibility of going into negative in the future.
From February 2019, the maximum number of car park lots to be provided for all future developments in the city and near train stations will be reduced by 20 per cent from the current standards, which stipulate the minimum number of car park lots to be provided.
Five areas in the island have been designated as car-lite precincts, Marina South and Kampong Bugis adjacent to the city, Bayshore in the east, Jurong Lake District in the west and Woodlands North in the north, where the tighter car park standards will be decided on a case-by case-basis.  
The final tool for managing vehicle usage on the roads, the global navigation network distance-based electronic road pricing system, will be introduced in the next few years.
The corollary of all these measures is that there is no need for many new roads because the ownership and usage of private vehicles will shrink.  
Hence the North South Corridor, which was planned a few years ago to complete our expressway network, is probably the last major road building projects for many years to come.
A car-lite future needs acceptable alternatives to private vehicle travel. The emphasis on public transport and non-motorised transport will therefore continue unabated in 2019.
Three of the northern stations of the Thomson–East Coast MRT are scheduled for operation. The rest of the stations will have to wait for one to five years.
Passenger satisfaction with buses has surpassed that of trains recently, something that has never happened before. It is a warning to train operators to get their act together in 2019, notwithstanding recent improvements in rail reliability.
Meanwhile, experiments and trials with buses will continue.
The recently introduced on-demand bus service on trial in Joo Koon and Marina South permits passengers to request pickups and drop-offs at any bus stop within a designated area through a mobile app.
If found successful, the scheme may be extended in 2019 to cut down waiting time for buses, a bugbear for many passengers.  
Driverless bus trials are going on in selected areas to test the feasibility of introducing them on fixed routes and on demand.
On the non-motorised transport front, there has been an uneasy truce between pedestrians and bicycle/personal mobility device users since the rules for sharing of footpaths was introduced.
The usage of bicycles/PMDs is on the rise as a convenient alternative to walking and the best way forward is to have separate tracks for both, which unfortunately is not always possible.
The shared economy gave birth to shared bicycles and shared private hire cars.
The parking of dockless shared bicycles, which got out of hand in 2018, will improve with the designation of proper parking places and the reduction of their numbers after regulations were imposed.
There will be compulsory registration of e-scooters from 2019 onwards. Shared e-scooters which are available in small numbers in places such as the Science Park, one-north and the Central Business District, may take off in a big way if the sales of e-scooters dip because of the hassles of registration.
In the ride-hailing business, more competitors like Gojek will move in to provide competition to the dominant player Grab.
The 2013 Land Transport Master Plan envisaged a people-centred land transport system, with more connections, better service that supported a livable and inclusive community.
2019 will probably be the year when the new Land Transport Masterplan 2040 – which aims to improve the quality of living through a transport plan with the main thrust of making walk, cycle, ride a preferred way of travel – is unveiled.
There is no doubt that this move to nudge the public away from private transport to public and non-motorised transport, complemented by advanced technology, will invite interesting debate.
What are some small ways we can make things better on the transport front in 2019?
For one, our pedestrian overhead bridges have become white elephants for want of usage.
More lifts can be provided for these bridges to encourage greater use.
Another suggestion: announcements in buses whenever they approach a MRT train station to help commuters.
In summary, we are unlikely to see the unveiling of any major transportation project in 2019.
There will be slow and steady progress in initiatives on infrastructure, technology, operations and legislation, all with the aim of not letting the transportation problems get out of hand in the foreseeable future.
ABOUT THE AUTHOR:
A P Gopinath Menon is a member of the Public Transport Council and senior research fellow at Nanyang Technological University's School of Civil and Environmental Engineering. He has more than four decades of experience in transport management and was previously the Chief Transportation Engineer at the Public Works Department and later at the Land Transport Authority.