Indonesia-Singapore retreat: Building trust on three issues
When Indonesia's President Joko "Jokowi" Widodo meets Singapore's Prime Minister Lee Hsien Loong today, it will be their first-ever bilateral retreat. There will be plenty to discuss between the leaders of the two countries. Both are making efforts to cooperate, yet — as with all neighbours — there can be points of difference.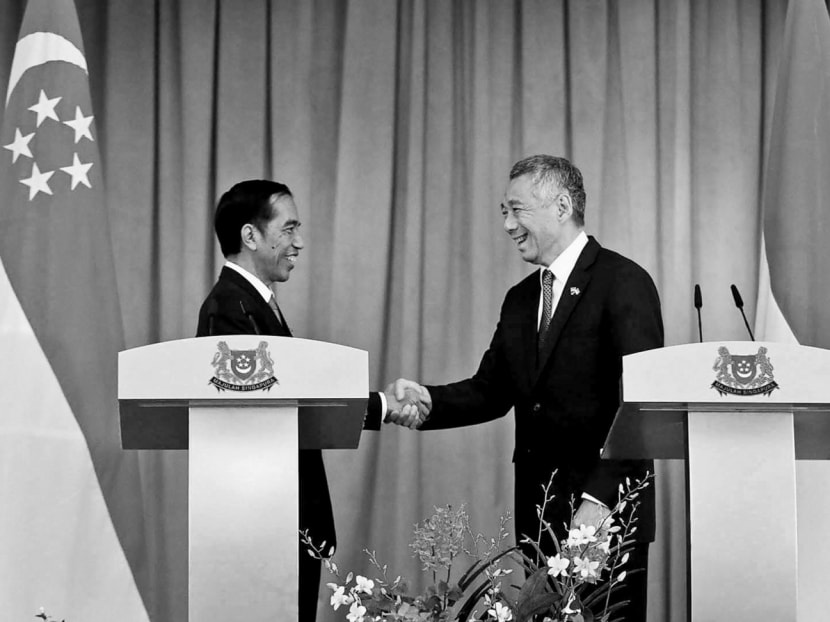 When Indonesia's President Joko "Jokowi" Widodo meets Singapore's Prime Minister Lee Hsien Loong today, it will be their first-ever bilateral retreat. There will be plenty to discuss between the leaders of the two countries. Both are making efforts to cooperate, yet — as with all neighbours — there can be points of difference.
A closed-door retreat, away from the glare of publicity, can help develop trust. Many sensitive issues are up for discussion — including cooperation against terrorism — but three areas bear special emphasis.
ECONOMIC WIN-WIN
The first is Indonesia's economy and the role of foreign investors. Indonesia is growing at some 5 per cent this year, with Singapore being its largest foreign investor. In 2015, FDI from Singapore was US$5.9 billion (S$8.3 billion), and a further US$7.1 billion is estimated to have been committed by Singapore so far this year.
The Widodo government is seeking increased and higher-quality investment to create jobs and achieve economic growth beyond the resource sector. As such, Indonesia recently opened up 49 more sectors to foreign investment. However, red tape and signs of protectionism continue, and Jakarta needs to go further to actively court foreign investors.
Singapore can play a role in this. This will be highlighted when the two leaders officiate at the opening of the new Kendal Industrial Park, led by SembCorp Development from Singapore and Indonesian company PT Kawasan Industri Jababeka. This project is potentially the most significant industrial collaboration between the two countries since the 1990s, when what is now the Batam, Bintan and Karimun Free Trade Zone began.
Moreover, the Kendal project in Semarang will be built in the most populous area of the country, linking foreign investors to existing domestic supply chains. This could have positive knock-on effects for Indonesia's domestic economy and spur development in areas outside Jakarta.
Another notable Singaporean effort comes from UOB Bank, which is using its regional network of investors to promote investment in sectors prioritised by Indonesia's 2015-2019 National Development Plan. To ease business entry, the bank is working closely with BKPM, Indonesia's investment agency. Investors who come through the bank can apply for a Principle Licence in Singapore, without having to go through red tape in Jakarta. Licences can be obtained within 10 working days, much more quickly than in the past.
The Widodo administration is reforming the economy to be more efficient, and developing the infrastructure and policies to encourage industrialisation. Singapore's hub position will allow it to participate in this reform on a win-win basis.
A TAXING ISSUE
Another area for discussion is the tax amnesty programme begun by the Widodo administration. Despite initial doubt, the first phase, which ended in September, achieved considerable success, with 3.6 quadrillion rupiah (S$390 billion) in assets declared — almost 90 per cent of the initial target.
There have been suggestions in Indonesia, however, that there is resistance to the tax amnesty from some quarters in Singapore. The latter has denied such allegations, but speculation may resurface as the programme continues. After all, the amnesty extends to all offshore assets, and about 70 per cent of the 952 trillion rupiah of offshore assets declared so far was kept in Singapore.
State tax revenue is under pressure from weak commodity prices and lower export earnings. This makes the tax amnesty a key initiative to increase revenues and enable more state investment for infrastructure and other essential spending.
For Singapore, the financial sector must meet global standards on transparency, and align with the upcoming global initiative to exchange information, guard against money laundering and prevent terrorist funding.
In their discussions, the two leaders should not only clear up any lingering doubts on this issue; they should also build trust and agree on stronger lines of communication, both among key ministers and between them directly.
CLEARING THE AIR — LITERALLY
A third issue that should be discussed privately between the leaders is transboundary haze pollution. Last year, the region saw one of the worst episodes of haze to date, due to the burning of some 2.6 million hectares of forest and peatland. This year, Indonesia's concerted efforts and favourable weather conditions have led to much-clearer skies. According to Global Forest Watch Fires, fire alerts from June to October 2016 fell 92 per cent compared with the same period last year.
President Jokowi has shown a tough personal stance on the issue. After investigations into 15 companies suspected of causing fires in Riau were terminated in July 2016, the President ordered that these cases be re-opened. Indonesian police have arrested more than double the number of individuals in forest fire cases this year, compared with last year. The government is also responding faster to fires, with early fire detection leading to the declaration of a state of emergency in six Indonesian provinces.
One critical initiative is the newly established Peatland Restoration Agency (BRG). BRG has the ambitious goal of restoring 2.2 million hectares of degraded peatland by 2020, while ensuring sustainable livelihoods for local communities. At a meeting organised in Jakarta two weeks ago by leading Indonesian non-governmental organisations, nationwide efforts to restore peatlands and prevent fires were presented. These efforts must be implemented and sustained into the future.
It is clear that Indonesia is trying to do more, and there are areas where external support can greatly assist. But cooperation on this issue can be sensitive, and much will depend on the tone set by the leaders. For Singapore, this should begin with an increased appreciation of the efforts the Jokowi administration is making, as well as an understanding that Indonesia must take the lead in directing and coordinating international support.
Ties between Indonesia and Singapore have gone through ups and downs, and there is no doubt that future issues may trigger different responses. With the Jokowi government entering its third year, and Singapore planning its own leadership renewal, this is an important time for the leaders to sit down and exchange views. The aim should be to build not only personal rapport, but enduring channels for clear communication.
ABOUT THE AUTHORS:
Simon Tay is chairman of the Singapore Institute of International Affairs (SIIA) and Chen Chen Lee is the SIIA director for policy programs. The SIIA, an independent and globally ranked think tank, recently held a talk in Singapore by Indonesian officials about the tax amnesty as well as a dialogue in Jakarta, in end October, about haze and peatland restoration.