Jokowi must ensure religious tolerance holds at all levels
In his State of the Nation address last Wednesday, President Joko Widodo, also known as Jokowi, called for the safeguarding of Indonesia's Constitution, which upholds religious freedom and diversity.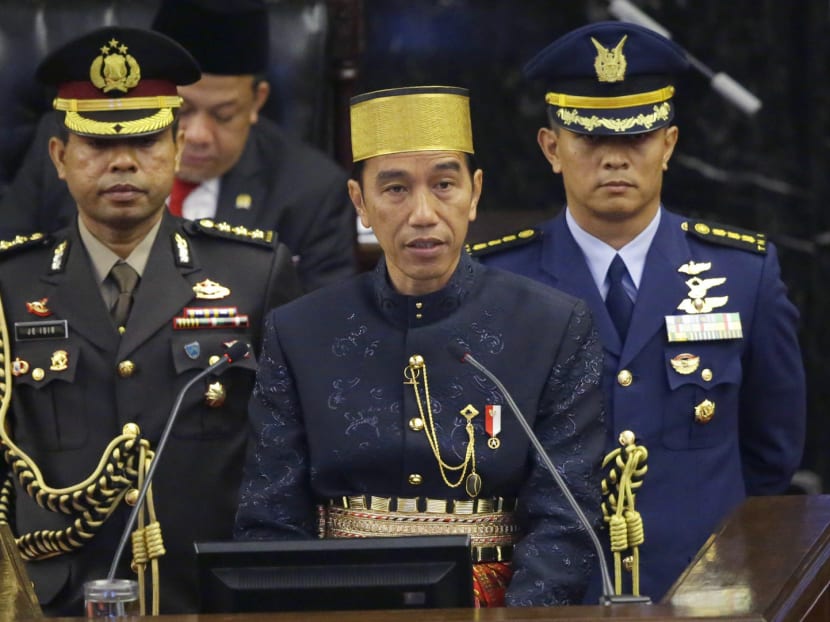 In his State of the Nation address last Wednesday, President Joko Widodo, also known as Jokowi, called for the safeguarding of Indonesia's Constitution, which upholds religious freedom and diversity.
Indeed, the government has been doing just that, as shown by its decree to ban any organisation that is deemed to be against Pancasila, the state ideology that promotes diversity, democracy and nationalism.
The decree has been used to ban the hardline Islamist group Hizbut Tahrir Indonesia (HTI).
Yet, a recent incident in East Java shows that the country still has a long way to go when it comes to ensuring religious tolerance across its vast territory.
After protests on social media, a Confucian temple in Tuban was forced this month to cover a 30-metre-tall statue of the third century Chinese General Guan Yu with white tarp.
Protesters also rallied outside East Java's parliament demanding it to be demolished.
The colossus, built on the temple's land and thought to be the tallest in South-east Asia, was unveiled in July by the chairman of Indonesia's legislative body, the People's Consultative Assembly, with the hope that it would attract tourists.
However, critics said that building a large Buddhist statue in the predominantly Muslim Tuban shows insensitivity to the feelings of Muslims.
Some bemoaned that it did not depict an Indonesian hero, that it symbolised Chinese influence in Indonesia and also lacked proper building permits.
This incident highlights three current aspects of religiosity in Indonesia's regions. First, it echoes other objections against symbols (including places of worship) of minority religions. Second, that intolerance is increasingly concealed in talk about "nationalism" and "legal permits". Third, that the majority–minority divide is aggravated by existing laws that impede religious freedom.
'UNISLAMIC' SYMBOLS
Despite having the largest Muslim population in the world, Indonesia has a secular Constitution that promotes pluralism and tolerance.
In the past decade, however, many protests were launched against symbols of minority religions or those that were deemed unIslamic.
In 2010, a large steel statue depicting three women in traditional sarongs was removed from Bekasi, West Java, after hardline Muslims claimed that it symbolised the Christian Holy Trinity.
Between 2010 and 2016, hardliners in Purwakarta, West Java, demolished the statues of Gatotkaca, Semar, Bima and Arjuna, characters of the Hindu Mahabharata that have also inspired traditional, pre-Muslim, Javanese folklores. Perpetrators claimed the statues were "idols" and should be destroyed.
In August 2016, hardliners forced a temple in Tanjung Balai, North Sumatra, to remove a 6m-tall statue of Buddha from its roof. Protesters were concerned that it would become an icon of the town, which is predominantly Muslim.
In 2016, some ulamas in South Kalimantan wanted to remove the statue of a hornbill bird, a species native to Kalimantan (Borneo) island, from a town's gateway.
The species is considered sacred by the Dayak, Kalimantan's main ethnic-group, who are also mostly Christians.
Conservative Islamic hardliners are already pushing back against the government's move to crack down on them. Their strategy is a shrewd one: Equating being Islamic with being nationalistic.
This way, they believe they can get around allegations of being against Pancasila.
An example of this convergence of "nationalism" and Islamism can be seen in the recent Tuban incident. A protester said that the statue did not belong in Indonesia because Guan Yu did not contribute to Indonesia's struggle for independence. Yet another waved a placard that read, "We are not worshippers of idols".
While the former demonstrates nationalism or patriotism, the latter clearly shows intolerance. The prohibition of worshipping icons or effigies is part of the Islamic (and Christian) faith and should not be applied to other religions.
Last December, in a massive rally against former Jakarta governor Basuki Purnama — a Christian Chinese -—the hardline group Islamic Defender Front (FPI) claimed it was preserving the integrity of Indonesia.
The FPI advocates the concept of "unitary state of Indonesia under Sharia Law" that in reality differs from the existing concept of the unitary state based on "unity in diversity" advocated by Pancasila.
However, the FPI seems to get away with this so far due to its seemingly "nationalist" posture and the fact that it does not challenge Pancasila and the unitary state concept.
In this way FPI is different from HTI, who openly opposed such a concept and was banned because of it. HTI is part of a transnational movement promoting a pan-Islamic caliphate. As such, they reject the concept of a democratic individual nation-state.
Aside from "nationalism", hardline groups also use laws to condone their acts of intolerance.
One of these laws is the 2006 Joint Regulation of Minister of Home Affairs and Minister of Religious Affairs on the construction of places of worship.
Under this regulation, those aspiring to build a place of worship must collect 60 signatures of local-residents. In practice, it is difficult for minorities to get the consent of the majority religion to build places of worships. This law aggravates the rift between majority and minority religions.
This law is often used by hardliners to force the closure of places of worship, especially churches, claiming that they do not comply with the law's stipulations, such as the signature rule, or did not receive permission from the local Ministry of Religious Affairs office.
The congregations of two churches in Bogor and Bekasi have been holding their Sunday masses in the open outside the Jakarta Presidential palace since 2012 in protest against the forced closure of their churches.
Meanwhile, local governments seem unable to control the hardline groups and sometimes even court them as political constituents.
While the central government shows it is committed to upholding religious tolerance, it is crucial that the Widodo administration ensures its policies are adopted in equal measure by local officials.
Ultimately, the recent incident in Tuban and episodes of intolerance in other regions highlight the overarching need to protect religious freedom in Indonesia.
Preserving religious tolerance and limiting hardline movements will ensure stability in the country. The government therefore needs to re-evaluate laws that impede religious freedom, to consolidate the values of Pancasila.
ABOUT THE AUTHOR:
Deasy Simandjuntak is a Visiting Fellow at ISEAS Yusof Ishak Institute.