Making digital technology more accessible in fight against diabetes
Singapore has declared war on diabetes but there is not enough discussion on the exclusionary effects of technology in diabetes management. This is important because digital technology will play an indispensable role in managing diabetes.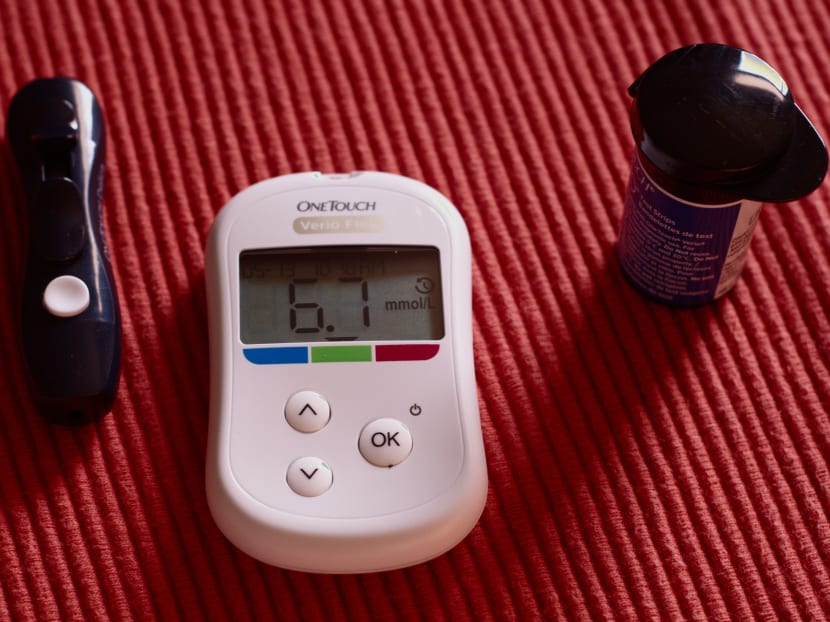 Singapore has declared war on diabetes but there is not enough discussion on the exclusionary effects of technology in diabetes management.
This is important because digital technology will play an indispensable role in managing diabetes.
Consider one example of technology's power in diabetes prevention. Imperial College London is pilot-testing a technology called DnaNudge.
It is supposed to empower us with data. It nudges us to make smart food choices. On a device roughly the size of a compact mirror, we place our saliva on the device's microchip.
This device sequences our DNA, which gives a profile of our body's attributes. We can upload this data into our smartphone, which processes information about the food we buy at supermarkets.
Over time, such technology will develop quickly and become more powerful. Augmented Reality (AR) is likely to replace the smartphone's role in performing daily functions in our lives, in a highly personalised manner.
Technology will be a decisive frontier of the solutions in fighting our war on diabetes.
And while digital technology has a role in the medical management of diseases, its potential in curbing diabetes is of particular significance because of the disease's expected prevalence in the coming years.
By 2050, we can expect one in two Singaporeans who are aged 70 to suffer from Type 2 diabetes. That's one million people of our population.
The chances are more of us will suffer from diabetes. Or we must care for more loved ones who suffer from diabetes.
If technology is indispensable to diabetes management, but the benefits are inaccessible to people, it is exclusionary.
In Singapore, we have taken small steps in digital management. One example is the transformative effect of glucose sensors on patients who suffer from Type I diabetes.
A patient can attach a wearable device to scan his glucose levels without finger pricks.  Another instance of a digital solution: patients can be motivated through technology-assisted motivational interviewing to change their behaviour.
Broad questions remain. How do we ensure that people have the widest access to these technologies at certain prices? In particular, are the lower-income families potentially excluded? Can they interpret the data?
As individuals, our access to technology is related to our social economic status. Because technology develops rapidly, the question of access is constantly in flux. Those with means are well placed to adapt and ensure they have access, as technology changes.
But we must know about the groups who lack the means and knowledge to take advantage of technology. These groups are less likely to know that they are deprived of access.
Technology requires knowledge, but it changes too quickly for them to catch up.
So the big policy question is to ask: do we have plans to define digital access, despite the unfolding changes of technology? Can we ensure that the most vulnerable are not excluded from easy access to tech-enabled diabetes management?
There is a case for longitudinal studies in digital management and its consequences for diabetes.
In this respect, the Ministry of Health's Citizens' Jury gave significant recommendations about payment for non-digital medical consumables of diabetes under Medisave. As the technology of diabetes management grows, perhaps it is good to review the payment options under Medisave again.
Almost 20 years ago, Hazel Genn of University College London wrote a report on Paths to Justice which influenced access to civil justice in the United Kingdom. Her report studied ordinary people who faced serious problems, and critically analysed the legal solutions to these problems.
Professor Genn called these "justiciable problems". These are problems that contain medical and social issues. They are "justiciable" because the law is involved. Law is used to address these justiciable problems, in terms of access to civil justice through legal aid or litigation.
I suggest that we can adapt this idea of "justiciable problems" for our war on diabetes.
This is because, over time, more laws would have to be created or changed to govern the use of digital technology. For instance, might we consider new planning laws to preserve the use of public spaces for diabetes outreach?
For instance, such planning laws can allow the land at the upcoming Punggol North's Enterprise District — home to digital and cyber security industries — to be used collaboratively by tenants.
Can we increase telemedicine consultancies in designated areas, such as AMK Hub and Kampong Admiralty? Both areas are conducive social spaces for community involvement in diabetes management.  
Improving access to technology is not just about improving digital literacy through Skillsfuture. It is a comprehensive plan for Singaporeans who suffer from diabetes. Here, lawyers can play a useful role.
They have the legal skills and civic consciousness to identify the justiciable problems of diabetes: for example, use planning laws to create conducive social spaces to raise awareness of diabetes by involving more Singaporeans.
We should build on the outreach campaigns, such as those being organised by the People's Association.
The popular online platform Giving.sg should be used more actively to sustain the outreach. Appropriate tax deductions might be given for donations by Singaporeans to encourage deep participation in these outreach initiatives.  
Type I and II diabetes, and pre-diabetes are complex and serious public health problems. Their medical management will heavily rely on digital technology.
Yet the more powerful technology becomes, the more we must restate our profound human instincts to connect.
Our war on diabetes must be a just war. Food science and evidence-based medicine form the just reasons for fighting this war.
The next task is to boost digital access to the vulnerable who are most affected by the war on diabetes.
ABOUT THE AUTHOR:
Dr Daniel Seah is a law lecturer at the School of Law, Singapore University of Social Sciences.