Malaysia needs tactful handling of 1MDB mess
Malaysia's new finance minister is taking a sledgehammer to 1Malaysia Development Berhad (1MDB). A less blunt tool would do the job just as well, probably better.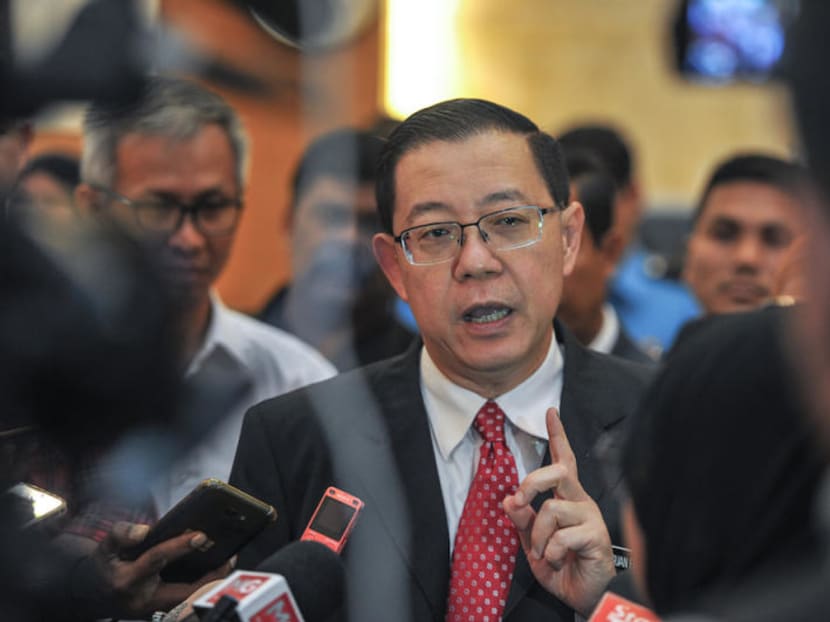 Malaysia's new finance minister is taking a sledgehammer to 1Malaysia Development Berhad (1MDB). A less blunt tool would do the job just as well, probably better.
Mr Lim Guan Eng is busy telling the world about the shocking state of affairs at the scandal-ridden state fund. But that won't sate the Malaysian public's desire for justice.
Investors, meanwhile, are uneasy about things getting out of hand. Already, foreigners have sold out of the nation's stocks for 13 consecutive days.
For Mr Lim to declare in his first press conference that government debt has exceeded RM$1 trillion (S$337 billion) because of a sly public bailout of 1MDB gets him full marks for honesty, but not for tact.
The amount, 45 per cent higher than previously reported, could have been disclosed when Mr Lim had a firm plan to pay it down.
But the new government is suddenly short of revenue: Mr Lim's boss, Prime Minister Mahathir Mohamad, has gotten rid of the unpopular goods and services tax to thank voters for returning him to power after 15 years.
That's all well and good. But the three-year-old GST fetched US$11 billion for the exchequer last year, or 3.3 per cent of Gross Domestic Product.
Replacing it with another type of consumption tax will have to wait for the new parliament to convene, which won't be until the end of June or early July.
Why does Mr Lim want to risk leaving investors with an uncertain fiscal outlook until then? With US interest rates firming, all emerging economies are under pressure.
Malaysia, too, has seen foreigners pull out about US$800 million from its bond market. Can Mr Lim keep a lid on negative sentiment? This week's events give cause for doubt.
On Tuesday (May 22), Mr Lim issued a harsh press release after meeting officials connected to 1MDB, which the US Department of Justice believes was the epicenter of a multibillion-dollar scheme of plunder and money laundering.
1MDB is insolvent, the minister said, citing directors. Well, investors have long suspected that to be the case. 
The existence of as much as US$2.5 billion of the fund's overseas assets is in doubt, Mr Lim said. Even that tallies with facts.
Why else would public money be used to prop up 1MDB if it had liquid assets offshore? In fact, Lim has himself provided a list of payments made by the Ministry of Finance to 1MDB creditors. Starting last year, they add up to almost US$1.75 billion.
Give him the benefit of the doubt. Maybe he's preparing the ground to justify use of public money to make another US$36 million interest payment on May 30.
But then Mr Lim went on to say that he had found Mr Arul Kanda, the 1MDB president, to be "utterly dishonest and untrustworthy."
Mr Kanda retaliated by calling the remarks potentially defamatory. The minister had left out the context of his answers and made him look bad, he said in a statement, adding that he was seeking legal advice.
The colorful language against Mr Kanda is jarring in an official press release.
Malaysia isn't a banana republic, but a sovereign rated A3 by Moody's Investors Service.
Mr Lim is no longer an opposition politician, but an important part of a new government that can initiate legal proceedings against any 1MDB officials or directors.
Corruption in high places was the reason Malaysians voted out the Barisan Nasional coalition that had ruled for six decades – including for 22 years under Dr Mahathir.
Mr Kanda's honesty isn't what interests them. They're waiting for Mr Mahathir to make good on his promise to bring charges against his predecessor, Najib Razak.
The very institutions in Malaysia that have to ensure economic stability are under stress. After the Wall Street Journal reported that proceeds from a land deal involving the central bank were used to pay an Abu Dhabi state fund – a 1MDB creditor – the central bank had to issue a statement saying it had bought government land at fair value.
The situation is delicate enough for Mr Lim to pull back a little.
His desire to blow the lid off the 1MDB scandal is understandable. But for the finance minister to pursue that goal at the expense of his day job – of keeping the economy in good shape, and investors reassured – would be inexcusable. BLOOMBERG
ABOUT THE AUTHOR:
Andy Mukherjee is a Bloomberg Gadfly columnist covering industrial companies and financial services. He previously was a columnist for Reuters Breakingviews. He has also worked for the Straits Times, ET NOW and Bloomberg News.