Middle East offers Singapore some lessons on countering rogue drones
The aphorism that what happens in the Middle East does not stay in the Middle East is appropriate when it comes to unmanned aerial vehicles.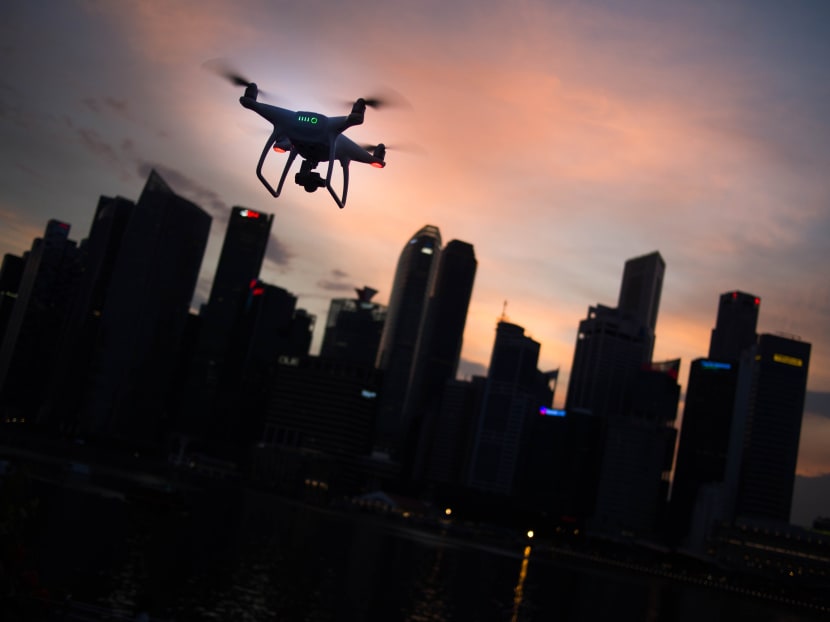 The aphorism that what happens in the Middle East does not stay in the Middle East is appropriate when it comes to unmanned aerial vehicles. 
The fight against the Islamic State and the conflicts in Syria and Libya showcases how off-the-shelf commercial drones could be deployed to deliver explosive payloads, scout enemy positions or even perform kamikaze attacks on high-value targets.
One lesson from this is that readily-available commercial technologies provide a low barrier to entry for illicit actors.
The Middle East-North Africa region was where the use of commercial drones for illegitimate purposes dawned, and other actors soon noted their value and efficacy and began copying these actions, though for different purposes.
A drone drug mule, recently seized by the Singapore Police Force at Kranji Reservoir Park, brought home the dark reality that it is not just militant networks that are using the technology, but criminal organisations too.
The drone, a relatively inexpensive and easily available model, was carrying an illicit "payload": 278g of crystal methamphetamine.
Though the incident made headlines in Singapore, the use of drones for illicit purposes is not particularly new. 
In the United States and elsewhere, reports of drones being used to detonate homemade bombs in suburban neighbourhoods, as happened in Pennsylvania, or smuggling contraband into prisons, illustrate their menace and the problems they pose for authorities.
But bigger dangers lie over the horizon. The next generation of commercial drones being refitted for combat roles is being battle-tested in Syria and Libya.
In this respect, it is essential to utilise the experience gained in the Middle East North Africa region to find solutions to counter a menace that is being exploited by criminal organisations, which rely on the fact that it is economically inefficient to counter cheap and small drones.
As always happens with disruptive technologies, authorities will initially scramble to play catch-up and regulate the airspace, so to speak.
The appeal of commercial drones to enthusiasts — cheap and ready availability, easy to fly with almost no prior knowledge or training, precision afforded by wireless technology and satellite navigation, onboard high definition cameras, and autonomous obstacle avoidance sensors — mean that these are also precisely the qualities that will excite actors with nefarious motives.
Learning how Saudi Arabia, the US or Russia are countering the drone menace is an advantage that should not be undervalued. Unfortunately, there is no one size fits all solution in drone countermeasures.
The process that involves mitigating the drone threat is the same for all others: Detection, identification, tracking, and mitigation, but the means must be tailored for specific situations and conditions. 
As an example, an airport needs a combination of fixed and mobile counter-drone systems to cover a wide area, while an anti-drug-drone operation needs specific forensic capabilities to trace the culprits and sustain legal action.
The first step in drone detection, because of their small size and their slow speed at low altitude, necessitates different layers of radars, radio frequency and acoustic sensors, as well as an electro-optical and infrared camera.
It is a costly endeavour, and sometimes, authorities have less than a minute to decide which action to take.
Jamming a drone's radio frequency to disable its connection with a remote operator is not always an option, for several reasons.
Among these is that drones can be flown on autopilot mode, so severing the connection between the aircraft and its controller may not be effective. Using military-grade jammers in densely-populated areas may also create disruptions to the mobile communication networks.
Using hard-kill options — basically, shooting down a drone — is difficult, and also presents a possible threat to the community, especially if the drone is flying over densely-populated areas.
Recently, lasers and microwave weapons have shown promising results, but they are still in the testing phase.
This is the first lesson the Middle East offers to Singapore. Small drone attacks on critical infrastructure and personnel from Lebanon to Yemen have demonstrated how conventional air defences, built to intercept high speed missiles or identify other airborne threats such as aircraft, are incapable of detecting smaller intruders.
Solutions require new equipment, such as infrared cameras with a narrow but more precise field of view, to detect smaller objects and differentiate drones from birds. These counter-drone technologies are already moving from the battlefield to the civilian arena.
A second lesson is that countermeasures have to be practical, and Singapore is already on the right path, with an advanced and non-intrusive set of regulations to register commercial drones.
Flying registered drones not only enables quicker forensic work, but also lays the foundation for a future active friend or foe mechanism that will enable tracking in real time.
To find the right solution, active "red teaming", or realistic testing of defences against simulated foes, is vital.
These exercises allow security agencies to layer equipment so that gaps are covered, and expose holes in defences.
Constant vulnerability assessments and improved post-forensic analysis are not going to eliminate the threat, but they can mitigate or even prevent the most dangerous ones.
Finally, this state of affairs presents opportunities as Singapore continues its efforts to transform its economy and upskill workers.
Understanding the drone menace is a must for Singapore's security agencies, but for the mainstream security industry, the threat presents an opportunity to move into an emerging sector that can leverage on a workforce that is already recognised for being technology savvy.
A public-private partnership in this area can provide nimble solutions using off-the-shelf equipment, vital commercial input on regulation, and cost savings.
Israel, the so-called "Start-Up Nation", already has firms at work translating the lessons learned on the battlefield to the civilian sector.
Singapore, which was ranked tops in Asia in the World Intellectual Property Organisation's Global Innovation Index for 2019, should follow suit.
Drug smugglers have cottoned on to the possibility of evading the authorities and flying their product from Johor Baru to Kranji, and it does not take an expert to realise that others with deadlier payloads to deliver are watching this development closely and trying to learn from it.
ABOUT THE AUTHOR:
Dr Alessandro Arduino, a principal research fellow at the National University of Singapore's Middle East Institute, is an expert in unconventional warfare and private military contractors.