Modi takes India's mojo to Australia
Narendra Modi took his geopolitical charm offensive to a new continent last week, speaking in Australia about the countries' "deeply interlinked destinies" during the first visit by an Indian Prime Minister to the country in 28 years.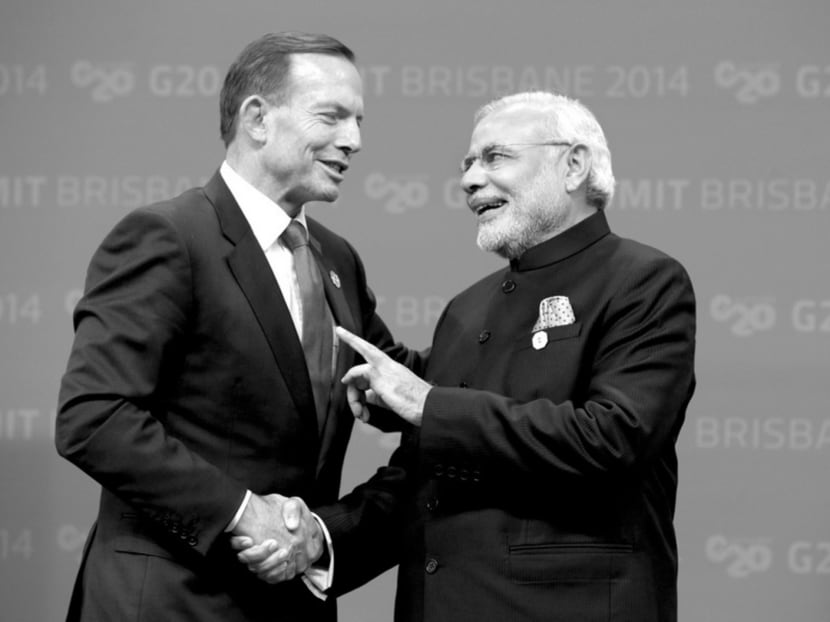 Narendra Modi took his geopolitical charm offensive to a new continent last week, speaking in Australia about the countries' "deeply interlinked destinies" during the first visit by an Indian Prime Minister to the country in 28 years.
Mr Modi probably understands better than any politician of his generation the yearning that young Indians — children of the liberalisation of India's economy in 1991 and the first generation of Indians with a global-minded imagination — nurture not only for jobs and a better standard of living, but also for a greater influence in and respect from the world.
Accordingly, he has focused on the unusual but sound strategy of entrenching his authority at home by winning hearts abroad, including those of the vast Indian diaspora.
After successful tours of Japan and America in recent months to seek foreign investment and draw attention to what he calls India's "new energy", Mr Modi appeared to win over Australian parliamentarians last week with an impressive speech — in English, not his preferred language — in Canberra.
He deftly laid out the reasons to forge a closer alliance between the two countries — not an easy task, given their obvious differences and lack of cooperation in the past — and proposed India as the logical destination "for new economic opportunities".
Australians were impressed, too, when Mr Modi began his address by acknowledging their indigenous peoples — "the traditional owners of this land on which we stand today". They were probably also struck that he seemed to show a greater affection for conservative Prime Minister Tony Abbott than many Australians feel.
AUSTRALIA'S ASIAN CENTURY
It is a propitious time in Australia for such a pitch from an Asian leader —helped, to some extent, by internal debates in the country about its deepening links with Asia, which may soon supersede its traditional alliances with the United States and Europe.
A wave of immigrants from Asia — including about half a million people of Indian origin — means this will be Australia's "Asian century" as much as it is Asia's in the world. About a quarter of Australian citizens today were born outside Australia, and a third of these were born in Asia.
Until fairly recently, the Australian government's hostility towards Asian immigrants meant the country was seen as "white Australia". Meanwhile, India's lumbering economy seemed to Canberra an argument more for encouraging tourism than for spurring economic cooperation.
Despite the obvious opportunities for an alliance between the two large economies, India was always caught up with the more immediate environment of South-east Asia and its troubles with Pakistan and China, while Australians — most of them living on the country's eastern flank — were more likely to look towards the West.
Things have changed. As Michael Wesley wrote in 2012, it was only recently that "India and Australia's strategic imaginations have started to correspond for the first time".
Military and maritime cooperation between the two would serve to counterbalance the growing ambitions of China in the South Pacific and moderate Canberra's dependence on Beijing, its largest trading partner.
There lies much untapped potential in India's vast consumer market for Australian goods and services — even, Mr Modi promised, as a manufacturing base.
In addition, India's rising energy demands and recent troubles with energy production mean it is in need of Australia's largest export: Coal. (Perhaps the most controversial aspect of Mr Modi's visit was the news that India's largest public-sector bank had agreed to loan US$1 billion (S$1.3 billion) to businessman Gautam Adani, a close friend of Mr Modi, to start a new coal-production plant in Queensland that would supply coal to India.)
Even so, there was more than a touch of hyperbole in Mr Modi's claim that he had come to Australia "to unite in the spirit what we once were in geography".
I thought Australian writer Thomas Keneally was a much more realistic interpreter of both past and present when I heard him say in Goa last month: "Australia is so deeply embedded in Asia and, yet, we're uneasy about it — particularly Australian conservatives. Conservatives want to trade heavily with Asia, but not to be ethnically threatened by it. But it is all happening and there is a tension in Australia between our need of Asia — and our increasing Asianness — and our traditional white imperial alliances with Britain and, above all, the US. That tension is still unresolved in Australian history and the process may take a hundred and fifty years".
That process of Australia being drawn towards Asia is one in which a more ambitious India now looks set to play a much bigger part. BLOOMBERG
ABOUT THE AUTHOR:
Chandrahas Choudhury is a novelist based in New Delhi.