Najib's guilty verdict portends new round of political realignment in Malaysia
Following former prime minister Najib Razak's guilty verdict, the political chess board in Malaysia may yet shift again. There are various permutations of how various political players will now position or realign themselves, with different implications for power dynamics.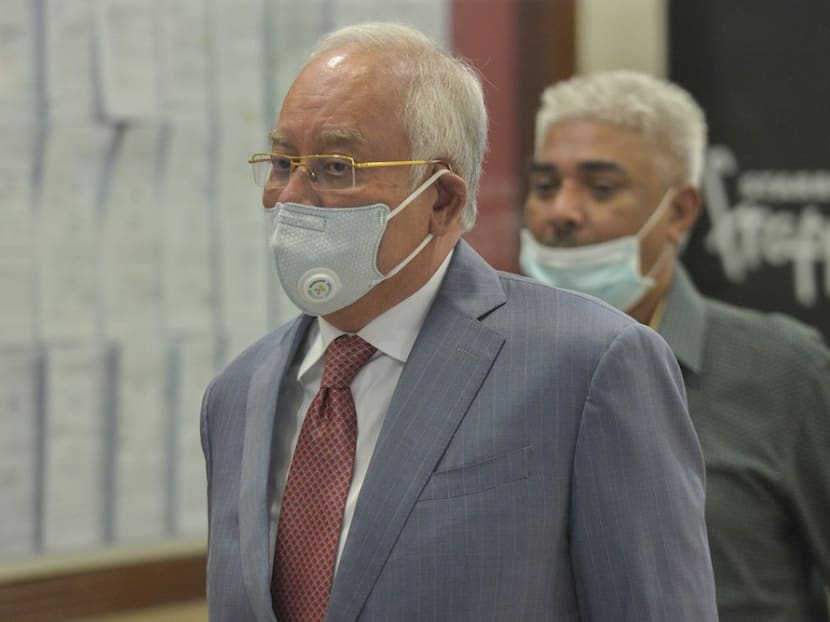 Following former prime minister Najib Razak's guilty verdict, the political chess board in Malaysia may yet shift again. 
The former prime minister and United Malays National Organisation (Umno) president will remain as a Member of Parliament for now until his appeal verdict is out, but he will not be able to run if an election is called now.
Before this, Umno was keen to call for a snap election. By remaining in the ruling Perikatan Nasional (PN) coalition led by prime minister Muhyiddin Yassin, Umno would have strolled to victory easily. It would also remain the dominant party in the ruling coalition, even bigger than Mr Muhyiddin's Parti Pribumi Bersatu Malaysia.
Following the verdict, Umno announced that it will not be part of PN although it will remain in government. Also, Umno would seek to strengthen Muafakat Nasional, its all-Malay/Muslim alliance with the Islamist party Parti Islam Se-Malaysia (PAS).
The aim is to send a signal that Umno may choose to fight the next election without Bersatu. While Umno's move has not led to the Muhyiddin government's collapse, some in Mr Muhyiddin's camp has called for Bersatu to formally join the Muafakat Nasional.
The next few weeks could see intense political bargaining between parties. In contemporary Malaysia, where political expediency trumps ideology, this bargaining may also see rivals teaming up together in a bid for power.
One possible outcome is for Mr Muhyiddin to re-join Umno. This will circumvent any unnecessary bickering between Umno and Bersatu over the allocation of seats to contest during an election.
This also makes more sense to those who question the need for two separate Malay-based parties in a single coalition.
Yet, the move could sideline Mr Muhyiddin's ally Azmin Ali and his supporters. The former Parti Keadilan Rakyat (PKR) deputy president had been fighting Umno for decades before joining the PN government this year.
Moreover, not all Umno MPs are inclined to work with Bersatu. Veteran Umno leader Tengku Razaleigh Hamzah has gone a step further and argued that Umno should recover all its seats that Bersatu has won in the last general election.
In truth, Umno is not as homogeneous as some have imagined. Party deputy president Mohamad Hasan may capitalise on the situation if president Ahmad Zahid Hamidi is also found guilty for his various corruption and criminal breach of trust cases before the courts.
As Umno Acting President between December 2018 and June 2019, Mr Mohamad was instrumental in forging the Muafakat Nasional pact between Umno and PAS. Who he will work with remains a question mark.
Former prime minister Mahathir Mohamad once said he is ready to work with Umno members not embroiled in any court cases.
And on his count, Mr Mohamad has no ongoing court cases for corruption. With Najib and Zahid weakened, this cooperation between Dr Mahathir and Mr Mohamad cannot be ruled out.
MAHATHIR AND THE THIRD FORCE
Though weakened, Dr Mahathir still commands support among MPs across the political divide, including some Umno MPs.
For now, he seems to have made way as a prime minister candidate for Mr Shafie Apdal, a former Umno leader who is president of the Sabah-based Warisan party.
Mr Shafie is himself a victim of efforts that sought to undermine his Sabah government. At the moment, only PKR president Anwar Ibrahim has openly disagreed with Dr Mahathir's plans to make Mr Shafie a prime minister candidate.
But PH's other parties, the Democratic Action Party (DAP) and Amanah, may be amenable to this bargain of naming Mr Shafie as a prime minister candidate and Mr Anwar as deputy prime minister.
Dr Mahathir, who is toying with the idea of forming a new political party or joining an existing party, may cobble enough allies to be a third force in the next general election. He may use the upcoming Slim River by-election — which will be held by the end of August — as a testbed.
MUHYIDDIN RETURNING TO PH?
Some have speculated on the possibility of Mr Muhyiddin rejoining Pakatan Harapan (PH), the alliance which was in power for 19 months before his departure triggered its collapse.
Such a scenario is however unlikely because it will make him strange bedfellows with Mr Anwar. In February, it was Mr Muhyiddin and Mr Azmin who precipitated PH's downfall through the historic "Sheraton Move".
Among the reasons for their defection was disagreement with Mr Anwar's camp demanding prime minister Mahathir to step down, and that PH was dominated by the Chinese-dominant party DAP.
While Mr Muhyiddin may be able to revive PH if he rejoins, the political calculations are different now.
Mr Azmin may not agree to reunite with Mr Anwar, after the fallout between the two at the PKR congress last year.
In addition, the other PH parties DAP and Amanah now regard the Muhyiddin and Azmin camps as rank traitors.
It also remains doubtful if Mr Anwar wants to play second fiddle to Mr Muhyiddin. After all, to Mr Anwar, the eighth prime minister post was meant to be his, and not Mr Muhyiddin's.
Nevertheless, it would still make more sense for Mr Muhyiddin to reconcile with Dr Mahathir.
Whatever decisions politicians take, the narratives to justify their realignments must convince the electorate. Malaysians are already upset with the politicians' party hopping behaviour and performances in parliament.
Since Dr Mahathir's decision to team up with his prodigy-turned-nemesis-turned-ally Mr Anwar in 2018, Malaysian politics have witnessed a series of betrayals (and counter-betrayals).
It is difficult to differentiate between friends and foes, but their behaviour may have the effect of normalising Machiavellian politics as part of the country's political culture.
Malaysians cannot be disabused of the fact that the parties are effecting an unabashed campaign for power, and power for power itself.
This is seen as going over the interests of the people, who have been hit by a triple whammy of the Covid-19 pandemic, the stuttering economy and job losses. Such disillusionment may take generations to correct.
ABOUT THE AUTHORS:
Dr Mohd Faizal Musa and Dr Norshahril Saat are respectively visiting fellow and senior fellow at Iseas–Yusof Ishak Institute. This piece first appeared in Iseas Commentary.