One people, one nation, regardless of sex
Mr Lee Kuan Yew said this in a 1966 speech at Uppsala University in Sweden: "Give equal opportunities to all regardless of rank, race, religion, sex in a given nation and you are likely to draw from each of your nationals, the best in him." Alas, "equal opportunities ... regardless of sex" was a promising intention, but we are still a long way from realising it.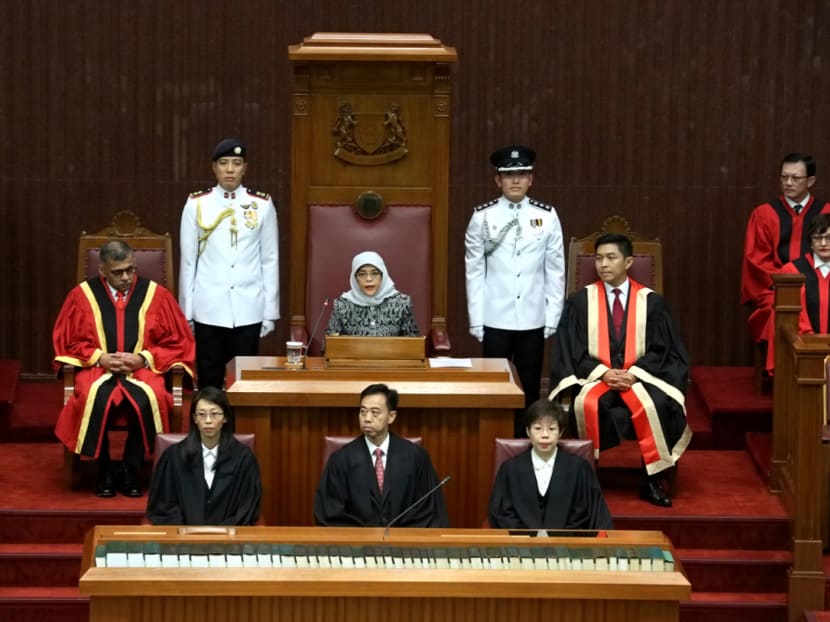 When Singapore was ejected from Malaysia in 1965, our founding fathers Lee Kuan Yew, Goh Keng Swee, S Rajaratnam, Toh Chin Chye and Lim Kim San set forth to build an independent country.
Young, energetic and fired up by democratic socialist ideals, their vision was based on this fundamental belief outlined by Mr Lee in a 1966 speech at Uppsala University in Sweden:
"Give equal opportunities to all regardless of rank, race, religion, sex in a given nation and you are likely to draw from each of your nationals, the best in him. Give him the best opportunity to educate himself in order to use his talents, and if you throw your net wide enough to cover your whole population, the chances are you will have so much more talent that will emerge to the top."
Equality was a core tenet of the young country, represented by one of the five white stars on our red and white flag.
Alas, at least one part of their vision did not materialise.
"Equal opportunities ... regardless of sex" was a promising intention, but we are still a long way from realising it.
Otherwise, I would not be doing what I have been doing for the last 25 years – championing gender equality and women's rights in Singapore.
We have succeeded in some instances, but this is very much still a work in progress.
Here are some examples of issues that my feminist colleagues and I have worked on:
Article 12 of the Constitution prohibits discrimination against citizens of Singapore on the ground of religion, race, descent or place of birth. Discrimination on the basis of gender or sex is omitted.
There are no laws to protect against gender discrimination nor any other type of discrimination.
Until 2005, the Civil Service provided medical benefits to the families of male civil servants, but not female civil servants.
Under the Women's Charter, only wives can get maintenance from their spouses, not husbands.
Paternity leave was only instituted in 2013.
For me, a key question is: Why are we not closer to the ideal of "regardless of sex"?
I wonder sometimes if the answer lies in this intriguing story from the book "Men in White: The Untold Story of Singapore's Ruling Political Party", in which Mrs Lee Kuan Yew was said to have been one of the first women to sign up as a People's Action Party member and had attended the first meeting with S. Rajaratnam, K. M. Byrne, Philip Hoalim Jr and his wife Miki.
According to the book, she remembered her husband saying to her one or two days later: "'Look, the next meeting, we are dropping Miki and you'd better not come too.'
From then on, she said, the meetings became strictly all-male. "The wives were dropped and I felt it was unfair that I should be dropped. I thought I could have made a contribution. But I did not take a strong stand about it."
I cannot help but wonder, would things have been different if Mrs Lee Kuan Yew had continued to attend these meetings?
Apart from Mrs Lee's story, there is a broader patriarchal inclination at work in this vignette: this group had no women who were there in her own right. The two women who had attended the meetings did so as wives of the male members.
Sadly, these patriarchal attitudes prevail today.
Yes, representation of women has improved in many spheres.
For example, Madam Halimah Yacob made history when she became our first female President, and we now have 20 female Parliamentarians out of 88 Members of Parliament.
This is a significant improvement from having no women in Parliament for 14 years from 1970 to 1984. In 1984, there were three female MPs and this number has steadily increased since.
But there is still have much work to do.
Most notably, the Cabinet today comprises 16 men and only three women - even though for more than 10 years, the number of women graduating from universities has outnumbered male graduates.
This is not to suggest that there is conscious gender discrimination amongst our political leaders.
However, a male-dominant environment generally feels unfriendly to women and is fertile ground for implicit gender bias.
Having spent some time in the legal, corporate and social sector, I know that lack of suitable female talent is not the reason why we have only three female Ministers; each of these sectors has many examples of strong, talented women leading teams with distinction and aplomb.
We could significantly improve female representation in the senior leadership of Government, Parliament and the Cabinet if we set our minds to it.  
Further, there is now a growing recognition that "gender balanced leadership and gender- responsive policy making are more likely to ensure that the benefits of growth are shared equally".
This was noted in the 2015 OECD Recommendations on the Council on Gender Equality in Public Life, which goes on to observe: "Women's full employment in decision making and agenda setting are crucial for adequately reflecting the priorities and needs for all members of society. It also contributes to generate greater trust of citizens in public institutions."
To meaningfully take the road towards this goal, norms and processes will need to change.
The Singapore Government acceded to the United Nations Convention on the Elimination of All Forms of Discrimination Against Women (CEDAW) in 1995 and has committed to promoting gender equality in all spheres. As part of this commitment, the Government should also set a target of:
· At least 20 per cent female representation in Parliament, in key senior public appointments and in Cabinet by 2020;
· At least 30 per cent female representation in Parliament and in Cabinet by 2030.
This mirrors the targets set by the Diversity Action Committee for public listed boards. As at June 2017, UN sources indicate that 46 countries have more than 30 per cent female representation in Parliament.
Finally, we have to scrutinise where all the gender barriers (physical, cultural, attitudinal) are and remove them.
Many companies have successfully increased female representation in senior management. We could consider similar strategies, including:
Understanding what the real issues are; for example, is it the way that people are recruited? Too much reliance on male dominated sources like the military, or word of mouth through old boys' networks, could be changed to include a broader range of sources.
Identifying, grooming and mentoring more female talents for political office.
Having more female role models and male champions.
If we can achieve gender balance in the most visible public offices of the land, the rest of the country will follow.
Then one day, we may actually reach the ideal Mr Lee spoke about: equal opportunities for all, regardless of many things, including sex.
ABOUT THE AUTHOR:
Corinna Lim is the first Executive Director of the Association of Women for Action and Research (AWARE). This piece first appeared in The Birthday Book 2018: The Roads We Take, a collection of 53 essays by a range of Singaporeans and Singapore residents reflecting on our individual and collective journeys as the Republic turns 53. TODAY will be carrying other essays from the book in the coming weeks.