Prayuth's blunders are no longer funny
The tap water tastes salty? Boil it, Thai Prime Minister Prayuth Chan-o-cha advised the nation.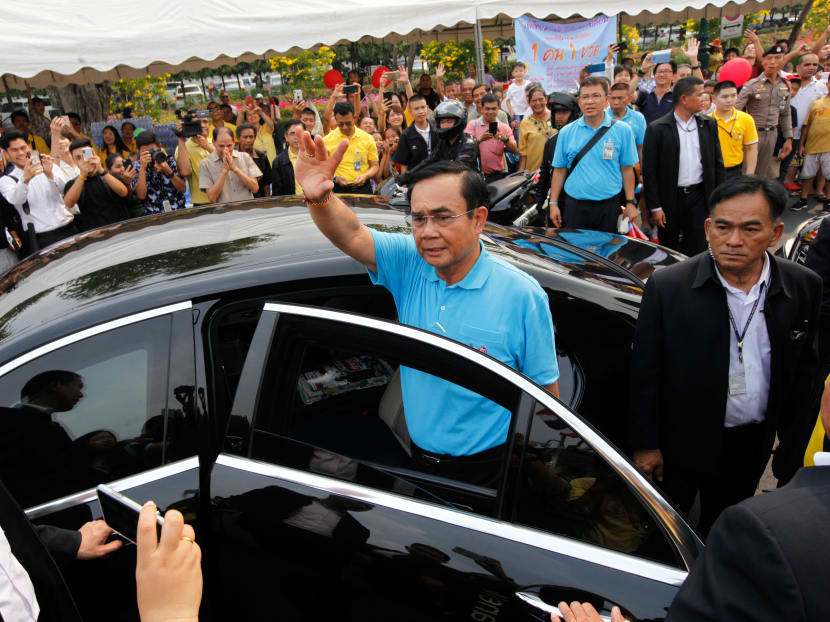 The tap water tastes salty? Boil it, Thai Prime Minister Prayuth Chan-ocha advised the nation.
General Prayuth reckoned the heat would make the saltiness go away. Scientists naturally shook their heads and quickly informed the nation that boiling is not a smart way to get rid of the saltiness.
As those who have been through any basic science class would know, boiling will only intensify the salinity, making the water about 30 per cent saltier to be precise.
One may laugh at Gen Prayuth, who has shown time and again he may not be a good candidate for an are-you-smarter-than-a-5th-grader quiz. Some have called him the "Sodium PM", mocking his ineptitude. Others just let it slide as yet another routine blunder that does not need to be taken seriously.
But this is no longer funny.
The PM's comments on several issues have been careless, irrelevant and ill-advised. All those "when there are floods raise fish", "grow your own lemons if they are so expensive", or complaints that Thai people are not good learners because "they don't know how to google" revealed what is inside his head.
Whatever that is, it's not up to par for a national leader.
It's understood that many people let Gen Prayuth's ill-informed comments slide because they believe he does not have malicious intentions. The PM apparently wants to show that he cares about people's problems and sincerely wants to help them.
Even with this in mind, his recommendation is still outrageous. His failure to correct himself not only shows a lack of responsibility but also an aura of unaccountability, of being above everyone else and not beholden to the conventional standards of what is right or wrong.
Has it ever occurred to Gen Prayuth that somebody might follow his advice and fall ill? Particularly vulnerable groups such as those suffering from hypertension or renal failure? Who then should be blamed? Them for lacking the discernment or him who dispensing the wrong information?
As Bangkok comes under the cover of fine-dust pollution once more, the government has been relatively silent about the problem.
When asked about the deteriorating air quality, Deputy Prime Minister Gen Prawit Wongsuwon said the government has given away some masks. When pressed whether that is enough to tackle the problem, he retorted: "What more can I do?"
The same lack of ideas and increasing desperation mark the government's response to the creeping drought problem.
When asked earlier, Gen Prayuth told people to dig more wells so that they can save water. He seems to have forgotten that an early start to the drought season means there is already no water to store.
Gen Prayuth has boasted about being better than any past governments as well as his comprehensive long-term strategy which includes a 20-year water resources management plan.
Where is this long-term scheme now? His government has been in power for more than five years but Thailand still seems to suffer from an alternating cycle of flood and drought all the same.
The country is worse off actually. Past governments offered apologies for their inability to cope with natural disasters but this government simply blames everyone else for the water scarcity.
Farmers are too greedy with second-crop farming which demands irrigated water. Urban dwellers are too careless with tap water.
"The government can't do everything for everyone. You have to learn to rely on yourself," the PM said, according to a report in Matichon.
That is not wrong but shouldn't the government at least have some ideas about how to tackle these problems? Where is the proof that the Prayuth government is better than those past ones that it so detested?
A good government is not made only of good intentions. It has to have real capacities. It has to have real expertise especially on complex issues that cut across many academic disciplines involving multiple parties with a myriad of conflicting interests. It has to show that it can perform.
Gen Prayuth's naive answers to complex national problems are nothing new but it's time to stop taking them as jokes. These shows of crude knowledge and a provincial mentality must be exposed for what they are.
The prime minister's gaffes are testaments to the government's intellectual frailty and its inability to cope with either deep-seated problems, such as economic inequality and corruption, or immediate challenges, such as the PM2.5 air pollution or seasonal drought.
A good government may be defined by the sense of shame it is willing to show. Conversely, being ridiculed as the "Sodium PM" is nothing but a shameful tag. BANGKOK POST
ABOUT THE AUTHOR:
Atiya Achakulwisut is a political columnist at Bangkok Post. She joined the Post in 1991 and was previously its deputy editor.