Public hesitancy over getting Covid-19 vaccine will affect its success. What can Singapore do?
Anecdotally, concerns about the safety of the Covid-19 vaccines have been raised by both healthcare workers and the general public here. The rapidity of vaccine development and approval has incorrectly led to inflated concerns that safety and efficacy standards have been relaxed.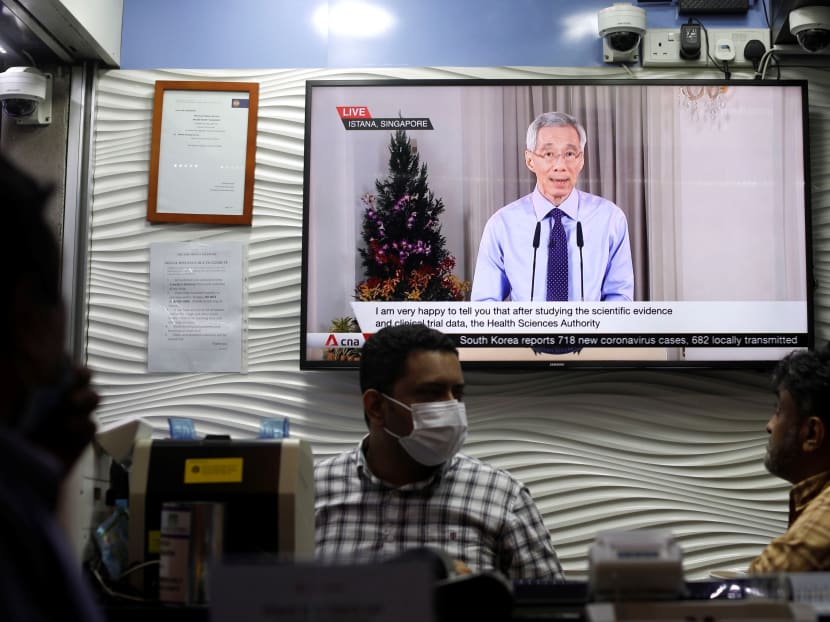 We approach the end of a calamitous and extraordinary year, with massive disruptions caused by the Covid-19 pandemic.
The spread of the Sars-CoV-2 coronavirus shows no sign of slowing down.
Even in the handful of countries where the pandemic has largely been contained, which includes Singapore, life has not returned to the pre-Covid-19 state with relative freedom of congregation and travel.
The multiple examples of countries that were initially successful in containing the virus, only to have subsequent waves prove difficult or near-impossible to contain, serve as stark warnings against complete relaxation of physical distancing and quarantine restrictions.  
One silver lining has been the unprecedented speed at which solutions to different issues raised by the pandemic have been designed, tested and deployed.
Perhaps the most remarkable of these has been the rapid development of vaccines to Sars-CoV-2.
The prior record for vaccine licensure dates back over five decades — from isolation of the mumps virus to licensure of just a single mumps vaccine four years later in December 1967. 
Today, within a year from the start of the Covid-19 pandemic, China and Russia are already preparing large-scale in-country roll-outs of domestically developed vaccines.
Elsewhere, the Pfizer-BioNTech and Moderna novel messenger RNA vaccines have successfully completed Phase Three licensing trials.
The former has been approved for emergency use in United Kingdom, United States, Canada and Singapore, while the latter will likely receive such approval shortly.
Yet early orders for these frontrunner vaccines constitute only approximately 20 per cent of the seven billion doses reserved via advanced market commitments by countries, the lion's share accruing to the Oxford University-AstraZeneca and Novavax vaccines, both of which will soon complete their Phase 3 trials.
At the time of writing, 44 other vaccines are in various stages of human trials, while more than three times that number are in preclinical evaluation. 
Nonetheless, it is precisely this speed and plurality of vaccines that has resulted in heightened vaccine hesitancy amongst a significant proportion of the global population, including healthcare workers.
In a recent survey conducted by the US Centers for Disease Prevention and Control, only 63 per cent of healthcare workers indicated that they are willing to receive the Covid-19 vaccine.
A global survey conducted in June by Spanish, American and British academics published in the prestigious Nature Medicine journal found that just 68 per cent of the 655 participants from Singapore were willing to be vaccinated, while another online poll in December commissioned by The Straits Times found that 82 per cent of 1,000 people here said yes to being vaccinated within a year.
Forty-eight per cent of the respondents said they will get the vaccination as soon as it is available while another 38 per cent said they will do so after six to 12 months.
Anecdotally, concerns about the safety of the vaccines have been raised by both healthcare workers and the general public here.  
Although Singapore is lucky not to have an active and coordinated local anti-vaccination movement, it is easy for one to be exposed to vaccine misinformation via widely circulated social media messages and videos. 
The rapidity of vaccine development and approval has incorrectly led to inflated concerns that safety and efficacy standards have been relaxed.
The reality is that steps in the research and developmental pipeline of these vaccines are performed in an overlapping manner — made possible by massive financial investments and political will — rather than the prior sequential process where each step is initiated only upon the success of the preceding step.
However, the rigour of efficacy and safety standards has not changed. 
The large number of Covid-19 vaccines in the developmental pipeline has resulted in a different and unique reason for vaccine hesitancy.
Despite the excellent safety and efficacy results of current frontrunner vaccines, many people are prepared to wait and see if a better vaccine emerges — which would also allow more time for the real world evaluation of the frontrunner vaccines.
In Singapore where Covid-19 has been contained and the current universal use of face masks and limited safe distancing restrictions are tolerable to most, such thinking is rational. 
Both these and other reasons for vaccine hesitancy ultimately create a tragedy of the commons, because high rates of acceptance are critical for the success of a vaccination programme for diseases such as Covid-19, where the aim is to achieve herd immunity rather than just individual protection. 
How should Covid-19 vaccine hesitancy be tackled here?
The Government has decided against compulsory vaccination, although a minority might have preferred this option.
Historically, vaccination has only been mandated by law in Singapore for smallpox (1868–rescinded in 1981), diphtheria (1962) and measles (1985).
While compulsory vaccination is ethically justifiable for highly infectious and dangerous diseases, the current situation in Singapore does not warrant such a politically risky and potentially counterproductive intervention.
Ultimately, compulsory vaccination may also not achieve higher rates of vaccination in the long run — the uptake of voluntary hepatitis B and polio vaccines in Singapore is similar to that of the compulsory diphtheria and measles vaccines. 
The alternative and better approach in the medium to long term is to acknowledge that both public apprehensions and the "wait and see" rationale regarding the Covid-19 vaccines are legitimate rather than to dismiss them, and to ramp up efforts at communication, public engagement and building trust at all levels of the community.
Former US presidents Barack Obama, George W Bush and Bill Clinton have publicly expressed willingness to be vaccinated.
Prime Minister Lee Hsien Loong has announced that the members of the Cabinet would also undergo vaccination to demonstrate their belief that the vaccines are safe.
In Singapore, other political, religious and healthcare leaders can similarly lead by example.  
Making the vaccines easily accessible in both the public and private sectors once sufficient doses are available is necessary, and the announcement that these vaccines will be free for citizens and long-term residents here is a good move.
A minority of people will view the vaccines as a ticket that potentially allows freedom to travel, and removing or minimising quarantine requirements on re-entry into Singapore for those that are vaccinated could add a further incentive for vaccination. 
The next phase and a potential exit from the grip of the Covid-19 pandemic is almost upon us.
Great care must be shown to be taken in evaluating the Covid-19 vaccines and planning their rollout in Singapore.
Respectful engagement of the community and addressing seriously the issues that contribute to vaccine hesitancy will be critical to improving uptake. 
ABOUT THE AUTHOR:
Associate Professor Hsu Li Yang is vice-dean (Global Health) and head of the Infectious Diseases Programme at the Saw Swee Hock School of Public Health, National University of Singapore. He was formerly clinical director of the National Centre for Infectious Diseases.