Save the hawkers, save our heritage
The hawker trade is at risk of dying out and must be saved, so say the Government and bloggers. Hawkers are part of our precious national heritage, they say, and we have to take action to preserve it. I hope it does not mean pickled and on display in a museum, or as a tourist gimmick, like the trishaw.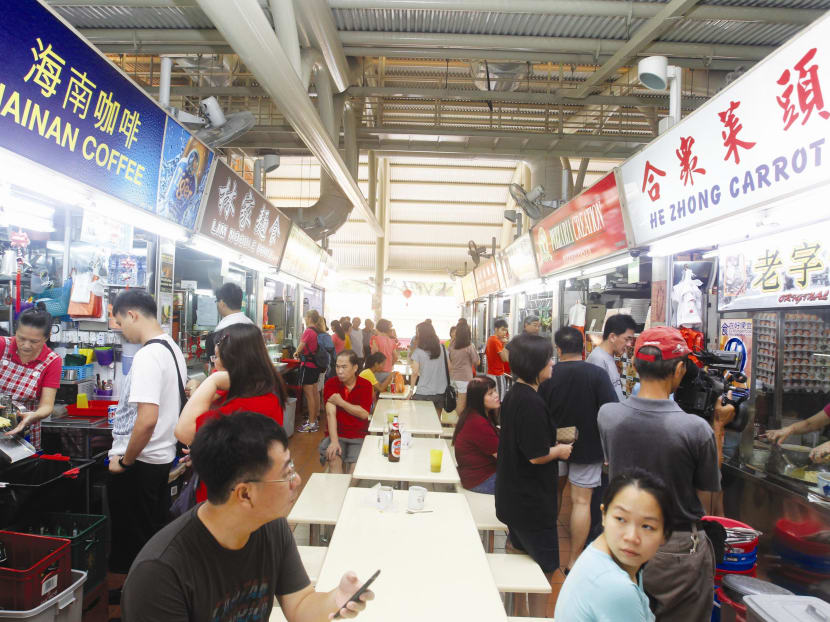 The hawker trade is at risk of dying out and must be saved, so say the Government and bloggers. Hawkers are part of our precious national heritage, they say, and we have to take action to preserve it. I hope it does not mean pickled and on display in a museum, or as a tourist gimmick, like the trishaw.
We want hawkers to be part of the Singaporean way of life for generations to come. This is the true preservation of a heritage — vicariously grafted onto our daily lives.
Still, hawker woes have been in the headlines recently, including the passing of two hawker icons, Mr Thomas Ng Ba Eng of Eng's Noodle House and Mr Andrew Lim Seng Ann of Ye Lai Xiang Cheng Tng. There is much concern about whether the next generation will take over their parents' famous hawker stalls.
Succession is not the only risk: Traditional businesses are getting crowded out of commercial spaces as well. The Tong Ah coffee shop had to vacate its iconic premises on Keong Saik Road when the building was sold to a cash-rich international buyer. Kopitiams are sold for millions of dollars to corporations. Residents of Tiong Bahru and Katong, among other areas, lament traditional kopitiams making way for upmarket food and beverage outlets.
The risks are clear, but what to do about them is less so. The Government has a plan to build 10 new hawker centres in as many years, and has mooted ideas such as hawker schools and social enterprises as part of this objective.
But fostering a healthy hawker environment is more than building hawker centres. We can do more.
IMPROVE PIPELINE, PUSH INCENTIVES
Classes began this year for the first official hawker training programme, subsidised by the Government and run by two organisations. But there are untapped resources for future hawkers: Apprentices and employees as well as those who are sick of their current professions and who find some joy in the hawker's craft.
Hawkers are not the sort of people who go for cooking classes. The best hawkers learn hands-on in the kitchen and improve by experimentation and practice, not drilling. A "hawker school" should be short and sweet — food safety, small business management, an introduction to the industry, and then off to an apprenticeship. Skills transfer should be done on the job, not in the classroom. Not for hawkers, especially.
As for government incentives for entrepreneurs, the biggest weakness is accessibility. I cannot count the number of times I have chatted with a business owner who was not aware of the schemes and benefits available to his company.
Then, there is a bunch of paperwork to be done. I don't imagine hawkers (who typically work 10 hours or more, six days a week) have the time or inclination to read up on schemes or fill in forms.
Utility rebates for new stall owners, tax breaks, resource pooling, co-funded equipment, even continuing education has to be pushed to hawkers to be effective.
CONTROLLING RENTS
The commercial viability of hawkers in privately-owned properties may be hard to control, but our Government has the ball in its court when it comes to hawker centres.
Currently, half of hawker stalls pay subsidised rent of between S$160 and S$320 per month, but this number is set to shrink as the first generation of subsidised hawkers retires.
New hawkers who got their stalls through the Enhanced Stall Assignment Scheme have to pay market rate rents. If some politicians can ask hawkers to freeze their prices to keep the cost of living low, then it should not be too much to ask for the Government to freeze (or lower) market rate rents.
On the plus side, it has since last year removed the reserve minimum bid under its tender process for vacant stalls, so stall units that see little demand can be had at affordable rents.
REDISTRIBUTE DEMAND
Another way to keep rents down is to redistribute demand. By this, I mean upping the supply of hawker centres in the right locations as well as redistributing the concentration of where people dine.
The Marina Bay Financial Centre, for example, is in dire need of a hawker centre (or two), while stalls in other locations sit empty. And I wouldn't say that the food court in Tower 3 would qualify as "hawker", with names like Sakae Sushi, Salad Stop and Wang Cafe operating stalls there.
Some (if not many) food court stalls are not owner-operated, which runs against the "hawker way" — ownership is a foundation for passion and excellence.
To be fair, I must note that not all market stalls are owner-operated either. Commercial food courts have their advantages, but they will never be part of our hawker culture.
New city centres need to be developed quickly (as per the Population White Paper) to create demand outside of the Central Business District. Sure, land is more expensive in the city, but the utility provided by a hawker centre there is desperately needed.
RESPECT AND THE NEXT GENERATION
Hawking has long been the last resort of failures and dropouts. Our education system generally discourages the professional pursuit of our passions, unless that passion is something lucrative such as engineering, law or medicine. Tradesmen deserve respect — what is accomplished with the hands is reality. A paper qualification is merely a hint of potential yet unrealised. Laud achievements, not qualifications.
I heartily recommend the documentary Jiro Dreams of Sushi, available at the National Library. It is an inspiring tale of excellence in food-craft, and the honour given to those with passion. Perhaps it should be aired on national television.
Singapore's total fertility rate is low, and children of hawkers may not take the reins from today's artisans of street food. A quota of subsidised rents could be extended to employees and apprentices of current hawkers who have spent five or more years on the job. Perhaps even foreigners who show skill in the craft (and the ability to communicate in the local lingo) can be given the green light to have a stall of their own.
Finally, the risks of entrepreneurship are considerable, and it costs a pretty penny to open a hawker stall (sometimes in excess of S$50,000, excluding salaries). Should a hawker business fail, perhaps the Government could help ensure a soft fall in terms of repossession, rent owed, Government loans or re-employment.
My hope is that smaller risks for failure may attract more to give hawking a shot, and hopefully help preserve our hawker heritage.
ABOUT THE AUTHOR:
Daniel Yap is a writer, blogger and small-business owner.