Searching for authenticity in the hyper-reality of Crazy Rich Asians
While Singapore's international visibility has increased, thanks to the film Crazy Rich Asians, it is a visibility tainted by conflated identities and hyper-realities. Deeper thought and consideration ought to be given to how Singapore wishes to present itself to the rest of the world.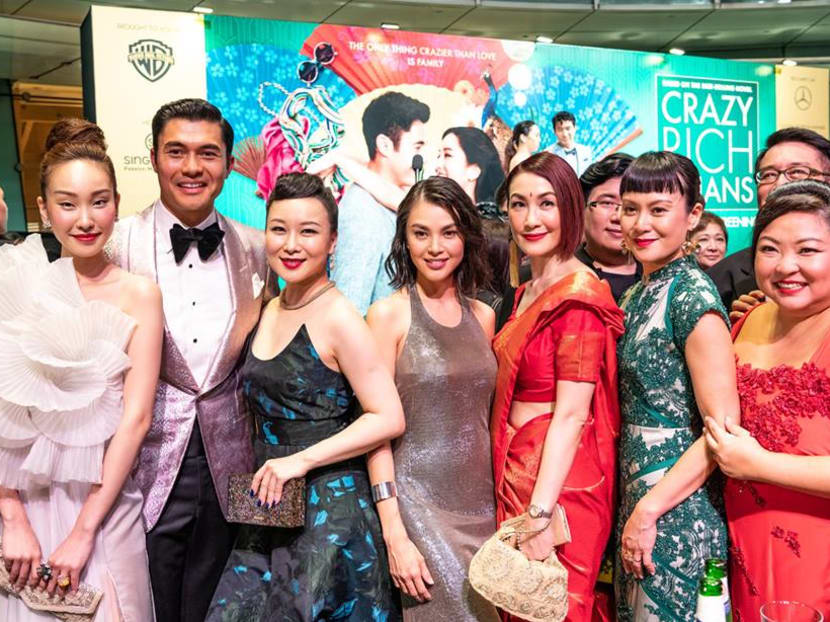 Hollywood's latest romantic comedy, Crazy Rich Asians, is clearly a hit and a milestone for Asian representation.
And the Singapore Tourism Board has been quick to capitalise on this opportunity to put the Little Red Dot on the map.
For the movie's world premiere in Los Angeles last month, the agency teamed up with Warner Bros and engaged public relation firms Edelman and Bullfrog + Baum to roll out a slew of activities for the "Crazy Rich Singapore Week" to showcase Singapore's food, art and music.
For many Singaporeans, however, the movie lacks depth and misrepresents the realities of life in their country.
In essence, although Singapore's international visibility has increased thanks to the film, it is a visibility tainted by conflated identities and hyper-realities.
To be fair, the movie was never about an accurate depiction of Singapore or the average Singaporean, nor had the filmmakers ever claimed it to be so.
Nevertheless, deeper thought and consideration ought to be given to how Singapore wishes to present itself to the rest of the world.
While riding on the movie's publicity is no doubt aimed at injecting further vibrancy to Singapore's tourism sector, its contributions to an authentic Singapore experience are debatable.
Although the cinematic milestones of Crazy Rich Asians demonstrate the coming of age of Hollywood alongside movies such as Black Panther, it is markedly different from the depiction of an imaginary Wakanda and African-American empowerment.
Neither is it like TV series Kim's Convenience, that tries to be as true as possible to capture the lived struggles of the everyday lives of Koreans living in Canada. Rather, it treads a fine line between what is imagined and what is authentic in Singapore.
Firstly, many sweeping lush panoramic scenes of the "crazy rich" lifestyle of the Young family were shot in Malaysia, and not Singapore.
Some key Singaporean landmarks were even plastered in the scenes' background with the use of computer-generated imagery in the post-production stage.
While this may have been a purely cost-effective solution for film production, it is problematic for the representation of the city-state.
At best, it is an over-romanticised Singapore, and at worst, it is false advertising of what eager tourists can expect of Singapore.
Secondly, the movie grossly conflates wealth, race, and status. In particular, the portrayal of a wealthy Singapore Chinese family is a socio-political blind spot.
Singapore's population may be predominantly ethnic Chinese, but they are not all rich, let alone "crazy rich".
Statistics show that 3 per cent of Singapore's wealth is owned by the wealthiest 20 per cent and the bottom 20 per cent owns 1 per cent of the overall wealth.
It thus ignores the realities of poor Chinese living in the country and, as many critics have pointed out, also makes the existence of wealthy families from other ethnic groups invisible.
Thirdly, the movie ignores wider regional complexities associated with being labelled as a "rich Chinese".
Yes, in Forbes' lists of top 50 richest individuals by country, the top spots in Indonesia, Thailand, Malaysia and the Philippines are dominated by individuals of Chinese descent.
Yet, this wealth is foreshadowed by how Asia also hosts nearly two-thirds of the world's working poor.
The contrasts in wealth within these countries have in part caused resentment among other ethnic groups for decades, with the perception that their national economies are controlled by Chinese.
The source of some of the wealth has also been questioned, such as the exploitation of natural resources.
What is more troubling are the adverse implications that such perceptions can and have had on not-so-rich Chinese minorities.
The anti-Chinese riots that occurred in Indonesia in the wake of the Asian Financial Crisis in 1998 is a case in point, where middle-class Chinese Indonesians became targets of violent attacks and rape.
Twenty years on, discrimination and casual racism still exists, and have at times become convoluted with religious intolerance.
China's growing economic influence in South-east Asia only adds more complexity to the "crazy rich" Asian identity.
Whether it be China-led infrastructure projects in Malaysia, or China's elite parking their wealth in the region, domestic populations in South-east Asia have voiced their concerns on the impacts that such economic arrangements have on local economies, living standards, and social fabric.
In 2012, a fatal accident caused by a rich mainland Chinese in his Ferrari precipitated anti-Chinese sentiments among Singaporeans.
More recently in Malaysia, the new Pakatan Harapan government has been reviewing and cancelling some China-led projects.
The Crazy Rich Asians movie is, therefore, a homage to an imagined Asia and not uniquely Singapore. It represents the fantasised and idealised "homeland" of a prosperous "Asia". On the surface, Singapore does fit this depiction.
Scratching beneath the surface, however, you see the tension between two forces: The economic-driven promotion of a sanitised image of Singapore for international consumption versus inequalities felt by the people.
Discussing this duality does not necessarily seek to discredit Singapore or tarnish its international image.
Rather, it seeks to give more exposure to the realities and the uniquely Singaporean ways of life that the city-state has to offer, whether rich or poor.
In today's age of social media, shying away from these realities will undermine an effective communication strategy.
It is worth noting that with an increasing number of travellers seeking more authentic experiences and less tourist traps, such local perspectives will no doubt be heard.
Without authenticity, Singapore's passions can never be made possible.
ABOUT THE AUTHORS:
Sofiah Jamil and Luenne Choa are co-founders of Hornbills: Concepts and Communications.