SIA's financial strength a double-edged sword as regional rivals hit the reset button
Singapore Airlines (SIA) has been in the limelight the last few months as it has quickly burned through over 70 per cent of the S$8.8 billion raised from the rights issue completed in June and cut 20 per cent of positions at the group's airline subsidiaries.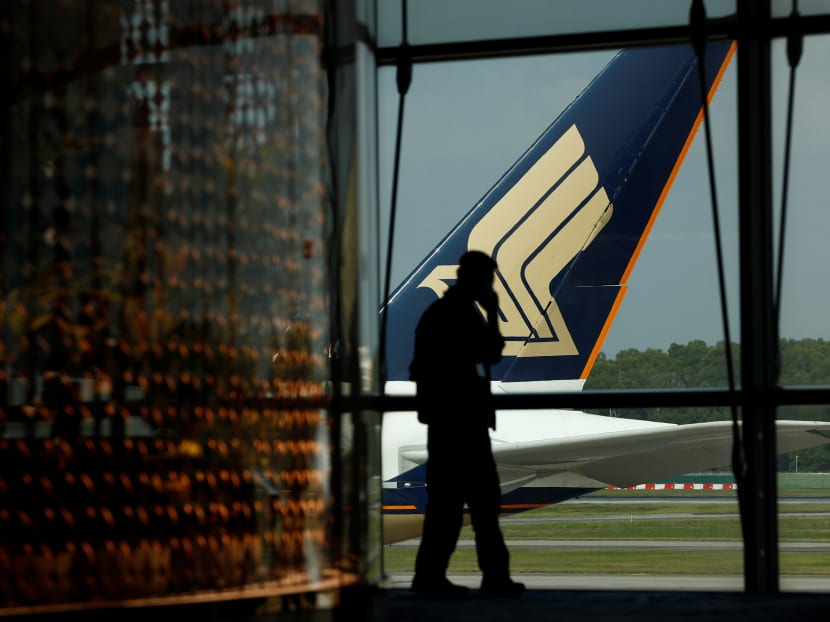 Singapore Airlines (SIA) has been in the limelight the last few months as it has quickly burned through over 70 per cent of the S$8.8 billion raised from the rights issue completed in June and cut 20 per cent of positions at the group's airline subsidiaries.
SIA will again be in the headlines at the end of this week, when it announces fiscal second quarter results.
When including anticipated one-off charges related to redundancy costs and fleet impairment, the net loss for the quarter ending Sept 30 could again exceed S$1 billion.
The SIA Group incurred a S$1.123 billion loss for the June quarter and a S$732 million loss for the March quarter.
However, SIA is not at risk of running out of cash anytime soon as it has raised more liquidity than any airline group in Asia Pacific.
The quick rate it has gone through the S$8.8 billion raised from the rights issue has raised eyebrows but only around 20 per cent has been needed to cover operating expenses and S$8.8 billion represents a fraction of the capital SIA has the ability to actually raise.
SIA has already raised another S$2.1 billion through loans by leveraging unencumbered aircraft, has the flexibility to raise S$6.2 billion through mandatory convertible bonds and has S$1.9 billion in available credit lines.
SIA is also now looking at using more unencumbered aircraft — aircraft that are owned rather than leased and aircraft that don't already have loans against them — to secure another several billion Singapore dollars worth of loans.
There is virtually zero risk of a collapse at SIA. The same cannot be said for other airline groups in Southeast Asia, many of which have not yet raised liquidity or have only raised small amounts and are now running on fumes.
Airlines throughout the world are struggling to stay afloat but the situation is particularly dire in Southeast Asia – with the exception of Singapore – due to a lack of government support for aviation and challenging market conditions that predate Covid-19.
It is easy to assume Singapore is more impacted than other Southeast Asian countries as it lacks a domestic market. 
However, in most Southeast Asian countries, domestic services are only generating sufficient revenues to cover variable costs, making it impossible for airlines to cover fixed costs and therefore resume paying for such items as aircraft leases.
Airlines in other regions have generally resumed at least partial payments following an earlier period of payment deferrals.
In Southeast Asia, SIA has been an exception, opting against payment deferrals as it was able to raise the cash to continue paying bills and avoid the high interest rates typically associated with payment deferrals.
However, there is now a risk that being a good payer will turn into a competitive disadvantage.
Several of SIA's regional competitors are seeking huge reductions in payments and are warning suppliers that they will collapse if forced to resume full payments.
Several airlines in Southeast Asia are trying to renegotiate monthly aircraft rental reductions of up to 75 per cent in addition to not covering any of the missed payments since the crisis began.
SIA will not be able to achieve a similar reduction as it does not have the bargaining power of a distressed company on the verge of collapse.
Essentially, suppliers are relying on SIA — and airline groups outside Southeast Asia that have similarly been bailed out or recapitalised — to cover their own bills. 
As all airlines have the same suppliers, SIA's continued payments in the last few months have indirectly subsidised other airlines in the region that have not been paying.
This indirect subsidy could continue for years, creating an unlevel playing field in Southeast Asia.
Given a choice, suppliers would reject these reduction requests from distressed airlines but doing so could trigger bankruptcy and lead to court supervised restructurings that would have a similar impact.
Two Southeast Asian airline groups, Thailand's Thai Airways and Nok Air, have already opted for court supervised bankruptcy rehabilitation.
More airline bankruptcy court cases are likely although so far most Southeast Asian airlines are trying to pursue out of court restructurings, hoping to achieve major cost reductions and return aircraft early to leasing companies on a voluntary basis.
Several airline groups also have creative alternatives for pressing the reset button without having to go through bankruptcy.
For example, Lion Group has started the process of creating a new airline in Indonesia that would replace at least one and potentially all three of its Indonesian airline subsidiaries – Lion Air, Batik Air and Wings Air — if ongoing efforts to renegotiate leasing contracts are unsuccessful.
Malaysia Airlines has similarly created a Plan B that involves shutting down Malaysia Airlines Berhad and restarting the flag carrier using the operating certificate of regional subsidiary Firefly should renegotiation efforts fail.
One way or another, most of SIA's regional competitors will reset, enabling them to shed aircraft they no longer want and slash their costs.
SIA will also restructure by phasing out some older aircraft, deferring new aircraft deliveries and renegotiating supplier contracts.
However, the reset option is not available to SIA and it will not be able to phase out newer aircraft, cancel aircraft orders and achieve the same level of cost reductions.
For example, SIA will have to keep three long haul aircraft types — Airbus A380s, Boeing 777s and Airbus A350s — although streamlining the fleet would be ideal.
In comparison, as part of an out-of-court restructuring plan, Philippine Airlines is planning to reduce from two to one long haul aircraft type – by keeping 777s and returning A350s although they are only about two years old.
Malaysia Airlines is planning to phase out A380s as part of its out of court restructuring and Thai Airways will likely phase out A380s under its court supervised restructuring.
Several airline groups in Southeast Asia including AirAsia have also been able to stop taking delivery of new aircraft since the start of the pandemic while SIA has continued to honour its commitments and is taking delivery of several aircraft in the current December quarter, exacerbating its excess aircraft situation.
There will of course be opportunities for SIA as its competitors in the region restructure. For example, the routes that AirAsia, Philippine Airlines, Malaysia Airlines and Thai Airways drop as they shed aircraft will leave a void which SIA can partially fill.
SIA would also benefit from any airline collapses in the region, which is inevitable although most should be able to survive by restructuring out of court or through the bankruptcy process.
However, SIA will likely not have the appetite to pursue new airline investment opportunities outside Singapore.
SIA invested last decade in airlines in Australia, India and Thailand as part of a diversification strategy that had at best mixed results.
Meanwhile, several airline start-up projects have emerged and these new airlines have the ability to start from a clean sheet of paper and take advantage of cheap aircraft that are now available, along with crew made redundant by other airlines.
Start-ups will therefore have a potential cost advantage over SIA — similar to the advantage that will be enjoyed by existing airlines that are able to successfully reset with much cheaper aircraft.
In hindsight, SIA perhaps could have opted to press the reset button rather than pursue a massive bailout package backed by Temasek Holdings.
However, at the time, the decision to recapitalise SIA rather than declare or threaten bankruptcy was sensible.
SIA and the Government reacted quickly in March to protect Singapore's status as an aviation hub, which is a crucial component of the overall economy.
Bankruptcy would have been risky although it could have led to a hard reset that regional competitors are now achieving.
ABOUT THE AUTHOR:
Brendan Sobie is the founder of Singapore-based independent aviation consulting and analysis firm Sobie Aviation. He was previously chief analyst for Capa—Centre for Aviation.