Singapore's aviation and travel sectors could start recovering in Sept 2021. Here's what we can expect
Covid-19 has had a devastating impact on Singapore's aviation and travel sectors but there are finally signs that a recovery could be on the cards as borders start to reopen.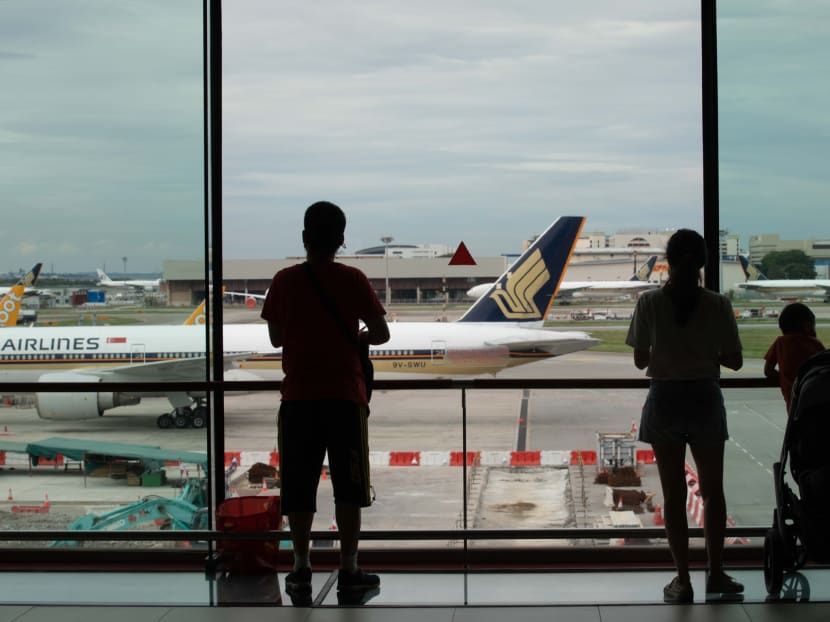 Covid-19 has had a devastating impact on Singapore's aviation and travel sectors but there are finally signs that a recovery could be on the cards as borders start to reopen.
Changi Airport handled only 951,000 passengers in the first half of this year, a 97.1 per cent decline compared to pre-pandemic levels.
Traffic will likely remain at 3 per cent of pre-pandemic levels until September as borders remain closed but should start improving in the last four months of this year, marking the start of what will be a long recovery period.
On Monday (July 26), Cabinet ministers in charge of the pandemic response told Parliament that notwithstanding a recent spike in community infections, Singapore remains committed to living with endemic Covid-19 and opening up in accordance with vaccination rates.
Finance Minister Lawrence Wong added that by around early September, with 80 per cent of the population expected to be fully vaccinated, Singapore will begin to reopen its borders, especially for vaccinated people to travel.
There will be no large-scale or "big bang" opening similar to other countries.
Vaccinated travellers from some countries may be permitted to enter or return to Singapore without any quarantine but under a rigorous testing regime while a shortened quarantine at home of seven days may apply to vaccinated travellers from some other countries.
The total number of countries in either list is likely to be relatively small in the initial recovery phase, which could last about four months.
Europe, North America and the Middle East will likely account for almost all of the countries.
Most countries in these three regions already permit quarantine free travel from Singapore but there is very limited traffic because Singapore currently requires 14 days of quarantine for those arriving from these countries, including vaccinated travellers.
As Singapore reduces or lifts quarantine requirements for vaccinated travellers and reopens to visitors from these countries, traffic will improve.
The impact will be immediate as there is pent up demand for travel between Singapore and these regions, particularly Europe and North America.
However, the overall impact on Changi will be relatively small given the majority of Changi's traffic is within the Asia Pacific.
A CLOSER LOOK AT THE NUMBERS
Asia Pacific traffic will likely remain at less than 5 per cent pre-pandemic levels until at least early 2022 as virtually all borders within the region are unlikely to reopen this year.
Singapore already permits quarantine free travel or seven days home quarantine from a handful of Asia Pacific countries, parts of countries or territories but this is moot as they are not ready to open their borders this year.
Asia Pacific accounted for 89 per cent of local passenger traffic at Changi prior to the pandemic, according to OAG Traffic Analyser data from 2019.
Europe accounted for 7 per cent of local traffic while North America and the Middle East each accounted for only 2 per cent each.
These figures exclude transfer or transit passengers, who do not clear immigration at Changi and accounted for about one quarter of total traffic at Changi prior to the pandemic.
Transit traffic should improve as other countries in the region also reopen to vaccinated travellers but will have a similar gradual recovery curve as it will initially be limited to select markets.
Inbound traffic, or visitors to Singapore, is the largest segment of traffic for Changi, accounting for about 43 per cent of total passengers in 2019, as opposed to around 30 per cent for outbound traffic.
European citizens accounted for 12 per cent of total visitors that cleared immigration at Changi in 2019 while North American citizens accounted for 5 per cent and Middle East citizens accounted for only 1 per cent, according to Singapore Tourism Board data.
Citizens of Asia Pacific countries accounted for 81 per cent of all visitors arriving by air. 
This data is based on passports. 
So an expatriate residing in another Asian country and visiting Singapore would be counted under their country of citizenship but would be counted in the earlier 89 per cent figure as their flight originated in another Asia Pacific country.
Until leisure travel within Asia Pacific resumes, the main source markets for Singapore's tourism sector will therefore remain closed.
It will also be challenging to attract visitors from the countries that reopen in the initial recovery phase as these are countries where visitors typically combine Singapore with other destinations in the region while visitors from Asia are much more likely to spend their entire holiday in Singapore.
Multi-country itineraries will be difficult to arrange due to travel restrictions, impacting Singapore's ability to compete for tourists from Europe, North America and the Middle East in the initial recovery phase.
The outbound segment is likely to recover much faster than the inbound segment as Singapore residents will be eager to travel after not being able to take any holidays for more than a year and a half.
While many Singaporeans would prefer holiday options in Asia, some could be enticed to travel to Europe and North America despite the higher cost if these regions open first.
Singapore's expatriate population, which is also part of the outbound segment, could account for a particularly large share of the traffic in the initial recovery phase as expatriates will be eager to again visit families and friends.
NEW NONSTOP FLIGHT ROUTES?
Flights to most of Changi's destinations in Europe, North America and the Middle East have already resumed and could experience a surge as well as an improvement in load factors as quarantine free travel to parts of these regions resumes.
While the Middle East is a much smaller market, it is a popular transit point for flights to Europe and North America.
Changi is currently connected nonstop with 12 destinations in Europe, four in the Middle East and three in North America.
Singapore Airlines (SIA) Group serves all these European and North American destinations as well as one of the destinations in the Middle East while foreign carriers currently serve six of the European destinations and all four of the Middle East destinations.
SIA has been quick to add back services to Europe and the US despite weak demand, resulting in extremely low load factors.
SIA's average long-haul load factor has been below 20 per cent every month since the start of the pandemic, compared to above 80 per cent most months prior to Covid-19.
Therefore, SIA is able to quadruple passenger numbers without adding more flights.
SIA can also quickly add more flights to Europe and the US — as its capacity in these markets remains about 50 per cent below pre-pandemic levels – if demand quickly recovers because of its ample spare capacity in terms of excess aircraft and crew.
New long-haul destinations are also possible in the initial recovery phase.
Globally, there are many examples of new routes that have been launched during the pandemic, connecting destinations that have reopened to leisure travel and have been able to attract visitors from markets that were previously not large enough to support a nonstop service.
For Singapore, including countries in the initial reopening phase that were not previously served nonstop could similarly generate sufficient demand to support the launch of new routes.
For example, Canada, Hungary, Ireland, Israel and Seychelles could potentially be served nonstop from Singapore for the first time.
New nonstop destinations in countries already served such as Honolulu in the US or Edinburgh in the United Kingdom are also possible.
There may also be new airlines on existing routes; for example, SIA Group's low-cost subsidiary Scoot could launch services to major European destinations such as London to supplement existing service from SIA.
While SIA, Scoot and foreign airlines are capable of rapidly adding capacity and even launching a few new routes, the overall increase for Changi will be relatively modest.
Changi could potentially handle 1.5 to 2 million passengers in the fourth quarter, which is only about 10 per cent of pre-pandemic levels but represents an important first step in the right direction and the start of a recovery phase.
The pace of the recovery should pick up significantly in 2022 as travel within Asia Pacific gradually resumes.
A full recovery for Singapore's aviation and travel sectors will take a few years and follow a path that will be uneven and is now very hard to predict.
For now, it is important to simply start the long recovery process by providing quarantine free travel to a list of countries that could be small initially but can gradually be expanded.
Airlines will be ready to serve whatever countries make this list and undoubtedly Singapore residents will be eager to return to the skies.
ABOUT THE AUTHOR:
Brendan Sobie is the founder of Singapore-based independent aviation consulting and analysis firm Sobie Aviation. He was previously chief analyst for CAPA-Centre for Aviation.