Singapore's balancing act in building defence ties
The recent renewal of a defence agreement by Prime Minister Lee Hsien Loong and United States President Donald Trump in New York has a number of ramifications.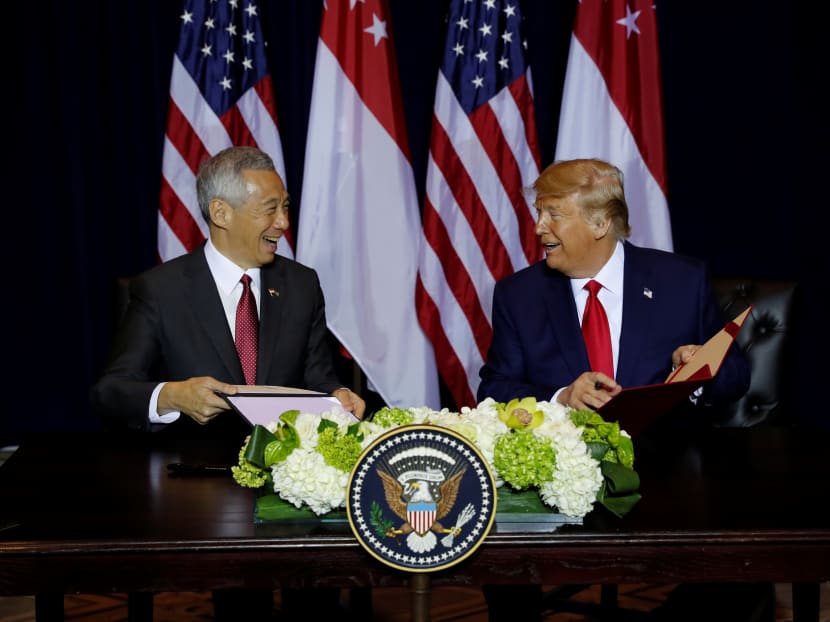 The recent renewal of a defence agreement by Prime Minister Lee Hsien Loong and United States President Donald Trump in New York has a number of ramifications.
To be sure, the extension of the terms of the Memorandum of Understanding Regarding United States' Use of Facilities in Singapore for another 15 years is a positive development — albeit a small one — amidst a gloomy global environment.
The MOU facilitates US access to Singapore's air and naval bases, and provides logistic support for transiting personnel, aircraft and vessels.
Some observers expecting a broadening of the areas of collaboration covered by the MOU, which often happens with such extensions, might have been disappointed given that the terms were maintained this time.
However, the extension means that the agreement will continue to underpin the US' security presence in the region, as it has done for the past nearly three decades.
This has come through the rotational deployment of fighter aircraft for exercises, refueling and maintenance, and the deployment of littoral combat ships and P-8 Poseidon aircraft to Singapore since 2013 and 2015 respectively.
The Singapore Defence Ministry says that the renewal of the agreement represents the Republic's support for the US presence in the region, which remains vital for peace, stability and prosperity in the Asia-Pacific.
The signing comes on the heels of the first Asean-US Maritime Exercise, which was conducted earlier in September. This marked a deepening of engagement with the US by the regional grouping, of which Singapore is a founding and active member.
A BALANCING ACT
This latest example of Singapore's cooperation with the US should be contextualised against recent military collaboration with another major power in the region — China.
Contemporary Singapore-China diplomatic ties have grown to include a defence component, which was formalised in 2008 with signing of the Agreement on Defence Exchanges and Security Cooperation.
This is expected to be revised and expanded later this year, with the inclusion of frequent high-level dialogues, new arrangements for services-to-services cooperation, academic and think-tank exchanges, as well as an increase in the scale of existing bilateral exercises.
On the regional front, the first-ever Asean-China maritime exercise was held over six days in October 2018, during Singapore's chairmanship of Asean. Notably, this came ahead of the Asean-US exercise held this year.
Also in July this year, China and Singapore held the fourth edition of Exercise Cooperation, a bilateral army exercise conducted over 10 days with a focus on professional and cultural exchanges and tactical training including urban operations, which is a key priority for militaries looking to address current threats.
The sea-based version of this exercise, Exercise Maritime Cooperation, is also expected to be conducted in 2020, following the previous iteration in 2015.
Given this range of past, present and future military collaborations, it is clear that Singapore is focused on staying true to its long-held tenet of building strong and enduring relationships with all parties to safeguard the best interests of the country.
This priority is not always an easy one to achieve, especially given the increasing polarisation in global geopolitics, a growing trend towards nationalism seen in many parts of the world, and the rising competition between major powers such as the US and China, especially in Asia.
MANAGING DIFFERENT STAKEHOLDERS
While US-China tensions have dominated headlines in recent months, not least due to the ongoing trade war, there are other players looking to make their presence felt in the region.
Observers have pointed out that European nations are looking to raise their profile in Asian security issues, in the form of increased freedom of navigation operations and a heightened focus on rising tensions in the South China Sea.
Britain, France and Germany issued a joint statement in August stating their concern about the situation in the South China Sea, which they feared could lead to insecurity and tension in the region.
In an apparent joint show of force, the US and Britain conducted a joint naval drill in the contested waters in February this year, while France sailed a naval assault ship and frigate close to the disputed Spratly Islands in 2018.
Britain, facing ongoing and future challenges with a looming Brexit, is especially interested in building its profile and relationships with global partners.
Under the previous administration, then-foreign minister Jeremy Hunt and then-defence minister Gavin Williamson had been quoted as saying the country was considering establishing a permanent naval base in South-east Asia, possibly in Singapore or Brunei. If the plan materialises under Boris Johnson's government, it would mark the first new British military base in the region in more than half a century.
What all this means for a country like Singapore is that there will be even more partners and stakeholders to manage in terms of military cooperation, while being mindful of existing long-standing relationships with major powers like the US and China.
The latter is geographically closer to Singapore and its South-east Asian neighbours, and hence able to exert a more direct influence, should it choose to do so, something that all nations in the region are mindful of.
COUNTERING FUTURE THREATS
It should be noted that Singapore's need to perfect this precarious balancing act extends beyond diplomatic niceties and foreign affairs wranglings.
The plethora of future threats to national defence and security necessitate close collaboration and cooperation with military counterparts around the world. These threats are moving beyond conventional military challenges to encompass terrorism, cyber attacks, information and influence operations, and what has come to be known as grey zone conflicts.
These are activities that are coercive and aggressive in nature, but that are deliberately designed to remain below the threshold of conventional military conflict and open interstate war.
This threat environment is complex and complicated, and becoming increasingly so. It is the duty of every country to develop capabilities to counter these threats, and to seek out best practices and technologies from leaders in the respective fields.
Singapore's long-term survival and relevance in the world will depend on its continued ability to maintain and nurture strong relationships, and to build trust and spirit of collaboration with as many partners as possible in terms of military cooperation.
ABOUT THE AUTHOR:
Nicholas Fang is director for security and global affairs at the Singapore Institute of International Affairs, Singapore's oldest non-government think tank. He is also a former Nominated Member of the Singapore Parliament.