Sino-Indonesian tensions in the Natunas: What can Jakarta do?
According to Indonesian authorities, at least 63 Chinese fishing and coast guard vessels entered Indonesian waters around the Natuna Islands for illegal fishing activities between Dec 19 and 24. Jakarta responded by lodging a formal protest with Beijing and sending eight naval ships and four F16 jets to patrol the area.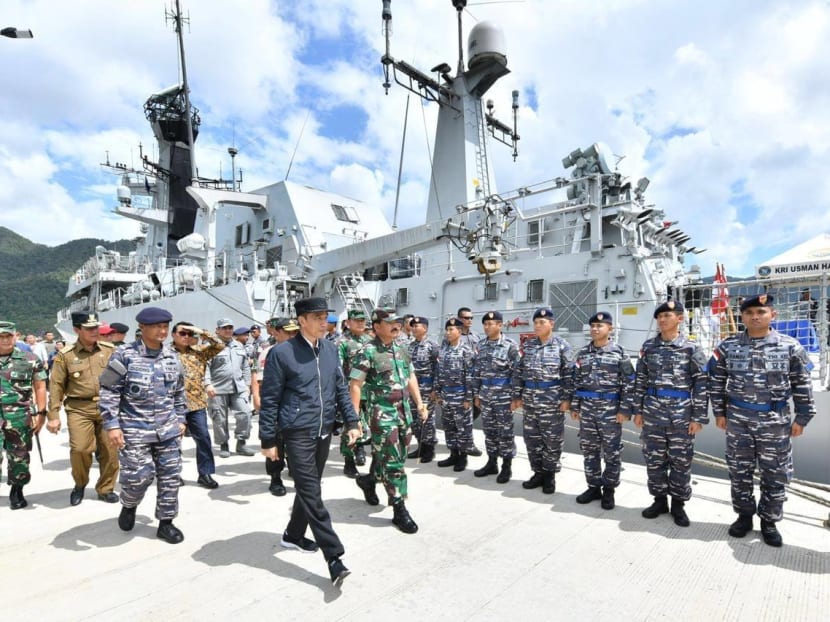 According to Indonesian authorities, at least 63 Chinese fishing and coast guard vessels entered Indonesian waters around the Natuna Islands for illegal fishing activities between Dec 19 and 24. Jakarta responded by lodging a formal protest with Beijing and sending eight naval ships and four F16 jets to patrol the area.
Beijing, however, appeared unfazed. Chinese Foreign Ministry spokesman Geng Shuang said that the nearby Spratly Islands, or Nansha as China calls them, are under Chinese sovereignty. He also called for talks with Jakarta on the issue.
But Indonesia's President Joko "Jokowi" Widodo stressed that "there is no room for negotiation when it comes to our sovereignty".
The standoff in the Natunas recalls similar incursions by Chinese vessels in 2016. Mr Widodo displayed similar grit at that time:  He conducted his own "gunboat" diplomacy by chairing a cabinet meeting on the naval corvette KRI Imam Bonjol, which was navigating around the Natunas.
In a move reminiscent of 2016, Mr Widodo visited the Natunas on Jan 8 to affirm Indonesia's sovereignty. But such symbolic gestures may be losing their potency.
Take for instance Mr Geng's reference to the Spratly Islands. It could easily be interpreted as a veiled threat since, according to the United States Navy, Beijing has built seven military bases there in recent years.
Despite the gung-ho talk by the Indonesian military about defending the nation's sovereignty in the Natunas, the fact that China has military bases near the islands strengthens China's hand since Indonesia has nothing comparable in the area.
One major flaw in Indonesia's strategy vis-à-vis China remains the serious lack of expertise on that country within the Indonesian Ministry of Foreign Affairs, the Ministry of Defence and, perhaps most importantly, the office of the President.
For example, until recently, there was only one Indonesian diplomat fluent in Mandarin and he has now reportedly resigned his post. It remains unclear whether the ministry was successful in recruiting more speakers of Mandarin in its latest personnel intake, or whether it was even a priority. 
Late last year, President Jokowi appointed 13 special staffers and nine members of the Presidential Advisory Council, but not one of them has expertise on China.
Indonesia's intelligence agency, BIN, would also benefit from initiating information exchanges with its foreign counterparts to be better placed to assess China's intentions and ambitions with regard to Indonesia. 
In contrast, China appears to be better prepared to deal with Indonesia. In the recent standoff in the Natuna Sea, the Chinese Coast Guard personnel surprised their Indonesian counterparts by issuing their warning in Bahasa Indonesia. 
While China increasingly devotes its think tanks and academia to Indonesian studies, Indonesia is unquestionably complacent with how things are. 
In 2016, the Beijing Foreign Studies University established the Sino-Indonesian University Think Tank Alliance. Since 2017, China's Social Sciences Academic Press, under Beijing's Chinese Academy of Social Sciences, has published annual yearbooks analysing the Indonesian economy. No corresponding endeavour on the Indonesian side exists.
It is fair to say that China's latest incursion into the Natunas carries a different signature from the 2016 incident, given that the Chinese fishing boats were reportedly escorted by Chinese Coast Guard as well as People's Liberation Army-Navy (PLA-N) vessels this time round.
It is difficult not to see China's manoeuvres in the Natunas as part of its overall strategy for control of the South China Sea, as symbolised by the nine-dash line covering some 80 per cent of the strategic waters.
Although the Natuna Islands are situated outside the nine-dash line, their 200-mile Exclusive Economic Zone (EEZ) overlaps with the waters claimed by China to the extent of some 19,300 square miles.
It is noteworthy that the recent provocation in the Natunas took place around the same time that Malaysia, a claimant state in the South China Sea territorial disputes with China, submitted a claim to the United Nations' Commission on the Limits of the Continental Shelf, seeking to extend its legal continental margin beyond the 200 nautical mile limit.
China naturally denounced the claim and asked the UN not to review it.
Malaysia's claim represented a toughening of Putrajaya's stance against Beijing in the South China Sea. Beijing may be worried about another international legal setback, especially after the unfavourable ruling of 2016 made by an international tribunal at The Hague.
This had been convened under the United Nations Convention on the Law of the Sea and granted most of the Philippines' claims against China in the South China Sea.
Despite Beijing's explicit claim to maritime rights within the Natuna Islands' EEZ, Jakarta's official line to date remains that it is a "non-claimant" in the South China Sea disputes.
As such, Indonesia reacts only when its own interests are threatened, as demonstrated by its pushbacks against incursions in the Natunas.
Indonesia has also sought to find a solution to its own South China Sea problem through Asean, including getting the Asean-China code of conduct that is being negotiated to recognise the rights of coastal states over their EEZs.
But the 10-member grouping has so far failed to produce a unified front, notably in its failure to condemn China's assertiveness for the past few years.
It also does not help that foreign fishing vessels entering Indonesia's waters also come from fellow Asean members, notably Vietnam. 
However, there are signs that Asean countries may be working towards a common approach against China. 
The lack of protest against Malaysia's latest claim with the UN by other claimant states within Asean such as Vietnam and the Philippines is one such sign.
The latest Chinese incursions may have been intended as a reminder to Asean and its largest member that Beijing can assert itself in the South China Sea at will. And let's not forget that China has other levers it can pull, such as in trade and investment.
Ultimately, as part of the Natuna Sea lies within Beijing's nine-dash line, Indonesia can expect to see a repetition of the recent Natuna standoff. 
What can Indonesia do then? The current dearth in China expertise within the Indonesian government and academia makes a coherent policy on China challenging, if not impossible.
Seemingly stuck in the Suharto era, Indonesian bureaucracy continues to treat China as an unimportant player on the regional stage that it probably was throughout the 1970s and 80s. Without a doubt, a total shift in Indonesia's approach to China is needed and long overdue.
As Sun Tzu once wrote: "If you know others and know yourself, you will not be imperiled in a hundred battles; if you do not know others but know yourself, you win one and lose one."
ABOUT THE AUTHOR:
Johannes Nugroho is a writer and political analyst from Surabaya whose commentaries have appeared in the Jakarta Post and Jakarta Globe since the 1990s.