Southeast Asia is at the frontline of the climate emergency. It is not too late to act
The Intergovernmental Panel on Climate Change (IPCC) report released last week gave world leaders the most up-to-date information about climate change to inform their policies. The report sets out a grave existential crisis for humanity.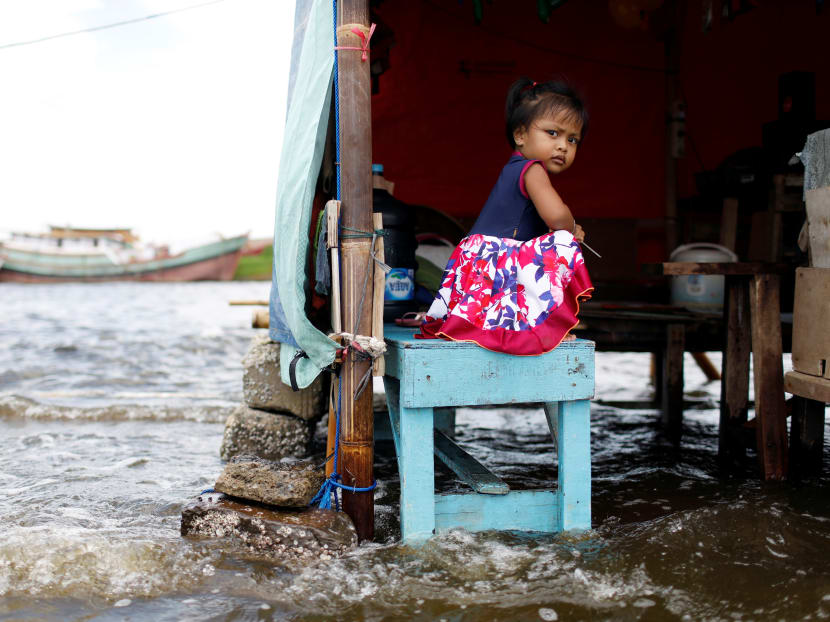 The Intergovernmental Panel on Climate Change (IPCC) report released last week gave world leaders the most up-to-date information about climate change to inform their policies. The report sets out a grave existential crisis for humanity.
The report is the culmination of a five-year process involving over 200 leading scientists from more than 60 countries. I am one of those scientists. 
The numbers outlined in the report are stark and strikingly emphatic.
Humans have pumped around 2,400 billion tonnes of carbon dioxide into the atmosphere since 1850, creating concentrations of the gas that have not been seen on Earth in the last two million years.
Carbon dioxide and other greenhouse gas emissions are causing global warming and climate change. The change is occurring more quickly than predicted and is already causing weather extremes, the melting of polar ice-caps and sea level rise. 
The evidence is now indisputable. The science is clear.
The report sets out various "futures", dependent upon what action the world takes. 
Unequivocal evidence shows that continued greenhouse gas emissions will propel us towards a calamitous future with more frequent and more severe disasters affecting more and more places.
But, on the other hand, drastic action can avoid this worst-case outcome.
The action is needed now, to peak emissions within a decade — the more we delay, the weaker the action, the warmer the climate and the more severe the effect.
This will involve not only reducing and eventually minimising or even stopping all fossil fuel use, but also reforms in almost all aspects of life, such as travel, building design and agriculture.
Further, there is an urgent need to devise and implement adaptations that prevent or reduce the impact of these extreme weather events.
Singapore is becoming a leading nation in climate adaptation. 
The Republic has committed to building coastal defences and established improved drainage systems to deal with sea-level rise
Future sea-level rise will affect populations, economies, and infrastructure of every coastal nation.
But in the coming decades, the greatest effects will be felt in South and Southeast Asia, due to the number of people living in low-lying coastal areas.
Mainland China, Bangladesh, India, Vietnam, Indonesia, and Thailand are home to the most people on land projected to be below average annual coastal flood levels by 2050.
Together, those six nations account for roughly 75 per cent of the 300 million people on land facing the same vulnerability at mid-century.
The threat of sea-level rise is amplified in Southeast Asia because many coastal regions are sinking from tectonic processes and the effects of groundwater and other natural resources withdrawal.
This IPCC assessment presents a troubling forecast for Southeast Asia, predicting the region will see hotter weather, longer monsoon seasons and increased droughts as total global warming increases by around 1.5°C in the next two decades.
With many low-lying coastal cities exposed to sea-level rise and tropical cyclone risk, dramatic increases in heat and humidity can be expected across the region, with extreme precipitation forecast in some areas and drought anticipated in others.
The region's climate vulnerability is a security threat. Worsening water shortages increase the likelihood of tensions.
For example, Pakistan's main surface water source is the Indus River, which flows downstream from Indian-administered Kashmir.
Mass climate-induced migration could be the most potent trigger of destabilisation. Afghan refugees could be fleeing drought, not just war.
Rural-to-urban migration could lead to resource crunches in cities. Worryingly, the IPCC report predicts urbanisation will also intensify heat extremes and flooding.
But I want to return to the positive aspects of the report – that there is still time to avert climate catastrophe through stronger mitigation policies.
And to their credit, Southeast Asian countries, including Singapore have produced many such policies.
In Singapore's case, these are laid out in the Green Plan 2030. The policies must now be monitored and enforced and have sufficient funding to ensure they are effective.
It will be tight going. At the landmark Paris climate change meeting in 2015, governments pledged to try to keep temperature rises well below 2°C, and not more than 1.5°C if possible, from pre-industrial days.
The trouble now is that the world has already heated up by almost 1.1°C, which means only drastic cutbacks in emissions will succeed in preventing far more serious, intense global warming.
The most ambitious of emission scenarios described by the IPCC now offers less than a 50 per cent chance of keeping below that 1.5°C threshold.
Prospects for limiting global warming to 2°C are better but will still require reductions far more than those that have been pledged by nations in the run up to COP26, the United Nations climate summit to be held in Glasgow in November.
By 2050, Singapore currently aims to halve its emissions from its 2030 peak, and reach net zero emissions as soon as viable in the second half of this century.
Other nations, however, have been more ambitious in their targets. So far, 110 countries - accounting for about half the world's gross domestic product - have pledged carbon neutrality by 2050, including the United Kingdom, Korea and Japan. A few, like Sweden and Finland, hope to get there sooner. China is aiming for 2060.
So, what are the barriers that block the required actions?  The report points to the investment needed to shift the global economy to a low-carbon footing that is currently missing.
Current investment falls well below what is needed to even hold warming to the higher limit of 2°C. 
As a result of the current lack of investment, stranded assets will be a growing problem, as coal-fired and gas power plants with working lives usually measured in decades will have to be decommissioned within nine to 12 years of construction.
The IPCC report echoes the recent advice from the International Energy Agency that no new fossil fuel development can take place if the world is to stay within 1.5°C of heating.
The reasons for the lack of investment in low-carbon economies are many — the existing and planned infrastructure and investments, institutional and political inertia, and a social bias towards the status quo.
Technological advances are a cause for optimism. Solar and wind energy and battery technology are now far cheaper, thanks to policies that have encouraged their use.
Their efficiency is getting better and better, with new ways to tackle intermittency emerging. 
New technologies, including artificial intelligence, now also offer the prospect of huge improvements in the energy efficiency of transport systems, building operations, manufacturing processes and food production.
The science of climate change is advancing. We can better predict climate changes and its impacts at a regional and local level, but we desperately need continued investment here in Singapore and Southeast Asia to develop a talented local base of scientists and engineers.
Ways to remove carbon dioxide from the atmosphere also offer hope, not only of reaching net zero, but in eventually reversing climate change.
Indeed, the IPCC reports have long argued that carbon dioxide removal from the atmosphere would almost certainly be needed to hold global heating to 1.5°C.
So far, technologies to capture and store carbon dioxide have not progressed rapidly enough to play a major role.
However, nature provides a solution.  The planet's oceans, forests and grasslands take up huge quantities of carbon dioxide through photosynthesis, much of which is stored in plants or in the soil, creating major global carbon sinks. 
By preserving and expanding forests, these sinks could be made larger.  
Thus, taking greater care of oceans and land is not only important for preserving biodiversity but is also a key part of climate change mitigation.
But these "nature-based solutions" must not be over-relied on.
There are many uncertainties as to how much and how quickly they would work to lower carbon dioxide levels and how resilient the ecosystems are themselves to climate change.
Averting the climate emergency is the most important thing that humanity needs to do in the next 30 years.
It is going to change our lives; it is going to change the way we regard ourselves on the planet; it may lead to a happier, more equitable way of life for all of humankind.
And if we don't, then there will be human suffering and societal disintegration on an unprecedented scale for generations to come.
ABOUT THE AUTHOR:
Professor Benjamin Horton is director at the Earth Observatory of Singapore, Nanyang Technological University.