S'pore, China can work together to add value to BRI
Singapore and Beijing can cooperate to add value to China's Belt and Road Initiative (BRI), which the Republic strongly supports, said Minister for Foreign Affairs Vivian Balakrishnan in an interview with China Daily published yesterday. Below is an excerpt from the interview with Dr Balakrishnan, who was on a two-day official visit to China.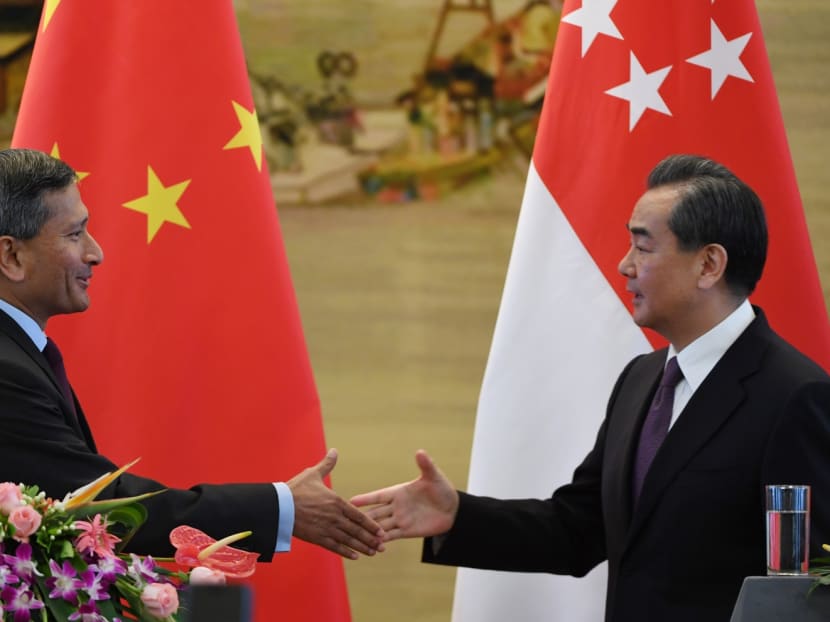 Singapore and Beijing can cooperate to add value to China's Belt and Road Initiative (BRI), which the Republic strongly supports, said Minister for Foreign Affairs Vivian Balakrishnan in an interview with China Daily published yesterday. Below is an excerpt from the interview with Dr Balakrishnan, who was on a two-day official visit to China.
Q: How do you evaluate the current Sino-Singapore relationship, and the political mutual trust between the two sides?
Singapore and China share a close and long-standing friendship that predates the establishment of diplomatic relations in 1990.
It is a close and broad-based relationship built upon the strong foundation laid by our founding Prime Minister Lee Kuan Yew and then Senior Vice-Premier Deng Xiaoping since 1976, and has continually been strengthened by the subsequent generations of Singapore and Chinese leaders.
Our two countries have worked very closely together to transform our economies and societies, and to uplift the lives of our peoples over the past four decades.
Singapore and China have benefited from mutual learning (about) and sharing of our developmental experiences. Singapore has always been a steadfast supporter of China's rise.
Today, we have three Government-to-Government projects: The Suzhou Industrial Park, the Sino-Singapore Tianjin Eco-City, and the China-Singapore (Chongqing) Connectivity Initiative (CCI).
These three projects bear strong testament to our substantial cooperation and exemplify our "All-Round Cooperative Partnership Progressing with the Times", which was a decision made by President Xi Jinping and Prime Minister Lee Hsien Loong during President Xi's state visit to Singapore in November 2015.
This partnership also reflects the long-term strength of our bilateral ties, and the bright prospects for the future.
Singapore has always strongly believed in China's growth prospects. This is why Singapore has been China's largest foreign investor since 2013. Singapore is also one of China's top trading partners in Asean (the Association of South-east Asian Nations).
We were the first Asian country to sign a comprehensive Free Trade Agreement (FTA) with China, which became a pathfinder for the subsequent Asean-China FTA.
Both sides are now negotiating an upgrade of our bilateral FTA, to ensure that it keeps up with the expanding nature of our economic relations.
Singapore and China have obvious differences in size, history, social make-up and geography.
While we may have our respective national interests, there are no fundamental strategic disagreements.
We both need regional peace and stability. We both depend on free and open trade. We both support a fair and just international system that enables all countries, big or small, developed or developing, to fulfil the aspirations of our people in our own unique ways. 
Q: Could you please introduce to us the recent highlights in bilateral cooperation and exchanges?
Our relationship with China is characterised by frequent high-level exchanges. For instance, I make it a point to visit China several times a year. I have found our regular bilateral exchanges to be useful in building mutual trust and understanding, as well as in exploring new areas of bilateral cooperation.
Just last month, we welcomed Politburo member and Central Organisation Department minister Zhao Leji to Singapore to co-chair the 6th Singapore-China Forum on Leadership with Deputy Prime Minister Teo Chee Hean.
Singapore was pleased to participate in the inaugural Belt and Road Forum for International Cooperation, held in Beijing last month.
Singapore was represented by Minister for National Development and Second Minister for Finance Lawrence Wong.
Singapore is an early and strong supporter of the Belt and Road Initiative. Our region needs enhanced public infrastructure and connectivity. The Belt and Road Initiative complements the Master Plan for Asean Connectivity.
We signed an intergovernmental Memorandum of Understanding (MOU) on jointly building the Silk Road Economic Belt and the 21st Century Maritime Silk Road. We look forward to working with our Chinese friends to implement this MOU.
To enhance Asean connectivity, we are building the Singapore-Kuala Lumpur High Speed Rail.
Singapore recognises China's experience and expertise, and welcomes Chinese companies to put in a good bid during the international tender, which will be conducted in a fair and transparent manner, and which will be jointly called by Singapore and Malaysia later this year.
Q: What are the latest thoughts and measures Singapore has on jointly pursuing, and building the four platforms for, the Belt and Road Initiative?
Singapore and China can work together to add value to the Belt and Road Initiative.
In fact, we are already doing so through the CCI, which was jointly launched by President Xi and Prime Minister Lee during President Xi's November 2015 state visit.
The CCI focuses on enhancing connectivity in financial, civil aviation, multi-modal logistics and info-communications technology, and aims to develop Chongqing into a key connectivity hub of the Western China region.
We are also currently working on establishing a "Southern Trade Corridor" to reduce the cost and enhance the flow of trade between South-east Asia and Western China.
Consequently, the CCI will be a key node linking "the Belt" (the Silk Road Economic Belt) and "the Road" (the 21st Century Maritime Silk Road).
Apart from infrastructure connectivity, Singapore is already supporting the Belt and Road Initiative through financial services.
According to China's Ministry of Commerce, Singapore accounted for one-third of China's outward investment to Belt and Road countries last year.
Singapore will continue to support Chinese companies as more venture abroad.
Singapore and China can further consider the joint provision of training for officials from the Belt and Road countries.
We can also encourage our think-tanks to conduct joint research on topics related to the Belt and Road.
Q: How do you view China-Asean relations? How will Singapore continue to promote the development of the China-Asean relationship?
Asean's strategic partnership with China is strong, substantive and multifaceted. We celebrated our Silver Jubilee in Laos last year, and we are now reviewing Asean-China cooperation ahead of the 15th anniversary of the Asean-China Strategic Partnership next year.
Our good relations are anchored in strong trade and economic ties.
Both sides are working hard towards realising our twin goals of two-way trade and investments of US$1 trillion (S$1.38 trillion) and US$150 billion, respectively, by 2020.
As the priorities of Asean and China evolve, we have broadened and deepened cooperation in areas like people-to-people linkages to ensure that the relationship remains relevant and mutually beneficial.
For instance, Asean and China saw a significant growth in tourism exchanges in 2016.
The total number of Chinese tourists to Asean was 19.8 million, an increase of 6.4 per cent, while the number of Asean tourists to China was 10.34 million, an increase of 57.8 per cent. But we need to continuously find ways to boost two-way tourist visits and promote greater people-to-people exchanges between Asean and China.
It is in this context that we have designated 2017 as the Asean-China Year of Tourism Cooperation. Our leaders will be issuing a joint statement on tourism cooperation at the 20th Asean-China Summit in November this year in the Philippines to reiterate our commitment to continue boosting tourism cooperation among our countries.
The trajectory of Asean-China relations continues to be positive. We should not allow any one issue to overshadow or compromise the entire relationship.
As Country Coordinator, Singapore has been actively consulting both Asean member states and China on our cooperation and how we should chart the future development of this strategic partnership.
Q: How do you see the current situation in the South China Sea?
The situation in the South China Sea has been calm, and there have been no major disruptions in the past year. The South China Sea issue is a complex one with many stakeholders.
The complicated issue of competing territorial claims must be resolved by the claimant states themselves.
Singapore is not a claimant state. The non-claimant states hope that the South China Sea, which is a vital channel for trade and a major sea lane of communication, will be kept peaceful, stable, free and open.
All parties must continue to exercise self-restraint, maintain channels of communication, and work on practical measures that will help to manage potential incidents, even as we work towards the long-term peaceful resolution of differences.
Q: What is your opinion on the progress made by all relevant parties in implementing the Declaration of Conduct (DOC) and moving forward consultations on the Code of Conduct(COC)?
I welcome the progress made by our officials in finalising the framework for the COC in Guiyang last month.
Every delegation worked very hard. Officials from Singapore and China cooperated effectively and constructively as co-chairs of the meeting to achieve this outcome ahead of the mid-2017 target.
I am looking forward to the endorsement of the COC framework when we meet at the Asean-China Post-Ministerial Conference in the Philippines in August.
I hope we can take advantage of the positive momentum and make further progress with the detailed text of the COC in the next phase of negotiations.
As Country Coordinator, Singapore will continue to work closely with China and all Asean member states in an objective and transparent manner to enhance mutual trust and confidence, as well as further deepen our close relations.