Stuck at home due to Covid-19, should parents cut some slack on kids' screen time?
As the world comes to a standstill due to Covid-19, travel restrictions, leaves of absence, and stay home notices will become increasingly common.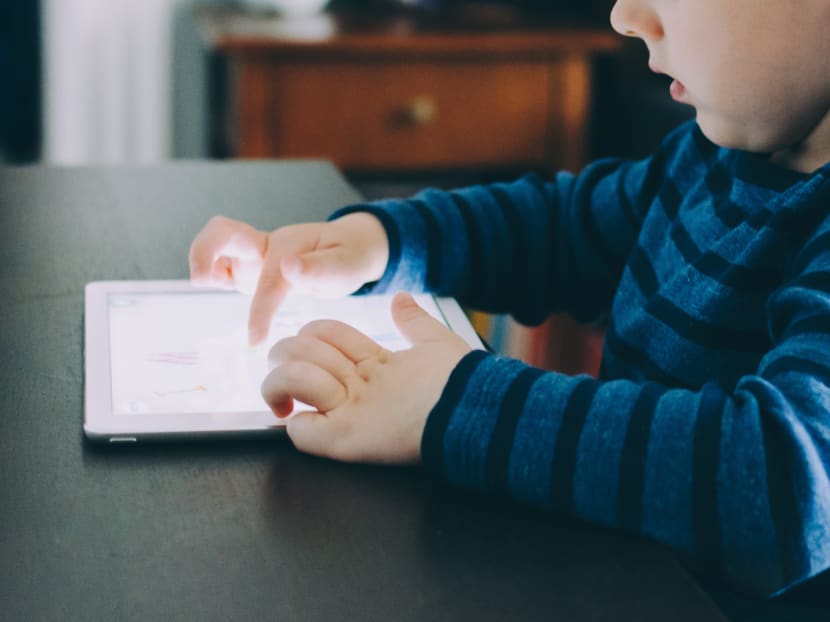 As the world comes to a standstill due to Covid-19, travel restrictions, leaves of absence, and stay home notices will become increasingly common.
Being parents ourselves, we know that the increasingly probable scenario of families being asked to stay at home will see parents pulling their hair out as kids bounce off the walls.
Mums and dads have to discover ways to simultaneously entertain and educate their children, while performing household chores and managing their work demands from home.
In today's wired world, one typical way to occupy children is to use digital media to engage or placate them while parents attend to their professional obligations.
Failsafe as these digital devices are in captivating children, parents may nonetheless feel guilt-ridden at using screens as babysitters, and dread fostering technology addiction too.
Such anxieties are understandable as screen time has received significantly bad press over the years. An article in The Atlantic two years ago pondered the burning question: "Have smartphones destroyed a generation?"
The World Health Organization has also recommended that screen time for children under five be limited to a maximum of one hour per day.
In Singapore, a study by KK Women's and Children's Hospital and the National University of Singapore found that screen time is associated with sleep disruption which could cause developmental problems for children, such as hyperactivity, low mood and inattention.
Given such concerns, should parents actively restrict their children's use of digital technology even when they are cooped up at home, especially with co-curricular activities suspended for two weeks from March 23 as well?
As with many dicey parenting questions, the answer is by no means straightforward, yet deceptively simple. In a nutshell, it all depends!
While it is mostly fine for parents to use digital media to keep their children busy during this difficult period, the nature and extent of children's device use that parents should permit depends on various factors.
A study by the Oxford Internet Institute found that the impact of screen time on adolescents' mental well-being is not linear but resembles an inverted U. In other words, a moderate amount of screen time is more optimal than too little or too much.
What is optimal will vary depending on the emotional maturity of the child and whether it affects other aspects of his or her life.
Specifically, some level of screen use can improve adolescent well-being by enabling them to connect with their peers and pursue their interests.
However, research has shown that social media use negatively affects mental well-being when it triggers feelings of envy.
Parents should therefore ensure that their children have the maturity to manage such emotions when using social media.
At the same time, too much screen time can displace time that could have been spent on other healthy activities, such as being physically active or working on school assignments.
Parents can identify such excessive use simply by recognising if their children are neglecting other priorities in their life.
CONTENT AND CONTEXT MATTERS
Likewise, for younger children, media researchers across the world have highlighted the importance of content and context in how media influences child development.
First, researchers have repeatedly found that the way media content is structured can have positive or negative effects on children.
Sesame Street, one of the most well-researched children's TV shows worldwide, has been found to boost children's social reasoning, numeracy and literacy development, while promoting prosocial attitudes such as sharing and empathy towards out-groups.
This is unsurprising as entertainment that infuses educational content into plotlines can lead to effective learning.
Such spontaneous acquisition of knowledge is called incidental learning — as opposed to intentional learning such as in schools — and children often find it more enjoyable.
Screen time, if comprising age appropriate and suitably stimulating content, can thus facilitate incidental learning.
Indeed, recent research from the University of Massachusetts Amherst found that interactivity in digital media may also help children recognise and remember associations such as images and names of animals.
Second, the social contexts in which children use screens are also important.
Research in Singapore and beyond has shown that active and healthy parent-child interaction about the content kids are consuming can help inoculate them from harmful effects such as advertising and serve to augment children's learning from screens.
The utility that children, especially younger ones, can derive from screen time is thus heavily contingent on the extent and quality of parental involvement.
Parents who proactively curate devices with educational, age-appropriate content and who actively explain and reinforce the same will clearly pave the way for more benefits from screen time.
Undoubtedly, this situation privileges parents with more competencies and resources, so public agencies should help to bridge this digital inequality gap by providing accessible advice on how parents can helpfully support their children's media use.
VIEWING DIGITAL MEDIA USE AS A DIET
That being said, we return to our original departure point: Should parents restrict the use of digital technology for children even when they are holed up at home?
We propose that parents view digital media use as a diet. We should encourage healthy media consumption: Interactive, educational content embedded in stories or games, developmentally appropriate, socially interactive, and with a good dose of active parental involvement.
And restrict unhealthy media consumption: Avoid excessive use, undesirable and incomprehensible content, having the television on whilst doing other things, and little to no social interaction.
A little screen time can provide some much-needed reprieve for parents who have to cook, clean, entertain, and teach their children all day, while juggling their job-related tasks too.
With the ingredients for a healthy media diet in mind, go ahead and hand your iPad to your little one. And you don't have to feel bad about it.
ABOUT THE AUTHORS:
Andrew Yee is Faculty Early Career Award Fellow at the Singapore University of Technology and Design (SUTD). Lim Sun Sun is professor of communication and technology and head of humanities, arts and social sciences at SUTD. A Nominated Member of Parliament, her latest book is Transcendent Parenting: Raising Children in the Digital Age.