Supporting disability sports is not just about the money
Disability sports is not a new phenomenon in Singapore.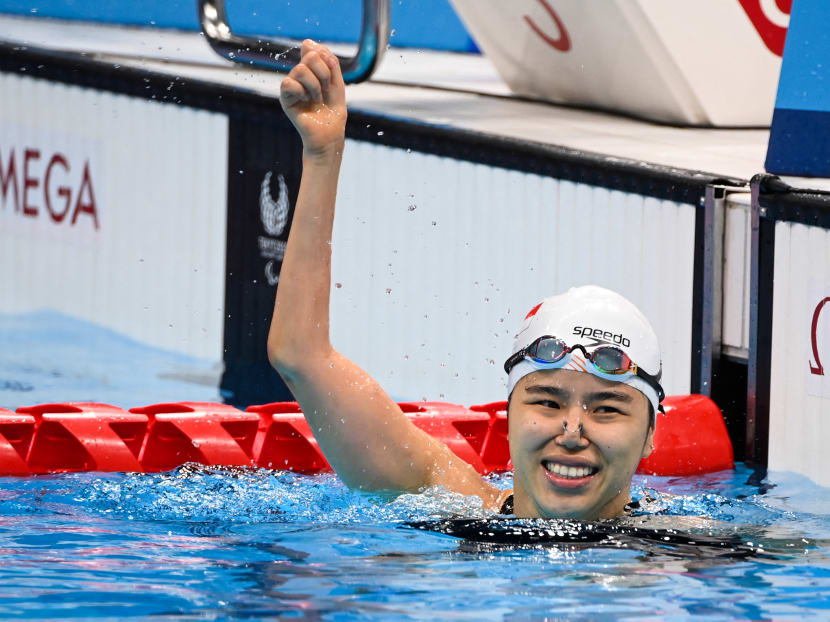 Disability sports is not a new phenomenon in Singapore.
Singapore began its participation in the Paralympic Games in 1988 in Seoul and has taken part in the Olympiad since.
At the 2008 Summer Paralympics, Singapore sent six athletes and came home with four medals, marking the first time our athletes had brought home a medal in any Paralympic competition.
And that streak continued at this year's Tokyo Paralympics, where swimmer Yip Pin Xiu won her fourth and fifth gold medals, bringing her total tally of medals to six, dating back to 2008.
With such a long history and track record at major competitions such as the Paralympics, you would think that disability sport would have cemented its place in the national conversation.
Yet Yip's latest medal haul from Tokyo reignited a debate which tends to surface around each Paralympics surrounding the disparity in financial rewards for Olympic versus Paralympic medal winners.
A Paralympic gold medal earns an athlete S$200,000, whereas an Olympic gold earned Joseph Schooling, to date our only Olympic gold medallist, S$1 million.
This disparity continues for silver and bronze medals, and spans other major competitions at the Asian, Commonwealth and South-east Asian levels.
This gap was closed slightly this past week when DBS Bank came on board as a sponsor of the Athletes Achievement Awards (AAA), which dishes out financial rewards for Paralympic champions.
DBS will match the current support given by primary sponsor Tote Board to the AAA scheme, doubling the pay-out for medal winners.
This meant that Yip, 29, who won the women's S2 50m and 100m backstroke in Tokyo, received S$800,000 for her efforts. But the reward for a Paralympic gold remains less than half of that for the Olympics.
ALL ABOUT THE MONEY?
Much of the public attention post-Tokyo centred around the significant difference in the money earned by athletes for their hard-won medals. But should the conversation focus on dollar signs?
I believe the answer is yes and no.
First of all, money matters in a big way to the sports world, especially in Singapore.
The resources and support required to build sporting infrastructure as well as an ecosystem and culture to drive a pathway to high performance sport at the global level are staggering.
This applies to all levels of sport, but more so to the relatively young arena of disability sport.
Disabled athletes have strived for equal treatment with their non-disabled counterparts, but large funding gaps remain.
Disabled sports around the world have struggled to secure the same levels of funding enjoyed by able-bodied athletes, and it's not just an issue of rewarding medal winners.
For example, under Singapore's AAA scheme, 20 per cent of the total cash award will go to the Singapore Disability Sports Council (SDSC) and Singapore National Paralympic Council (SNPC) to help fund future training and development, as well as support Singapore's participation at major competitions.
SDSC is the national sports body for people with disabilities. It provides opportunities to learn sport and helps with the training of promising talent to represent Singapore at regional and international competitions.
Based on its latest annual report, about 65 per cent of SDSC's funding in the past financial year was covered by grants from government agency Sport Singapore, with a further 15.6 per cent coming from sponsorships and 7.3 per cent from other donors.
The struggle for sponsors is also not new to the SNPC, which is a charity organisation with no direct government funding. It is tasked to select, support and prepare Singapore athletes for major games, and is also responsible for the AAA scheme.
At the grassroots level, a Disability Sports Master Plan was launched by the Singapore Government in 2016. Among other things, it has helped to set up centres of expertise for disability sports and inclusive gyms across the island.
All these initiatives and efforts don't come cheap. So while most of the recent public discourse has been on how much an athlete like Yip will take home for her efforts in Tokyo, the conversation should be broadened.
Speaking in Parliament earlier this month, Minister for Culture, Community and Youth Edwin Tong said that reward schemes like the AAA have always been funded entirely by private sponsors, and as such do not reflect how the Government values able-bodied athletes and para-athletes.
It was more heartening however to hear the minister highlight the importance of "uplifting" the entire disability sporting ecosystem, which include lowering barriers to entry, opening more facilities and programmes, enhancing the coaching and training framework, as well as integrating disability sports with the mainstream national sports associations.
All of these will require sustained funding from both the public and private sectors.
NOT JUST ABOUT THE CASH
At the same time, we should not adopt a blinkered view, thinking that money will be the magical solution that will lead to parity and equality between disabled and non-disabled sports.
It is hard to point to many places in the world where we can confidently say that Olympians and Paralympians stand on exactly the same step in terms of national standing and significance.
Commentators in Singapore have warned about the danger of the focus on disabled sports fading into the background, only to resurface at the next major games.
In a way, this is a microcosm of the broader challenges faced by Singapore sports in general, and how sports fail to occupy a major consistent platform in the national conversation.
This is a shame, as sports have much to offer a country and society in terms of the values, ethics and principles they can impart, and the inspiration and resilience they can generate.
This applies tenfold to disabled sports. Disabled athletes have to overcome much more than able-bodied athletes, thanks to the broader societal inequality and, at times, discrimination that persists against them in many countries around the world.
For example, while able-bodied athletes may wonder how to balance studies or jobs with their sports, disabled athletes often worry about finding a job to begin with.
To me, athletes such as Yip and the others in the 10-strong Team Singapore delegation who took part in Tokyo are amazing role models, embodying true resilience in the face of adversity, and determination to succeed no matter what the challenge.
As we seek to build a more inclusive society in general, disabled athletes have shown us that it is less about what they need from us, but more about how much they can bring to us in terms of inspiration and life lessons.
WHAT CAN WE DO
If we accept that there is value in sports, and more so in disability sports, then the obvious question is what more can Singapore do to champion this cause.
There are three areas where more efforts can be made by the rest of us in society.
Firstly, the private sector can and should step up its support. The recent move by DBS Bank is heartening, but more can be done.
The reward schemes that dole out cash to medal winners at the Olympics and Paralympics are driven purely by private sponsors and we need to see more companies stepping forward to support them.
We already see major international companies like Visa and BP supporting the Paralympic movement at the global level. Schooling inked deals with Hugo Boss and DBS, among other sponsors, in the wake of his triumph in Rio.
Hopefully we will see disabled athletes representing such brands on billboards and in magazines.
Second and relatedly, we as a society should do more to celebrate and recognise our disabled athletes, which in turn would create more value for sponsors looking to support them.
The announcement of the new President's Award for Inspiring Achievement that was presented to Yip as its inaugural recipient was a step in the right direction, but there should also be more media attention and societal focus on our disabled athletes and their sporting journey on a regular basis.
There are many more athletes besides Yip toiling in the shadows in sports like archery, powerlifting, athletics, equestrian and cycling, emerging only to fly our flag at major games.
Their stories are no less compelling and should be told more often to inspire the country and remind us of the power of the human spirit.
Thirdly, we need to ask ourselves what we as individuals can do to advance the cause of disabled athletes.
The sport depends significantly on volunteers to contribute as administrators and coaches, among other roles.
Nominated Member of Parliament and former Olympic swimmer Mark Chay told me that there are three ways that individuals can contribute – in terms of time, skills and knowledge; with advocacy and influence; and with money and resources.
As a coach to Yip, he donates part of his salary and bonuses back to the SDSC, and has been a tireless advocate for disabled sport. He certainly walks the talk and would be a good example for the rest of us to follow.
Our disabled sport heroes represent the very best of us as a society, nation and human race.
As the glow fades from the Tokyo games, it now falls on us to ensure that we continue to lift them up on the road to Paris in three short years, and for many years to come.
ABOUT THE AUTHOR:
Nicholas Fang is a former national athlete and sports administrator. He served as a Nominated Member of Parliament from 2012-2014, and was Team Singapore's chef-de-mission at the 2015 Southeast Asian Games.