Terrorism has to be tackled on many fronts
The recent detention of Syaikhah Izzah Al Ansari under the Internal Security Act (ISA) has disturbed many Singaporeans. The news came several days after the brutal terror attacks in Manchester and London. This latest ISA arrest is even more upsetting compared with past ones.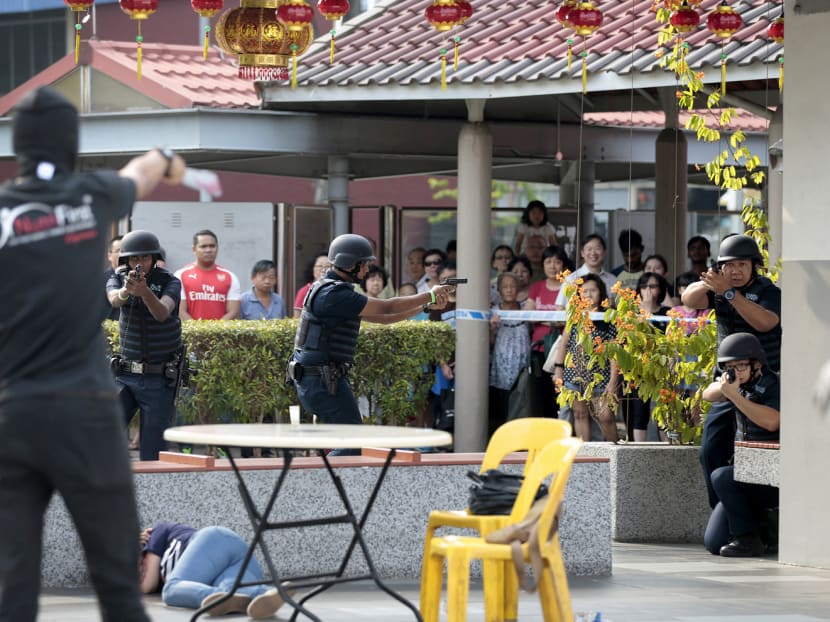 The recent detention of Syaikhah Izzah Al Ansari under the Internal Security Act (ISA) has disturbed many Singaporeans. The news came several days after the brutal terror attacks in Manchester and London. This latest ISA arrest is even more upsetting compared with past ones.
First, Izzah is the first woman to be detained in Singapore for supporting th Islamic State (IS), and she is only 22 years old. Second, she worked as an infant-care assistant, which means that many parents had entrusted their children to someone with radical inclinations.
Izzah's radicalisation began in 2013, and deepened over time, resulting in her planning to travel to Syria to join the IS. She was even prepared to fight alongside militants.
Third, her family members knew about her extremist leanings, yet they did not report her to the authorities.
Beyond the shock, what is of greater concern is whether Izzah's arrest will affect community ties in Singapore.
Disapproval of Izzah's actions from Muslim leaders here has been immediate, just like in the previous cases. Leading the condemnation is Dr Yaacob Ibrahim, Minister-in-charge of Muslim Affairs.
This reflects how much the Muslim community disassociates itself from extremist ideology and brutal acts, which contravene their religious values.
The community was unanimous in criticising Izzah's actions, and many have expressed their disappointment online.
It was let down by Izzah's actions, especially during the month of Ramadan, when Muslims perform the fast and seek God's mercy and forgiveness.
Although Ramadan is a month for personal and spiritual reflection, Muslims in Singapore have used this time to connect with non-Muslims.
For example, they have invited non-Muslims to mosques to break their fast (Iftar) with them, a manifestation of inclusivity.
The Islamic Religious Council of Singapore (Muis), together with community leaders, have advised all Muslims to quickly seek help if they witness any behavioural changes within their close circles, to continue rejecting extremist beliefs, and to stay united by stepping up integration efforts.
At the societal level, there have been efforts to foster good relations among all faiths. A day before Izzah's detention was announced, several faith groups gathered at the Baalwie Mosque to issue a joint statement condemning terrorism.
Non-Muslim leaders were also sensitive not to associate Izzah's actions with Islamic theology.
On Tuesday, the National Council of Churches said Izzah's detention "should not cause the Muslim community to be viewed in a negative light or used to stoke the flames of Islamophobia".
The fact that leaders of different religions are able to come together in times of crisis like this owes much to the efforts of religious leaders, the Government and Singaporeans over the years.
Through these interfaith efforts, Singaporeans generally know the practices of different religions including Islam, and that the harbouring of radical ideas has never been part of their discourse.
It is therefore unsurprising that when the announcement of Izzah's arrest was made, Singaporeans were not overly paranoid.
Singaporeans are able to distinguish radicalism from Muslims' expressions of religiosity, such as the performance of daily prayers, fasting, the wearing of headscarves by Muslim women, and maintaining a certain diet.
By contrast, reactions are more stark online, where some netizens have made comments that "instilled hatred" and also called on pre-school professionals to undergo psychological tests.
Malay-Muslim pre-school teachers and Chua Chu Kang GRC's MP Zaqy Mohamad on Tuesday spoke out against these comments.
Netizens should be more discerning about how the arrest is discussed online.
They should emulate the conduct of national and community leaders when handling such announcements, and refrain for stirring emotions, spreading fake news, and posting divisive comments.
While citizens have the right to be concerned about the case, they must be careful not to promote Islamophobia, which is the last thing we want in Singapore.
There is a danger that such remarks could trigger negative stereotypes about Muslim infant-care teachers. Parents should educate their children that Izzah's case is an anomaly.
One should be reminded of the Imam Nalla Mohamed Abdul Jameel case earlier this year, where his supplications, which included verses condemning Jews and Christians, caused a huge controversy online.
The episode is a timely reminder of how the wrong choice of words, and unnecessary fanning of issues online, can undermine social cohesion.
In that episode, religious leaders once again came together, showing solidarity, and the issue was resolved amicably.
The IS ideology thrives in societies that are fragmented. Hence, should anyone come across vitriolic comments that are not in sync with Singapore's multicultural values, they should remain calm and not overreact.
They should also not hesitate to report extreme cases to the authorities.
Netizens could better use cyberspace to ensure that none of their Muslim associates feel alienated or left behind.
They should reach out to their friends and family members, and look out for any changes in their behaviour, including their online postings.
Clearly, Izzah's detention is a test for our society's resilience.
It is a warning that terrorism is in our midst. But the way to tackle it involves many fronts: From the individual, to the family, community and the state.
Singaporeans should cherish the harmony that has been built by our national, community, and faith leaders, and not allow online comments to sow discord in the community.
ABOUT THE AUTHOR:
Dr Norshahril Saat is Fellow at ISEAS-Yusof Ishak Institute. He researches on Indonesia, Malaysia, and Singapore politics.