Thai elections: Forget about a political tsunami, get ready for a stalemate
As Thailand holds its general elections on Sunday (March 24), some are wondering whether there will be a political tsunami to sweep junta leader and Prime Minister General Prayuth Chan-ocha out of power.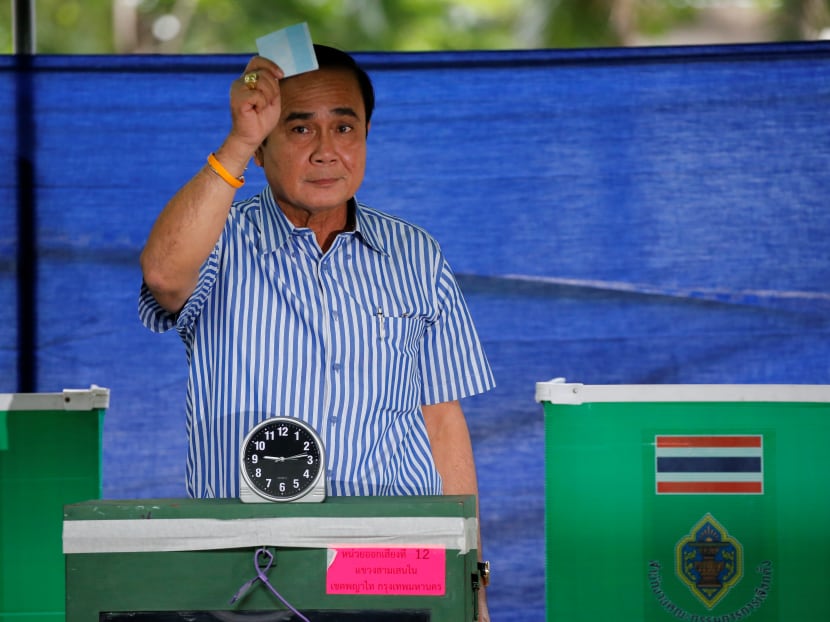 As Thailand holds its general elections on Sunday (March 24), some are wondering whether there will be a political tsunami to sweep junta leader and Prime Minister General Prayuth Chan-ocha out of power.
As a non-partisan Thai political observer, my prognosis is no; there will be no "Thailand tsunami".
I don't expect to see a repeat of what happened in the Malaysian general elections last May, when the so-called "Malay tsunami" toppled Prime Minister Najib Razak's United Malay National Organisation (Umno) government, and ushered a new government into power for the first time in more than six decades.
Thailand differs from Malaysia in the following six aspects.
First, Thailand has not seen the likes of Dr Mahathir Mohamad in this election to inspire Thai voters to vote in full force against Gen Prayuth.
Fugitive former prime minister Thaksin Shinawatra may hold the allegiance of voters in the North-east and the North. But he cannot openly campaign for his Pheu Thai Party and its "offspring parties," because doing so is illegal. As a fugitive, Thaksin has been banned from politics in Thailand.
Neither is there anyone in Thailand who is comparable to Anwar Ibrahim.
Second, there is no unified single opposition alliance in Thailand; Malaysia has Pakatan Harapan, consisting of parties with a long history of struggle against Umno.
Besides Pheu Thai, there are other parties opposing the junta. Three of the most prominent ones are Democrat Party (Thailand's oldest party), Future Forward and Thai Liberal. But these parties are not under Thaksin's control.
The Democrat Party is now gaining new momentum in the three-cornered electoral race, although it has been trailing in opinion polls behind Pheu Thai and the pro-Prayuth Palang Pracharath.
Third, the Thai Army has long wielded immense political power since it led the bloodless revolution in June 1932 to end absolute monarchy in the kingdom, replacing it with a new system of constitutional monarchy. The Thai Army is against a return to power of Pheu Thai.
In an obvious show of force, Army Commander General Apirat Kongsompong summoned more than 500 field army commanders to an urgent meeting in Bangkok on March 7 where all the commanders joined him in pledging their allegiance to the monarchy.
Malaysia has no such military interference in politics since its independence from the British in 1957.
Fourth, the odds are stacked against any political party winning the election. The National Council for Peace and Order (NCPO) junta and its military government, both led by Gen Prayuth, are not directly contesting in the election.
But they wrote the constitution and electoral laws designed to disadvantage large, popular parties like Pheu Thai. One unintended consequence from the new rules is the blooming of new small parties. These record numbers are mind-boggling.
81 parties have fielded over 11,181 candidates vying for 350 parliamentary constituency seats. 2,917 candidates from 77 parties are contesting 150 seats party-list seats in the House, and these will be allocated based on total votes each party's candidates have collected from all the 350 single-member election constituencies.
On top of that, 44 parties have nominated 68 candidates for the premiership.
The NCPO has hand-picked 250 for royal appointment to the Senate. These appointed senators shall take part in the selection of prime minister over the next five years.
In effect, the NCPO is planting its largest voting bloc in parliament.
An inconclusive election outcome looks inevitable.
None of the top three parties can realistically hope to win up to 200 seats in the 500-member House of Representatives, let alone 251 seats for the majority control.
To have its nominee be appointed PM, a party or a coalition of parties needs at least 376 votes in the combined sitting of the House and the Senate.
Gen Prayuth can easily win and retain the premiership if his Phalang Pracharath Party can secure 126 seats in the House, assuming that he and the NCPO can count on the 250 appointed senators to "do the right thing".
Fifth, neither the NCPO nor Gen Prayuth has been tarnished by any corruption charges as seriously as in the 1MDB case which significantly eroded Malaysians' trust in Prime Minister Najib Razak and Umno.
The high cost of living, low crop price, growing household debt, economic inequalities, and unemployment – the Thais call them "mouth and stomach" issues – feature much more prominently in Thai voters' minds than concerns about corruption.
That is of course not to say that bread and butter issues did not feature highly among Malaysian voters' top concerns.
But in Thailand's case, there has been no standout lighting rod like the 1MDB scandal that the opposition can aim at the government.
The pro-Prayuth camp also has the advantage of promising to continue to improve existing social welfare benefits, whereas other opposition parties have to try to outwit one another with wild promises without explaining clearly where the money needed will come from.
Lastly, unlike in the Malaysian election last May, social media cannot be used in Thailand to organise or mobilise Thai voters to go to vote on polling day on March 24.
The Prayuth government has maintained tight control of social media. It has laid down many rules to restrict campaigning by social media. For example, no one can organise car-pooling to take voters to polling stations on election day.
The police have been closely monitoring the cyber space.
Culprits posting fake news will be swiftly tracked down and prosecuted.
The impact of such curbs on the 7.1 million first-time voters aged between 18 and 25 years is unclear.
While some Thailand's youths have voiced opposition to the junta's prolonged rule – including through a Youtube video that has gone viral - it is premature to conclude that they are going to vote for parties opposing the junta.
All in, I think there will be no "Thai tsunami".
But I am afraid the inconclusive election outcome will lead to protracted political chaos and even instability.
Should this be the case, I will not be surprised if the Army seizes government power and once again resets Thai politics back to zero.

ABOUT THE AUTHOR:
Dr Termsak Chalermpalanupap is a lead researcher at the Asean Studies Centre and a member of the Thailand Studies Programme of the Iseas-Yusof Ishak Institute in Singapore.