Facts don't matter to Thai government and citizens are paying the price
The level of inefficiency and indifference towards citizens shown by the Thai government during the coronavirus outbreak has been extraordinary.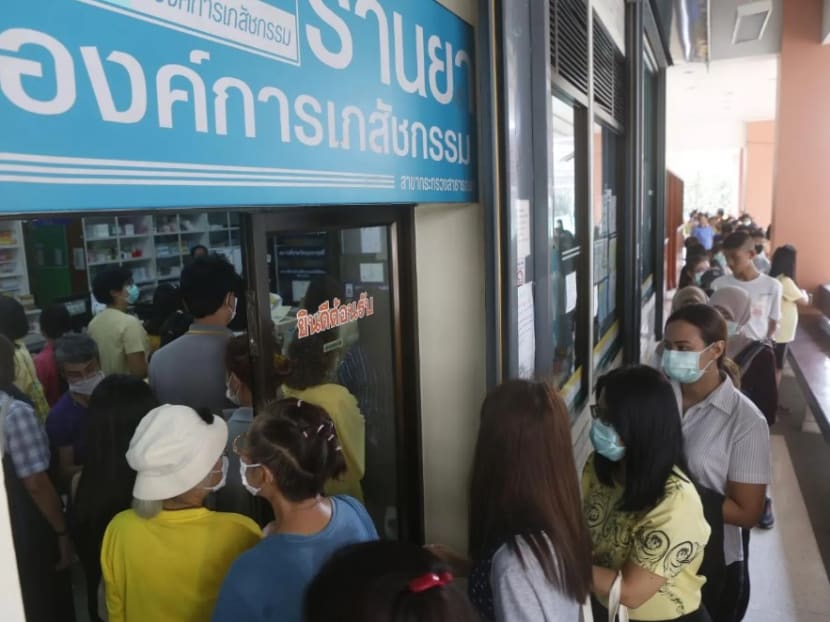 The level of inefficiency and indifference towards citizens shown by the Thai government during the coronavirus outbreak has been extraordinary.
If reasons were needed, the face mask fiasco alone would suffice.
As soon as the outbreak started, face masks and alcohol gel evaporated from the market. Those that were still available were offered at more than 10 times their usual prices.
What has the government done? Prime Minister Prayuth Chan-ocha insisted that there were enough face masks in circulation and that people who complained about shortages were looking in the wrong places.
Commerce Minister Jurin Laksanawisit on Sunday visited a factory and was pictured wearing a surgical mask while insisting there was no shortage.
So where have all the face masks gone for ordinary people?
Everywhere people are complaining that they can't buy a face mask. Availability is so limited that desperate citizens are queuing from 3am at Government Pharmaceutical Organisation stores.
Even hospital staff on the front lines of the battle against the disease said their stocks are running out.
This is a testament of failure. The government failed to foresee the need for hygiene supplies and ensure supply as the contagion spread, but also displayed its moral bankruptcy.
It would not take much for government figures to go out and see for themselves whether or not face masks can be bought anywhere. They could even try visiting online merchants.
If they had done so, they would not be parroting their meaningless scripts. They would have known what difficulties ordinary people are facing in these hard times when the cost of living is high and the prospect of catching a new and incurable disease is frightening.
Last week, the health minister finally admitted there are not enough face masks to meet demand and suggested that people fashion their own anti-virus protection.
It can't get any more hopeless than this. The government's apathy is simply sickening.
If there had to be a reason, the revelation that the Internal Security Operations Command (Isoc) is allegedly behind information operations to discredit human rights activists, especially in the restive deep South, should have discredited the entire administration.
Former Future Forward Party Member of Parliament Wiroj Lakkhanaadisorn claimed during a parliamentary censure debate against the government that the Isoc, which reports to General Prayuth, financed online campaigns that trolled critics of the government.
Worse, the state-funded operations allegedly bankrolled a blog that demeaned activists and spread hatred among people in the deep South, where more than 7,000 have been killed in the latest phase of insurgency.
Gen Prayuth denied the government was conducting a clandestine cyberwar. However, the Isoc admitted that the documentary evidence cited by the opposition during the debate was authentic. It seemed to gloss over details about the demeaning blog though.
In times of normality, a scandal like this would not have ended with the mere promise of a probe or with the PM retorting that he too had fallen prey to cyber-attacks.
But it's obvious that we are living in extraordinary times when facts no longer appear to matter.
Far more important than facts and truth are which ideological or political camp this or that person belongs to. If they are "with us", their actions are easily justified no matter how murky.
The case of deputy agriculture minister Thammanat Prompao is a perfect example.
Despite a document from an Australian court showing that he pleaded guilty to being "knowingly concerned in the importation of heroin" and was sentenced to six years in prison with a minimum of four years to be served, Capt Thammanat insists he was not guilty of heroin trafficking.
He also claimed that since he was sentenced by an Australian court, the jail time did not affect his status as a minister under Thai law.
Accepting the contrary would mean Thailand was a colony, he argued.
He also said that the 3.2kg of heroin presented by Australian police as evidence in his case was in fact flour.
And Capt Thammanat, along with Gen Prayuth and other ministers, was given a vote of confidence by the majority of the MPs in the censure debate.
Apparently we have arrived at a time when facts are meaningless and legitimacy is irrelevant.
This is an easy time to rule and also an easy time for us citizens to be disenfranchised.
If reasons were needed, plenty could be found that make it impossible to accept the inefficiency, the callousness and the hypocrisy under which we are now living.
But here we are in the age of no reason. Absurdity rules. BANGKOK POST
ABOUT THE AUTHOR:
Atiya Achakulwisut is a political columnist at Bangkok Post. She joined the Post in 1991 and was previously its deputy editor.