There's no such thing as non-violent extremism
Today's religiously motivated extremist preachers and activists are not actually "non-violent". They are "not-yet violent".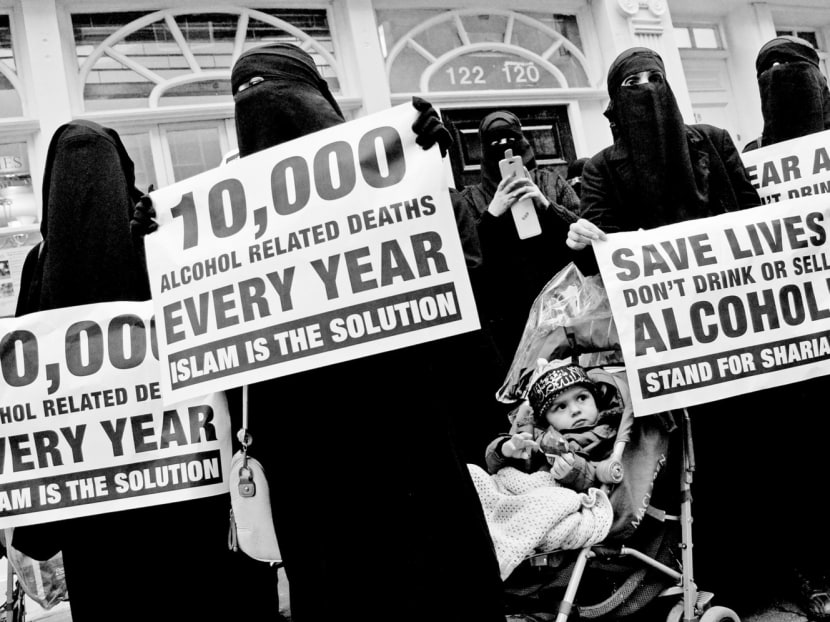 In recent weeks, much attention has been drawn to the vexing phenomenon of "non-violent" extremism. In Indonesia, police chief General Tito Karnavian has called for the country's lawmakers to urgently enact legislation to curb "radical sermons" that "play an important role in encouraging would-be terrorists".
Just last month, moreover, a cell of well-educated young Bangladeshis attacked the trendy Holey Artisan Bakery in Dhaka, killing 20 people, including foreigners. Investigations revealed that the cell members had apparently been radicalised by the online messages of three figures, namely Zakir Naik, Shami Witness and Anjem Choudary.
While Shami Witness — the online moniker for a 24-year-old office worker from Bangalore called Mehdi Biswas — was charged by the Indian police last year for running "the single most influential pro-Isis Twitter account", Choudary, a 49-year-old British lawyer and spokesperson for a host of banned groups such as Islam4UK, has just been convicted by a British court of using online lectures and messages to encourage support for Islamic State, which is banned in the United Kingdom.
Dr Naik is a controversial medical doctor-turned-preacher who runs the Mumbai-based Islamic Research Foundation. He enjoys a large social-media following and has apparently been banned in the United Kingdom and Canada for his views that some allege are inimical to religious harmony in multicultural societies.
One commentary writer thus warned recently in TODAY that "non-violent extremism" — while not explicitly advocating violence — nevertheless has a "negative impact on society" and represents a slippery slide into terrorism.
In light of this, Home Affairs Minister K Shanmugam's recent comment that individuals who "preach extremism and influence others to commit violence are more dangerous than those who seek to inflict physical harm on others" appears significant and timely.
His concerns are in fact warranted, as the notion of "non-violent extremism" is a flawed one. To understand why requires us to examine "non-violent" extremism more closely.
A CONTRADICTION IN TERMS
There are at least three strands of "extremism" discussed in academic literature. First, it refers to belief systems that represent a very significant deviation from general societal norms.
For instance, in secular, multicultural societies, refusing to fly the national flag, to mingle with or even greet fellow citizens of other faiths on their respective religious holidays, could be interpreted as evidence of an extremist belief system, in the sense that these are far removed from general customary societal practice.
Second, extremism also concerns the degree of emotional attachment to a particular belief system.
Hence, while some religious individuals may be willing to moderate their views to accommodate wider societal needs, those with more extreme attachments to their beliefs would be unwilling to compromise. They would typically demand that society at large adapts to their interests and wishes instead.
Third, extremism also involves the methods by which a group of believers seeks to influence the wider society. Whereas some religious groups may work peacefully within the system to gradually advance their agendas, extremists typically possess far less scruples in using force to impose their will on society.
The confluence of these three analytical strands nudges some observers to argue that violence lies latent in the extremist mentality. In short, "non-violent" extremism may well be a contradiction in terms. Genuine non-violent activists adopt peaceful methods of mobilisation as a matter of philosophical principle — think Gandhi in British India.
Today's religiously motivated extremist preachers and activists, on the other hand, are not actually "non-violent". They are, as influential terrorism scholar Alex Schmid memorably argues, "not-yet violent". That is, their current ostensible posture of non-violence is based not on principle but rather tactical considerations.
They will certainly incite violence more explicitly if the timing is right or circumstances change.
Hence, because there are violent potentials within extremism, as Prof Schmid insists, all extremism should be treated as a problem. In this respect, the current global threat of Isis extremism manifests itself in at least three ways.
First, pro-Isis extremist preachers and activists, through their not-violent but nonetheless implicitly chauvinistic rhetoric towards fellow citizens of other faiths, help foster an unhealthy psychological climate of intolerance that is often a pathway to eventual out-group violence.
Second, through social media such as Twitter, YouTube and Facebook, such extremists can have strategic effects, reaching and potentially radicalising thousands.
Third, through the same social media, these extremists are able to themselves link up and reinforce one another's messaging.
It is no surprise that the recently incarcerated Singaporean pro-Isis activist Zulfikar Shariff, for instance, was reportedly in contact with the Australian pro-Isis extremist activist Musa Cerantonio and, worryingly, the aforementioned Choudary.
Choudary notably inspired both Fouad Belkacem — the chief ideologue of the Belgian-based network responsible for the mass-casualty Paris attacks in November and Brussels bombings in March — and even the likes of Bahrum Syah, a key Indonesian Syria-based Isis terrorist leader. This offers further confirmation that extremism per se — even without explicit incitement to violence — is inherently problematic.
Little wonder then that the former British Islamist activist Ed Husain asserts that extremism provides the "mood music" that encourages terrorist acts.
In sum, nobody should be lulled into believing that there is such a thing as a "non-violent" extremist. It is simply extremism that is the problem.
The authorities should quickly address religious preachers and activists of any stripe who display any of the three manifestations of extremism identified.
A customised, judicious mix of soft and hard strategies is needed. Counselling may suffice for those who genuinely, if naively, think that their extremist rhetoric is harmless.
In 2002, The New York Times reported that a professor of Islamic law told a reporter: "Well, of course I hate you because you are a Christian, but that doesn't mean I want to kill you".
The Times wryly noted that the students "he instils with his theological justifications of hatred" may nevertheless "have different ideas about the proper expressions of hatred".
On the other hand, individuals who defiantly declare "I am only a craftsman selling knives. I am not responsible for how those knives are used", such as the convicted Jemaah Islamiyah spiritual leader Abu Bakar Bashir, are only being disingenuous.
For such people, the full force of the law should unapologetically be applied.
Given the rapidly evolving Isis threat from without and within, prudence dictates that globalised, multicultural societies like Singapore brook no half measures in responding to the challenge.
ABOUT THE AUTHOR:
Associate Professor Kumar Ramakrishna is Head of Policy Studies and Coordinator of the National Security Studies Programme in the Office of the Executive Deputy Chairman, S. Rajaratnam School of International Studies, Nanyang Technological University. The views expressed here are his own.