Would you apply for a job using TikTok with an all-singing, all-dancing resume?
In a scene from the film Legally Blonde, Reese Witherspoon's character sits in a hot tub in a sparkly pink bikini and reels off her accomplishments to impress the prestigious university she hopes to get into.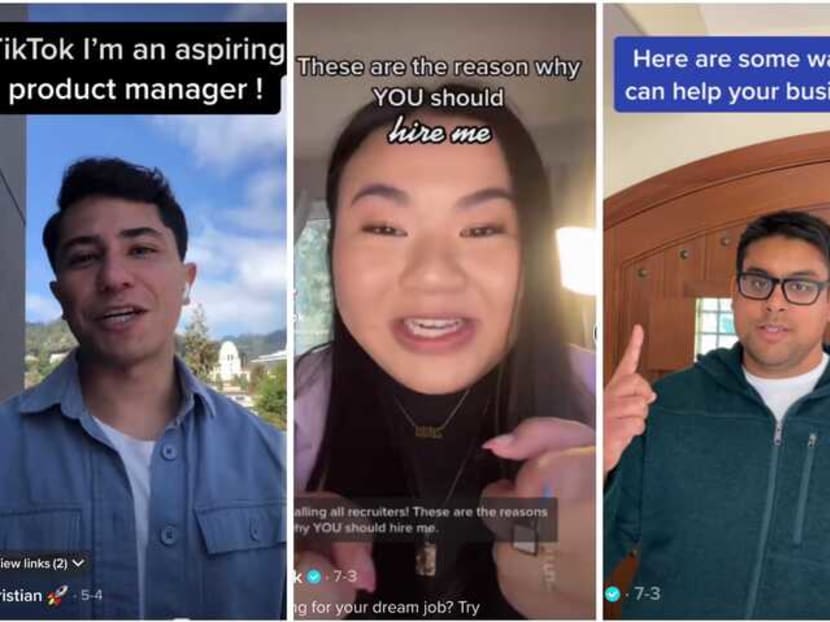 In a scene from the film Legally Blonde, Reese Witherspoon's character sits in a hot tub in a sparkly pink bikini and reels off her accomplishments to impress the prestigious university she hopes to get into. 
"Hi, my name is Elle Woods and, for my admissions essay, I'm gonna tell all you at Harvard why I'm going to make an amazing lawyer!" she begins.
As president of her sorority, Elle says, she has become "skilled at commanding the attention of a room". She is able to "recall hundreds of important details" thanks to her time spent watching soap operas.
The recipient of regular catcalls from men, she is "comfortable using legal jargon in everyday life. (I object!)"
This clip from the teen classic seemed pretty far-fetched 20 years ago. But for today's teenagers, filming and performing one's CV could become a reality.
Last month, social media app TikTok, beloved by Generation Z, attempted to break into the recruitment market, announcing that it was hosting job openings on its platform and asking users to upload their own "video resumes" under the hashtag #TikTokResumes.
While only a pilot programme running for less than a month, it has attracted more than 40 brands, including Chipotle, Sony Music and Shopify.
At the end of each week, companies receive the names, email addresses and short videos that potential applicants have crafted. It is up to the individual business what happens next.\
The initiative does away with the well-worn format of a black-and-white typed two-pager that recruiters look at for an average of five to seven seconds before either binning or pursuing.
In its stead users are afforded more creativity and, for some, a more natural way to communicate. But it is a delicate art.
Scrolling through videos of young people sounding off their achievements with jazz hands and fake smiles, I concluded that I had perhaps found the most cringeworthy corner of the internet.
In an age of self-broadcasting and "humblebragging", trying to "influence" one's way into a new job marks a new peak – or nadir.
Still, it is clear that existing hiring processes are staid and not necessarily fit for purpose.
Social media platforms can offer new opportunities for companies to reach younger talent in an organic way.
TikTok in particular will now challenge the glossier and more corporate LinkedIn, which earlier this year introduced a similar concept, "Cover Story", allowing job hunters to record a short video for prospective employers.
Where LinkedIn remains largely a professional platform, TikTok is by its social nature blurring the professional and personal. This can be a positive thing.
Tools such as the TikTok résumé may gamify the act of job-searching for young people who might otherwise be less inclined to spend their time job hunting.
Hiring as a "challenge" (think software engineers trying to crack a code to win a job interview) can be inspiring in its own right.
There are other concerns, however.
Privacy is high on the list, especially for teenagers who may not yet grasp the implications of their social media usage for their futures.
Employers will be able see the rest of their public profiles, including if they are applying elsewhere at rival businesses.
But the most obvious danger is the bias, either conscious or unconscious, that such a visual process might encourage.
Studies of traditional CVs have long found that people with foreign-sounding names are more routinely overlooked, for example.
One Harvard Business School study found that African-American and Asian applicants who "whitened" their CVs had more success.
Some businesses have been wiping certain personally identifiable information – be it name, gender or education – from résumés in a bid to create a more equitable and meritocratic process.
TikTok résumés, on the other hand, are the polar opposite.
For TikTok itself, the move makes a lot of sense. The company has topped app installs this year by wielding its "secret sauce" algorithm to serve users exactly what they want to see, replacing old-fashioned searching.
Reimagining hiring could help bring more brands to the app, match them to talent, and open new revenue streams along the way.
Are we on the way to singing and dancing our CVs?
Speaking for the cynics among you, I can say the audition is not for everyone. But for digital natives looking to win the fight for employers' attention, it might just pay off.
It did for Elle Woods. FINANCIAL TIMES
ABOUT THE AUTHOR:
Hannah Murphy is a tech correspondent in San Francisco, covering Facebook, social media, privacy and cyber security.