Trump still an unknown quantity for S-E Asia
Many South-east Asian leaders have expressed anxiety about what Mr Donald Trump's presidency means for the region.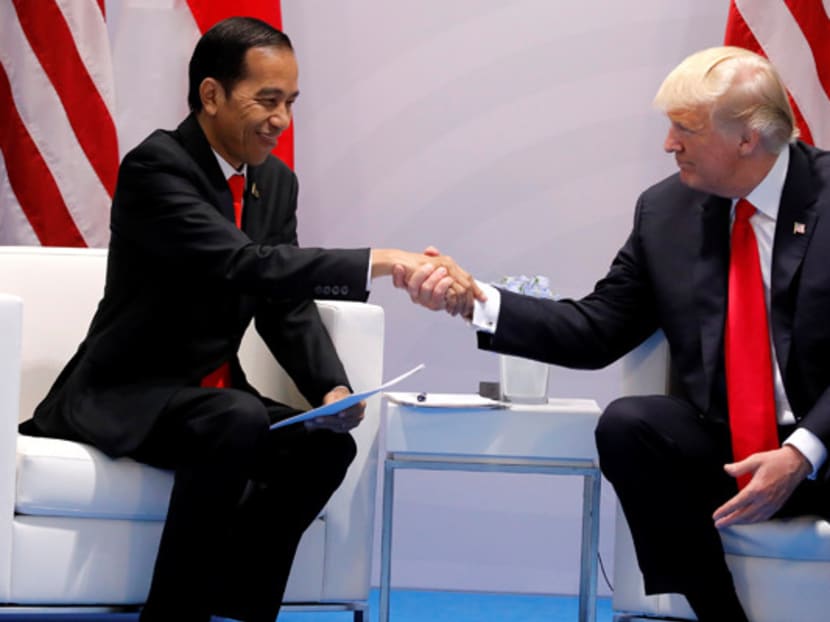 Many South-east Asian leaders have expressed anxiety about what Mr Donald Trump's presidency means for the region.
As a presidential candidate, he said little about South-east Asia. All most people knew about Mr Trump was his pledge to jettison the Trans-Pacific Partnership (TPP) trade agreement in which four nations in the region — Brunei, Malaysia, Singapore and Vietnam — were members, and his threats to impose 45 per cent tariffs on Chinese exports, to which many South-east Asian nations contribute through the regional supply chain.
Among the Trump administration's early acts affecting the region was releasing a list of 16 countries to be targeted for large trade surpluses with the United States, including four from South-east Asia: Vietnam, Malaysia, Thailand and Indonesia. Mr Trump issued an executive order calling for a 90-day country-by-country study of these deficits, with results expected any day.
Since then, the Trump administration has signalled that it also seeks security cooperation on terrorism and the isolation of North Korea.
The administration's first serious outreach to South-east Asia began with Vice-President Mike Pence's April 20 visit to Indonesia, as part of a larger trip to north-east Asia and Australia.
In Jakarta, Mr Pence visited a mosque and called Indonesia's moderate brand of Islam an "inspiration" to the rest of the world. He stopped by the Association of South-east Asian Nations Secretariat, signalling the administration's interest in continuing to engage the regional grouping.
Mr Pence also announced that Mr Trump would attend the Asia-Pacific Economic Cooperation forum in Vietnam and the East Asia Summit in the Philippines in November.
Afterwards, Mr Trump telephoned leaders of the Philippines, Thailand and Singapore to invite them to Washington. In a call with Mr Rodrigo Duterte, Mr Trump urged the Philippine president to cut trade and diplomatic exchanges with North Korea as part of US efforts to force the regime to abandon its nuclear programme. Mr Trump praised Mr Duterte for the "unbelievable job on the drug problem", a reference to a drug war under which about 9,000 people have died in extrajudicial killings over the past year.
The next call went to Thai Prime Minister Prayuth Chan-o-cha, who was also urged to cut his country's economic and diplomatic dealings with Pyongyang. Thai officials report that Mr Trump lauded Mr Prayuth for his efforts in restoring political stability to Thailand since mounting a coup that toppled the democratic government, ending months of disruptive anti-government protests in May 2014.
Part of Mr Trump's efforts, his aides say, is to re-engage two long-time US allies that had been shunned by the previous administration because of human rights and democracy concerns. China had deepened aid and investment to both Thailand and the Philippines while Washington held them at arm's length. In addition, by 2015, Thailand and the Philippines emerged as North Korea's fourth- and fifth-largest trading partners, respectively, so their cooperation could prove useful in Mr Trump's efforts to isolate North Korea.
The Thais hope that Mr Prayuth can visit Washington this month, and there is speculation that Singapore Prime Minister Lee Hsien Loong could visit in October.
The White House has confirmed neither date. Mr Duterte, anticipating that a visit could trigger huge protests from human rights activists and members of Congress over his drug war, initially said he was too busy. Since mid-May, he has also faced a major security challenge after hundreds of militants allied with the Islamic State seized Marawi city in Mindanao, which has not yet been recaptured by the Philippine armed forces.
The first South-east Asian leader welcomed to the White House was Vietnam's Prime Minister Nguyen Xuan Phuc. Hanoi had been anxious after Mr Trump quickly abandoned the TPP, a 12-nation trade pact under which Vietnam would have been a big beneficiary.
In relations with China, the president also focused on restraining North Korea, prompting questions in Vietnam about whether Washington would press Beijing on its assertive behaviour in the South China Sea.
Hanoi launched a full-court press to engage the new administration by sending repeated delegations to Washington and snaring an early visit for the prime minister. Emphasising progress in the two countries' relations, Mr Phuc told Mr Trump that "the relationship between Vietnam and the US has undergone significant upheavals in history, but today, we have been able to become comprehensive partners".
To deflect attention from Vietnam's US$32 billion (S$44.3 billion) trade surplus last year with the US, the largest among the South-east Asian countries, Vietnamese companies signed about US$8 billion in commercial deals with US firms during Mr Phuc's visit. Mr Trump said Mr Phuc, in office for about 15 months, has done a "spectacular job" on trade and other issues.
Less than a week before Mr Phuc arrived, the US had transferred a decommissioned US Hamilton-class cutter to Vietnam's Coast Guard. Under the Maritime Strategic Initiative launched by the Obama administration, Washington has also provided patrol boats to Vietnam to help monitor developments in the South China Sea. In a joint communique at the end of Mr Phuc's visit, the two countries agreed that Vietnam would welcome the first visit by a US aircraft carrier to Cam Ranh Bay, a port expanded by the Americans during the Vietnam War, and would step up intelligence sharing.
Vietnam also expressed interest in acquiring more defence equipment from the US, possible after former President Barack Obama announced, on a May 2016 visit to Hanoi, that Washington would lift a ban on lethal weapons sales dating back to 1975, the end of the Vietnam War.
Mr Phuc's agreements in Washington — followed shortly after with a visit to Japan and joint exercises in the South China Sea by the Vietnamese and Japanese coast guards that focused on curbing illegal fishing — may have prompted irritation in China, Vietnam's neighbour to the north.
China and Vietnam had been slated to conduct a joint military patrol along their land border on June 20, to be observed by a senior Chinese general.
After talks on territorial issues days prior to the joint patrol, General Fan Changlong, vice-chair of China's Central Military Commission, abruptly left for home, explained by China's Defence Ministry as "related to working arrangements". Neither side has explained the general's sudden departure, but analysts suggest that China abruptly cancelled the joint patrol, which has taken place annually since 2014, to send Hanoi a signal either about its deepening security ties with Washington and Tokyo, or as a warning to Vietnam to abandon oil and gas exploration in areas of the South China Sea where the two countries have overlapping claims.
Beijing is known to have been annoyed by Vietnam's signing with Exxon Mobil of an agreement to explore the so-called Blue Whale block off central Vietnam, less than 10 nautical miles from China's nine-dash line claim in the South China Sea. China has also expressed displeasure over Vietnam's plans for the Spanish oil company RepsolExploration to explore another area off the southern coast of Vietnam, near the southern edge of China's nine-dash line.
Without more details from Hanoi and Beijing, it is difficult to determine whether this is a blip in often-fraught relations between the two communist neighbours. Hanoi is expected to understand China's signal and adjust to Beijing's demands — and despite a good start with the Trump administration, Vietnam's leaders may still harbour doubts about US willingness to stand up to China for the small nations in South-east Asia. YALE GLOBAL
ABOUT THE AUTHOR:
Murray Hiebert is deputy director of the Southeast Asia Programme at the Center for Strategic and International Studies in Washington, DC.