Understand when telemedicine works and when it doesn't
While Singapore is now in Phase Two of reopening, the Ministry of Health (MOH) continues to encourage doctors to use remote consultations if possible. But there remain issues that need to be resolved before telemedicine can be more widely adopted here.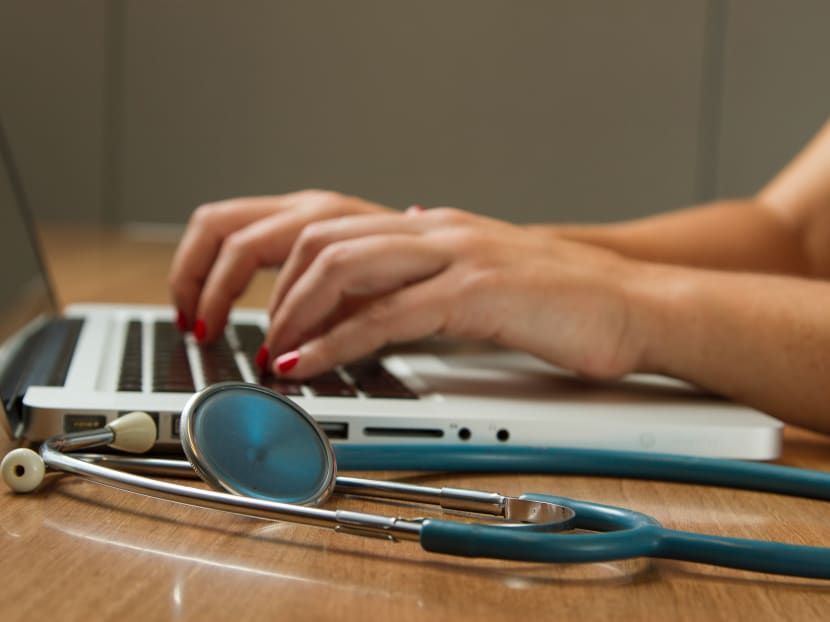 Telemedicine has become an important way to manage non-Covid-19 patients during the current pandemic. While Singapore is now in Phase Two of reopening, the Ministry of Health (MOH) continues to encourage doctors to use remote consultations if possible.
Several major local insurance companies have also tied up with telemedicine operators to provide outpatient care for their policyholders.
But there remain issues that need to be resolved before telemedicine can be more widely adopted here.
For a start, telemedicine has its inherent weaknesses due to a lack of physical examination.
Take, for instance, the medical examination of a digestive system. Doctors are trained to go through four steps: Inspection, palpitation, percussion, and auscultation.
Telemedicine allows inspection only via a video link. Without a full physical abdominal examination, medical conditions such as organ enlargement, abnormal breath sounds and tenderness will not be detectable.
Important clinical diagnosis such as appendicitis, ascites (fluid in the peritoneal cavity), enlarged lymph nodes will not be possible to be diagnosed via a video consultation.
A 30-year-old man recently consulted me for right lower abdominal pain. When I palpated his right lower quadrant, I found rebound tenderness (severe pain when my hand which was on his abdomen was lifted up) and guarding (tensing of the abdominal wall on deep palpation) on his right lower quadrant of the abdomen.
I suspected he could have acute appendicitis, which was confirmed after an urgent computed tomography scan of his abdomen was done.
He was admitted immediately for administration of intravenous antibiotics, and underwent surgery the following morning.
No doctor should manage patients with moderately severe abdominal pain remotely, as it will not be possible to rule out serious conditions such as acute appendicitis without examining the patient.
Hence, I do not foresee telemedicine playing a major role in gastroenterology.
In addition, telemedicine services can be abused by patients.
It would not be difficult for patients to fake a symptom during a video consultation. The relative easier access to doctors via telemedicine platforms could also lead to some abusing them to obtain addictive drugs such as cough mixtures and sleeping pills, as well as obtaining unwarranted medical leave.
To be sure, the authorities have said it will continue to finetune rules and regulations in telemedicine practice and work with service providers to ensure patient safety and welfare are adequately safeguarded.
Speaking in Parliament early this year, then Senior Minister of State for Health Edwin Tong also said that doctors are expected to provide the same quality and standard of care in telemedicine as in-person medical care.
A doctors should indicate the limitations of telemedicine services at the start of consultation and refer patients for face-to-face checks if he "is unable to form a sufficient judgment in order to discharge the expected standard of care", added Mr Tong.
One issue that has been under the radar somewhat is the commercial model of telemedicine.
Telemedicine platforms have been investing heavily in creating digital applications, websites and marketing. They would need to recover their investments from patients and doctors eventually.
Currently, many platforms charge patients S$20-30 per consultation. After paying their doctors, there is not much profit left for the operators.
For telemedicine platforms to be financially viable, they would need to find ways to make money. 
One tempting way to do so is to monetise the data they collect from patients and doctors through tie-ups with advertisers. For instance, massage chairs manufacturers can target their ads at patients with back pain.
But MOH's National Telemedicine Guidelines have strict rules on protecting patients' privacy and confidentiality. 
"Healthcare organisations must ensure that patient information and records are protected by having a confidentiality policy in place," said the guidelines. 
It added that healthcare providers must comply with existing legislation and regulations to ensure that the patient's healthcare information is protected.
These regulations include the Personal Data Protection Act as well as the Singapore Medical Council Ethical Code and Ethical Guidelines.
In short, unlike social media where a person's search history and browser history could be used for targeted advertising, telemedicine platforms are not allowed to monetise patient data in the same way. 
This is an area that the authorities have to monitor closely.
Once a telemedicine platform manages to attract a substantial number of patients, it can also start charging administration or commission fees from its doctors.
Telemedicine platforms could eventually evolve to operate in the same way as third party administrators that process insurance claims — they bargain with panel doctors for cheap consultation prices and collect administrative fees from them.
In such a scenario, panel doctors who rely on telemedicine platforms to supply the bulk of their patients will find themselves in a weak bargaining position. 
EMERGING ROLES OF TELEMEDICINE
In spite of its limitations, telemedicine can still play a significant role in our healthcare system. Let me explain how.
Triaging patients
Patients with symptoms such as abdominal pain in the middle of the night can first have a video consultation with a doctor, who should be able to advise if the patient should go straight to the emergency department, or could see his family doctor the following morning.
Filtering patients with serious complaints
Over the last year, I have been seeing referrals from telemedicine doctors for persistent abdominal symptoms.
Patients with abdominal pain first consulted their telemedicine doctors. When their pain persisted or worsened despite empiric gastric medications, the telemedicine doctors made referrals to see a gastroenterologist.
Such filtering of patients with more persistent symptoms for further treatment should be the standard mode of operation of telemedicine.
Follow up of chronic conditions
Patients with chronic illnesses could be followed on telemedicine platforms if their condition can be monitored at home.
For instance, patients with hypertension can do their own blood pressure measurement daily. They could email the readings to their family doctor, who would then decide if their medication ought to be adjusted and have it delivered to the patients.
Post discharge follow-up
Patients who are discharged from hospitals are often asked to return in one or two weeks' time for review. If their conditions are stable and symptoms well controlled, then they could save a trip to the hospital for review.
Adverse effects of medications
Some medications are notoriously toxic with many adverse effects.
When I treat patients with helicobacter pylori infection (bacterial infection of the stomach), about 20-30 per cent of them would experience adverse side effects such as abdominal pain and diarrhoea. Instead of seeing me at the clinic, a phone call or a video consultation to discuss such adverse effects would normally be sufficient.
Covid-19 has thrust telemedicine to the forefront due to safe distancing and lockdown measures.
But much work needs to be done before telemedicine is used widely.
Like any other invention, we ought to know the strengths and weaknesses of telemedicine. MOH has its work cut out in finetuning rules and regulations and plugging any loopholes that may come up.
ABOUT THE AUTHOR:
Dr Desmond Wai is a gastroenterologist and hepatologist in private practice.