The ups and downs of shopping for beauty online
Before Covid-19 hit, I liked to idly pop into a beauty retailer to scrawl a new eyeliner or lipstick on the back of my hand. Right now, that seems like a germ-riddled memory from a distant, hygiene-dodging era.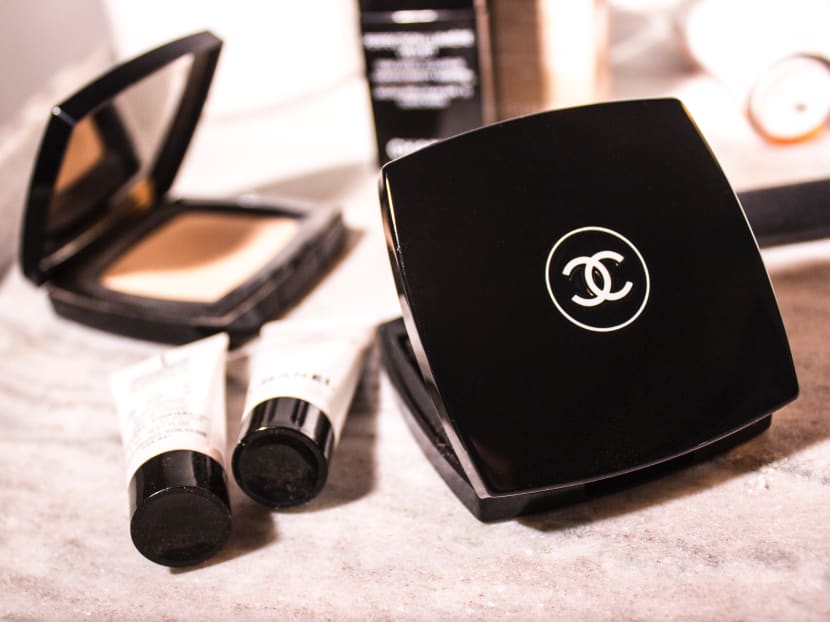 Before Covid-19 hit, I liked to idly pop into a beauty retailer to scrawl a new eyeliner or lipstick on the back of my hand.
Right now, that seems like a germ-riddled memory from a distant, hygiene-dodging era.
Even when shops temporarily reopened, I wasn't about to risk catching coronavirus to purchase a face cream hoping it might make me look 10 minutes younger.
The closure of non-essential shops has driven me — and many others — to buy more beauty products online.
Although prestige beauty sales in the United Kingdom declined overall due to Covid-19 last year, according to market research firm NPD, online sales grew by 47 per cent following several years of double-digit growth.
A recent report by McKinsey and The Business of Fashion concludes this shift online is here to stay.
In the United States, the world's leading beauty market, pre-crisis ecommerce accounted for 20 per cent of beauty sales; by 2021, McKinsey estimates that penetration could rise to 35 per cent.
Beauty brands that previously relied on physical stockists for the majority of sales have had to up their game rapidly.
It's easy to make repeat purchases, but enticing consumers to discover new things from a screen rather than a stack of colourful testers takes innovation.
In a bid to deliver that Breakfast at Tiffany's-style escapism that glittering department store beauty halls used to offer, websites are evolving into cosmetic playgrounds, and brands are upping their offering with skin care, fragrance and make-up demos.
John Lewis has been holding virtual masterclasses where customers receive products in the post and then learn how to use them via tutorials on Zoom.
The UK department store chain holds the Guinness World Record for the most tickets booked to an online make-up masterclass: 11,500 people signed up to attend the event with celebrity make-up artist Charlotte Tilbury.
Lockdown has turned many consumers into experts.
"People have really had time to read about ingredients and they have become specialists themselves and know what they want to buy into," says John Lewis beauty buyer Amelia Kendrick.
"They want skin care that really delivers results."
Alexia Inge, co-founder and co-chief executive of etailer Cult Beauty, which stocks popular brands such as Drunk Elephant and Sunday Riley, noticed a similar increase in engagement.
"There was a new group of people who would normally pop to the local salon who were forced online, and because they weren't trusting of this new journey, they really did their research," she said.
Still, selecting products is a gamble and the fear of ending up with a foundation in Trump orange looms large.
And then there's fragrance, which is so subjective, it's a bit like a blind date for your nose.
Strategies to overcome this problem are growing, including augmented reality, instructive editorial content and online advisers (real humans).
Last month, Chanel launched its LipScanner app, which enables the user to snap a photo of anything — a dress, a flower, an image — and then suggests a lipstick colour in the best match, taking into consideration skin tone and lip shape.
I used a close-up of Mad Men's Betty Draper (January Jones) and the app suggested Rouge Allure Velvet in L'Indomabile, a pinky coral which I found zingy yet wearable, and about the closest I'm going to get to looking like Betty.
At Cult Beauty, the new MatchMe Foundation finder uses light-detection artificial intelligence (AI) to match your skin tone to its brands: You upload a photo, answer a question about coverage and finish preferences and it suggests the shade that will suit.
Others are using questionnaires to guide customers.
Online brand Typology, launched in 2019, uses an extensive quiz to devise a regimen.
Skoosh is a new online, AI-driven skin care routine builder that suggests products from different brands.
Il Makiage uses AI for its Power Match algorithm for choosing foundation, while the Penhaligon'sfragrance profiling quiz asks: "Fancy a getaway, what's your ideal destination?"
In my experience, these tools can be hit and miss: The shade of Futurist Hydra Rescue Moisturizing make-up the Estée Lauder site recommended on the basis of a selfie and a few questions didn't suit, but a Charlotte Tilbury foundation suggested by the brand's website was spot on, as was Il Makiage.
I loved Typology's pared-back packaging, but the moisturiser made me blotchy.
I tried these tools explicitly for research, but they have yet to make their way into my usual low-tech method of buying online: A mix of reading user reviews (not foolproof), price (in case the product is a dud) and scanning ingredients lists.
Social media influencers aren't (consciously) factored in.
I buy most products from online grocery platform Ocado, as adding them to my groceries somehow doesn't feel like shopping, and I have a puritanical streak.
Thus I discovered Pantene Hair Biology Shampoo Full & Vibrant (excellent, bouncy hair), Balmond's Daily Moisturising Cream (very moisturising) and Little Soap Company Olive Oil Soap (not drying when washing constantly).
Depressed by sun-deprived hair and closed salons, I bought Bleach London's No Bleach Bleach because I like the idea of yup, no bleach, and attempted amateur highlights using tinfoil and a toothbrush (results slightly brassy as I washed off early in a panic imagining Joe Exotic from Tiger King, but hey, not bad for DIY).
The element of jeopardy — not an overstatement when it comes to wasting money on creams — is why subscription and discovery boxes, such as Birchbox, are popular.
Sampling is also key when it comes to selling fragrance: Ms Kendrick says during lockdown John Lewis launched an online sampling initiative whereby customers browsing best-selling fragrances online but hesitating to buy were offered a sample.
"The first campaign was so successful that 20,000 samples were redeemed in under 24 hours and so we ran a second campaign with a further 24,000 samples," she says.
Alex Vallbona, Birchbox president in Europe, says "retailers are putting their money on artificial intelligence to implement the 'digital testing' of products using augmented reality".
"This is one way of offering a solution, but in our view only a half measure… they can't enjoy the associated sensory experience."
Cult Beauty's Ms Inge thinks that "for all those people who have discovered online shopping it's created a habit".
"However we do still crave face-to-face human contact; it doesn't mean people won't want to go shopping in real life."
Can't say I'm too bothered about the other humans, but I partly agree — at some point it would be nice to go into a shop and mingle with some real live lipsticks. FINANCIAL TIMES
ABOUT THE AUTHOR:
Carola Long is the Financial Times' deputy fashion editor.