Wedded bliss or a big miss? Here are some marriage tips for Singaporeans
According to the Registry of Marriages, Feb 2 and Feb 22 are two hot dates for tying the knot, with three to six times the average daily number of marriages to be solemnised. I would imagine other memorable dates include Feb 12, Feb 20 and Feb 29. While I am no marriage and parenting expert, these are some tips I find useful to share.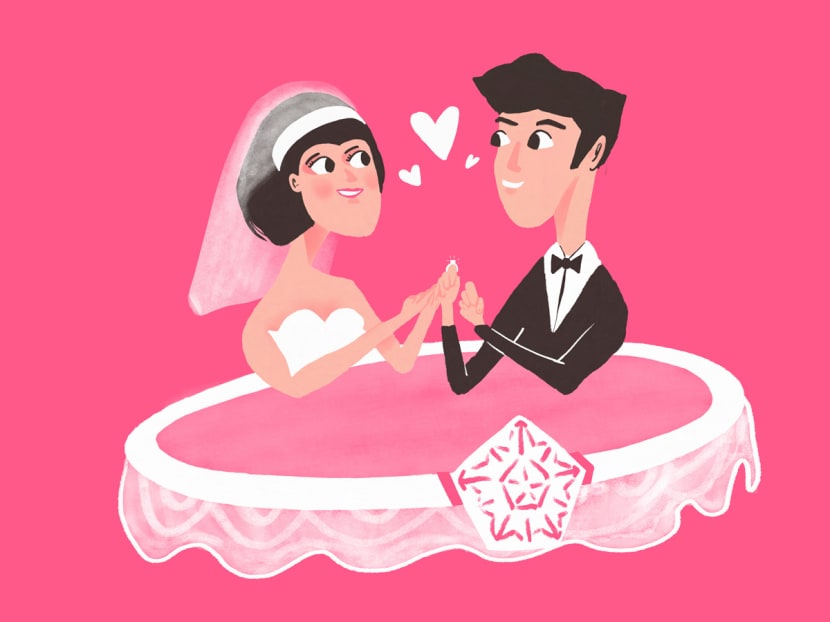 According to the Registry of Marriages, Feb 2 and Feb 22 are two hot dates for tying the knot, with three to six times the average daily number of marriages to be solemnised. I would imagine other memorable dates include Feb 12, Feb 20 and Feb 29.
With the start of a new decade, it seems like many are in more reflective states-of-mind with regards to their plans ahead for themselves and their other halves.
Perhaps this explains why the past few months, I have had quite a few ex-students-turned-friends reach out to me to seek advice for their wedding plans. Their concerns include money and their careers.
Would our savings be sufficient for a beautiful wedding, an unforgettable honeymoon and home renovations? What should we do if our spouse were to be asked to be posted overseas for work?
How could we continue to climb the corporate ladder while coping with the demands of parenthood?
The concerns are real and valid and I view it as a privilege to be able to share my experience with these young couples.
I started my journey of a wife and a mother more than 10 years ago while in my mid-20s, which is young by Singapore's standards.
While I am no marriage and parenting expert, these are some tips I find useful to share.
A wedding is only for a day, a marriage is for a lifetime.
We all want memories of a lifetime for that beautiful day. But make decisions wisely because certain decisions made for that one day can affect the entire lifetimes of two people, and their families, especially financial decisions. 
I have known of couples who busted multiple credit cards to have designer gowns, extravagant wedding dinners and exotic honeymoons as they wanted beautiful wedding memories to last a lifetime.
However, they realised they were not able to cover the costs from wedding ang pows which they initially thought  would be possible.
Starting their marriages in debt and with the pressure of having to save future bonuses to pay for their wedding costs inevitably gave rise to much tension in not just their marriages but in their extended families when they found out.
Marry a person with whom you can communicate.
What is communication? It is not just WhatsApp-ing each other or leaving short comments on Instagram.
Real communication means being able to share your dreams and aspirations, your greatest and deepest fears and worries without being ridiculed by the other party.
It is knowing that when you communicate those dreams and fears, you will still be respected, accepted and loved. Many will be with you in moments of euphoria, but who will be with you when you are down and out? Does your partner seek to uplift and encourage you?
Discuss these tough issues before marriage.
A) Finances: Do both of you set up a joint bank account? If so, how much does each contribute and what expenses can the monies be used to cover? And do you have to consult one another for any purchase charged to the joint bank account?
B) In-laws: Which side do you visit on weekends? Whose in-laws will help to take care of the kids?
C) Responsibilities at home: Who does the chores? Is part-time help needed? What are some house rules to set, such as no shoes beyond a certain part of the home and taking a shower before going to bed. Don't dismiss these as frivolous. A partner's little quirks, if not respected and accepted, can cause serious trouble for a marriage.
D) Sex and intimacy: It is a crucial part of love in a marriage, not just for procreation. Respect deeply the human need for love and affection. This can be a tough topic for Asians to communicate through. It might be good to go for a pre-marital wedding preparation course and have a facilitator walk you through.
E) Children: When to have them? How many to have? What family planning methods to use? What are the preferred educational paths for children? What are some of the morals and values you want your children to have?
Find out the other party's "love language" before marriage and speak it, constantly.
Dr Gary Chapman is the author of the book "The Five Love Languages". The five languages are: Quality time, receiving gifts, words of affirmation, acts of service and physical touch.
We all have our preferred love languages and it would be wise to find out about your partner's preferences. For instance, you may like to express your love by buying gifts for your partner but your partner actually longs for you to spend some time at the library or chatting at a café as her preferred love language is quality time.
If your partner's love language is words of affirmation, it can be really hurtful if there are discouraging words spoken to him. 
Find out about the other party's personality through powerful personality profiling tools. They can explain perennially perplexing issues or quirks of your partner.
Address your pet peeves.
If you have pet peeves about your current boyfriend/ girlfriend which drive you nuts now and you think they can change after marriage, I suggest you think again.
It's very hard to effect changes in a person after marriage.
Show your love.
Love is an action word. It is a decision to be made on a daily basis. Decide every day to do something kind and loving to your partner, especially when you are married. Stay affectionate.
For men, here's a piece of advice: No woman will say no to affection.
So be generous with your hugs, kisses, affectionate pecks or even a protective hold on the arm when crossing the road.
Affection means the world to women. It may be easy to be affectionate now, when it is just you and your girlfriend. But when the kids come, and the house is in a mess, and you both have not an uninterrupted meal for a long time, it will take more effort to be affectionate towards each other.
A marriage is a lifelong commitment and marriages are precious. The wrinkles and paunches may come and there will be attractive job titles and attractive remuneration packages to pursue.
But to my young friends, I hope you will honour the commitments which you have made; and hold dearly to the one whom you have promised to love and honour.
My very wise friend who spoke at our wedding, encouraged us to live out this line: "I will love you all ways, always."
It's still a journey for us and I invite you to come on this journey, together with us.
ABOUT THE AUTHOR:
Yvonne Kong-Ho works in a university, specialising in workforce development. Her son is 11 and her daughter is nine years old.