What does Jokowi's new cabinet say about where Indonesian politics is headed?
In announcing his new cabinet on Oct 23, Indonesian President Joko "Jokowi" Widodo has underscored a desire for continuity, both for economic policy as well as political strategy.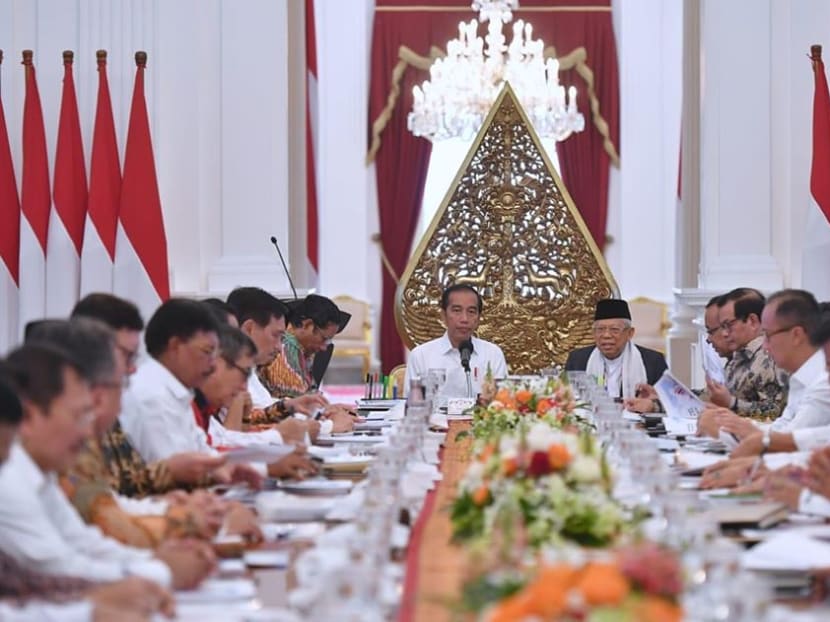 In announcing his new cabinet on Oct 23, Indonesian President Joko "Jokowi" Widodo has underscored a desire for continuity, both for economic policy as well as political strategy.
On the economic front, it is unlikely that we will see new policy issues take centre stage in the near to medium term. The continuing of Mr Widodo's political strategy, however, could pave the way for new developments that will redefine the political landscape.  
Mr Widodo has retained his two main economic ministers: Retired General Luhut Binsar Panjaitan as Coordinating Minister for Maritime Policy and Investment and ex-World Bank economist Sri Mulyani Indrawati as Finance Minister.
Mr Widodo has also introduced a younger generation of entrepreneurs into the cabinet, signalling his intention to grow Indonesia's digital economy. These include:
Gojek founder Nadiem Makarim as Minister for Education and Culture
Entrepreneur Erick Thohir as the new State-Owned Enterprises Minister
Television station founder Wishnutama Kusubandio as Tourism and Creative Economy Minister,
Chairman of the Indonesian Young Entrepreneurs Association Bahlil Lahadalia as the Investment Coordinating Board chief.
Other economic ministries are headed up by politicians from parties in Mr Widodo's coalition. 
Notably, this includes Edhy Prabowo from Gerindra, who has taken on the Maritime Affairs and Fisheries portfolio. Gerindra is headed by Prabowo Subianto, who had competed against Mr Widodo in the last two presidential elections and lost.
None of these appointments signal any likely changes in economic strategy.
Mr Widodo's political strategy also continues unchanged, although it has gone up to a new level.
Since 2013, Mr Widodo has marketed himself as a politician without a party, despite having joined the Indonesian Democratic Party of Struggle (PDIP) headed by Megawati Sukarnoputri.
Ms Sukarnoputri in turn repeatedly emphasised that as President, Mr Widodo would be a "petugas partai" ("a functionary of the party") countering his strategy of presenting himself as independent. To counter that, Mr Widodo had previously associated himself with various non-party volunteer organisations that support him.
His strategy has not been to develop a popular support base of his own. Rather, it has been to position himself as someone who can represent all the various factions, dynasties, cliques and networks of the political and business establishment, since he has no grouping of his own.
His image, before being elected as "bukan siapa-siapa" ("a person with no backing or power"), makes him the ideal chairperson of a "committee of the business elite" as President.
In practice, despite initial assertions that he would be a non-transactional president who eschews deals between factions (parties), his strategy has meant a policy of steadily expanding the membership of the ruling coalition.
After his election in 2014, he won over Golkar, the United Development Party and the National Mandate Party. This was in addition to PDIP, National Democrats and the National Awakening Party which were already on his side prior to his victory.
In 2019 he was supported by 12 parties. Of these, the seven which had won parliamentary seats are all represented in the cabinet.
This move towards an almost all-party government was headlined by Mr Subianto's appointment as Minister for Defence and Security.
The Democratic Party, founded to allow Susilo Bambang Yudhoyono to contest elections more than 10 years ago, has not been included in the cabinet.
This, perhaps, reflects the historical tension between Mr Yudhoyono and Ms Sukarnoputri and ongoing dynastic rivalries, with both having children with their own presidential ambitions. However, Democratic Party spokespersons have stated they will fully support the Widodo government.
Only the Justice and Welfare Party (PKS) and the National Mandate Party, at least in its current form, remain as non-supporters of the government and too close to conservative and hard-line Islamist groups to be able to be incorporated into the cabinet.
The Widodo government will have an overwhelming majority in the parliament. This has given rise to statements of concern that Indonesia will be without an opposition. In fact, however, in terms of basic economic policy and political strategy there has not been a real parliamentary opposition during the last five years.
Tensions between political parties mainly reflect rivalries between dynasties, factions and personalities rather than serious policy differences. There is no basis for serious oppositional differences among the majority of parties, with the partial exception of PKS, because of its politico-religious orientation.
However, there are signs of sources of potential extra-parliamentary opposition. One such source is the jihadist Islamist opposition, operating more-or-less underground. While sometimes violent, there are no signs that it is growing or can grow, beyond its current base into a strong public opposition.  
The appointment of Mr Subianto  and that of Police General Tito Karnavian as Minister for Home Affairs and ex-General Fachrul Razi as Minister for Religion all point to the government contemplating the need for a repressive policy towards this sector.
More significant are the signs of increased frustration among civil society movements and the youth. This was reflected in the large student protests of late September.
Student organisations, some trade unions and other civil society groups gained more members and energy as a result of that round of mobilisations.
One part of the political process that led to the September mobilisations was the political campaigning and public discussion throughout 2018 and 2019 carried out by supporters of Golput — a movement in favour of abstention from the elections.
Their argument was that Mr Widodo and Mr Subianto represented the same interests, namely that of the business "oligarchs".
Since Mr Subianto's entry into the Cabinet, there has been increased activity on social media arguing that the Golput argument was correct: "Vote for one, you get both" has been the spirit of the memes.
Articles are now also pointing out how coal and resource business "oligarchs" are well represented in the cabinet. Civil society human rights organisations have also pointed out the controversies around Mr Subianto's human rights record.
Mr Widodo's achievement in creating an almost all-party government underlines the reality that the parliament, already in disrepute for weakening Indonesia's much-respected anti-corruption commission, will not be a platform for policy criticism.
This is likely to result in the emergence of stronger and more sustained extra-parliamentary opposition movements through street protests.
ABOUT THE AUTHOR:
Max Lane is a Visiting Senior Fellow at the Iseas-Yusof Ishak Institute. He has written on and taught Indonesian politics, history and literature since 1972.