What happens when HDB flats with short leases left are no longer assets?
Resale prices of Housing and Development Board flats have experienced negative or zero growth for the last 19 consecutive quarters since the third quarter of 2013, in contrast to prices of private property, which started showing signs of recovery in late 2017 after 15 consecutive quarters of declines.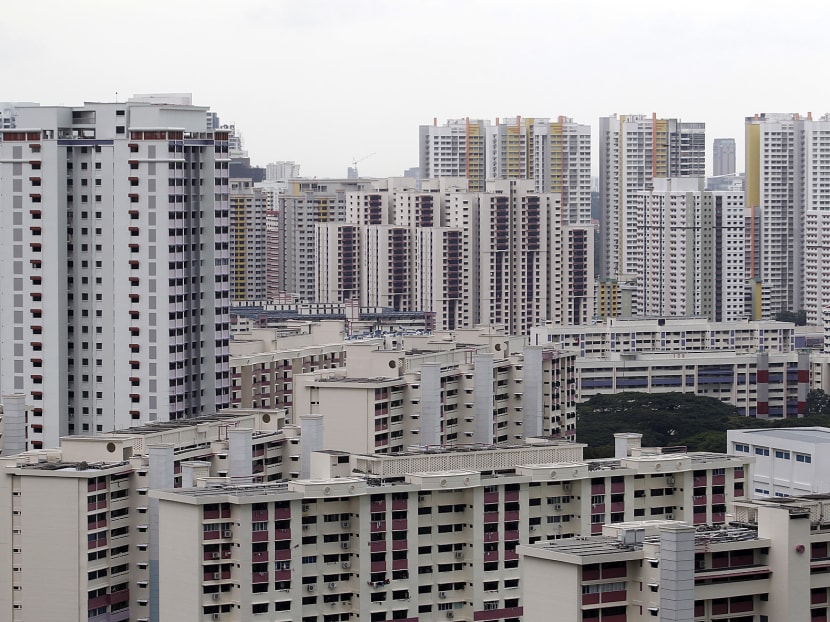 Resale prices of Housing and Development Board flats have experienced negative or zero growth for the last 19 consecutive quarters since the third quarter of 2013, in contrast to prices of private property, which started showing signs of recovery in late 2017 after 15 consecutive quarters of declines.
The growth momentum in private property market has continued into 2018 with a robust first quarter growth of 3.9 per cent.  
There are myriad factors behind the recovery of private property market and the sluggishness in the HDB resale market.
But one issue that has come more into public attention is the leasehold status of HDB flats and correspondingly, the question of whether those with short remaining leases can still be regarded as assets.
Minister for National Development Lawrence Wong touched on this in Parliament on Thursday, saying that there is still value in HDB flats which can be unlocked for retirement.
He added that while the issue of what to do with flats with expired leases is not an immediate one, there are serious trade-offs and ramifications and the government will have to grapple with these and do the responsible thing.
Today, about 7 per cent of HDB's stock of one million flats – or 70,000 flats - are over 40 years old; and their leases will expire in about 50 years.
While the lease expiry is still in a distant future for public housing flats, 191 private terrace houses along Lorong 3 Geylang will be returned to the state when their leases expire in 2020.
The issue of lease expiry has garnered much attention after the government announced this in June 2017.
This came three months after Mr Wong warned owners of older HDB flats not to take it for granted that the government would choose their homes for the Selective En bloc Redevelopment Scheme (SERS), following large sums being forked out for resale flats by some of them on the speculation that they would qualify for SERS.
Mr Wong added that only 4 per cent of older flats have in fact been selected for SERS since it started in 1995 and the vast majority of flats will be returned to the state when their leases expire.
Since then, there are still occasional reports of 30-plus-year-old flats in matured estates being sold for around S$1 million.
But these are mainly due to special reasons such as the rarity of such units or the buyer being flushed with cash after a successful collective sale of a private property.
By and large, buyers are now more cautious about paying high prices for older flats, and rightly so, as they wise up to the reality that a flat with no more lease is worth absolutely nothing.
Based on a large sample of public resale flat transactions from 1997 to 2017, and after controlling for the quality of transacted resale flats - such as the flat attributes (unit area and floor height), and other spatial attributes (distance to schools and MRT stations) - I find a significant negative relationship between HDB resale prices and age.
Using resale flats of less than 10 years as the reference, the discounts are estimated at 8.3 per cent and 9.5 per cent for resale flats of 40 to 50 years and those between 50 and 60 years old, respectively.
This then raises an important question: Is the old adage that a HDB flat is an asset which will appreciate in value in tandem with economic growth still valid?
And if so, what implications would this have for public housing in Singapore in the near future as more flats with short remaining leases enter the market?
Singapore's political leaders have long touted home ownership as a key strategy in giving citizens a stake in the country.  
By subsidising public housing, the majority of Singaporeans can benefit from the rising wealth of the country as it developed over the decades.
Over the years, the political narrative that a HDB home is an asset has resonated with Singaporeans, as they have indeed seen the values of their HDB flats rise in tandem with the country's economic progress and population growth.
Many have come to regard their HDB flats as both homes and valuable assets that can be monetised for retirement.
But this was true for flats that went onto the resale market with relatively long remaining leases of 60 years or more that are not subject to certain financing restrictions.
For instance, Central Provident Fund (CPF) savings cannot be used to pay for the purchases of flats with remaining leases of less than 60 years.
With buyers not able to use their CPF monies to pay for these older flats, the value of flats with very short leases will decline.
As their leases continue to shorten, potential buyers will have to price in the risk of lease expiry driving a faster depreciation in values.
Along with this, the mindset that a flat is an asset which will appreciate with time will shift accordingly.
Relatively new flats will likely still be considered assets because they will still have resale value. But flats with leases of 50 years or less will increasingly not be seen as assets that can still have significant upside in value.
In fact, it is only natural that a flat with remaining lease of 40 years will be priced more than a similar one with 30 years' lease left, and so on.
This is in fact a scenario already playing out in the private property market.
For instance, numerous landed houses between 1,700 and 5,000 sq ft in Upper Bukit Timah with remaining leases of about 30 years (lease expiry 2046) have sold for between S$168 and S$622 per square foot in the last three years, while other similar sized plots nearby with longer remaining leases of over 70 years (lease expiry 2093) have gone for between S$509 and $1,147 during the same period.  
Going forward, owners will have to be prepared to accept lower prices for older flats as their leases become shorter.
This also means HDB flat owners need to plan ahead to preserve their asset values and avoid being caught in a situation where a drop in values of their homes due to short leases wipe out the asset wealth accumulated over the years.
As Minister Wong said in June 2017 and reiterated on Thursday, HDB flats can still be an asset for those who plan ahead.
For a typical HDB flat owners who take 25 to 30 years to pay off the mortgage; he will be around 60 years old when the loan is fully paid up.
At this point in time, he could opt for HDB's lease buy-back scheme, which will help him monetise the tail-end of the lease to supplement his retirement cash flows while allowing him to continue to live in the same flat for the rest of his life.
Alternatively, he could also choose to sell the flat, and downgrade to a smaller flat or a studio apartment with shorter lease.
In short, buyers and sellers of HDB flats should come to term with the changing reality that flat values may not always continue to rise with time, and the government would also not always be there to "bail out" their ageing flats through SERS.
Or as Mr Wong said on Thursday, Singaporeans should not buy or sell HDB flats based on speculative information.
ABOUT THE AUTHOR: Sing Tien Foo is Director of the Institute of Real Estate Studies and Dean's Chair Associate Professor at Department of Real Estate, National University of Singapore.