What the Jakarta Governor nominations tell us about Indonesian politics
The dust has finally settled over the much-anticipated nomination process for the election of Jakarta's Governor next year.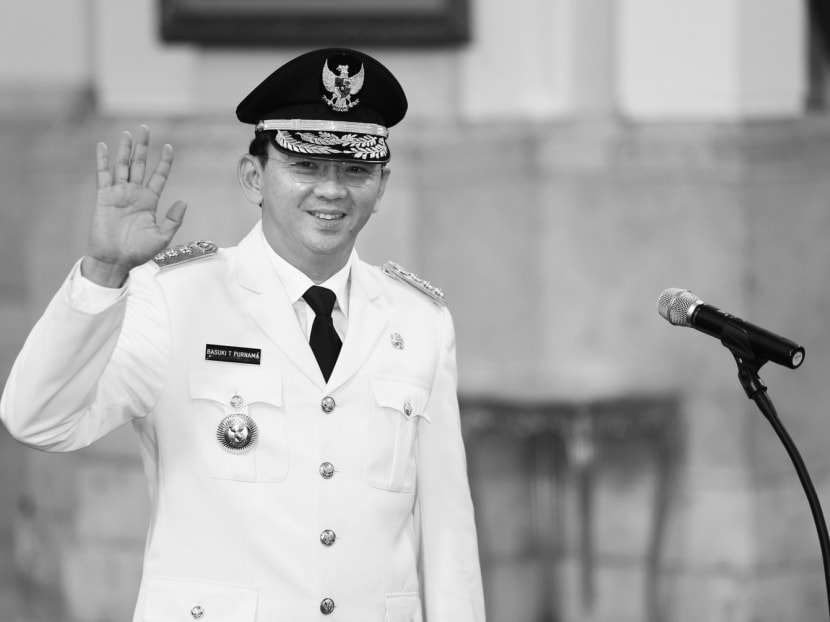 The dust has finally settled over the much-anticipated nomination process for the election of Jakarta's Governor next year.
Part of the anticipation revolves around whether popular incumbent Governor Basuki Tjahaja Purnama, also known as Ahok, would run as an independent candidate or a political party nominee. This was resolved when the PDI-P (Indonesian Democratic Party of Struggle), Nasdem (National Democratic Party), Hanura (People's Conscience Party) and Golkar (Party of the Functional Groups) threw their weight behind Ahok.
Another part of the anticipation revolves around who the contenders would be.
Unsurprisingly, former Minister of Education and Culture, Mr Anies Baswedan, and successful businessman Sandiago Uno threw their hats into the ring on the Gerindra (Great Indonesia Movement Party) and PKS (Prosperous Justice Party) ticket.
The wild card was Mr Agus Yudhoyono, nominated by PD (Democratic Party) and its allies, and a relative unknown in Jakarta's political circuit — except that he is the eldest son of former president Susilo Bambang Yudhoyono (SBY), who helms PD.
These nominees illustrate three types of engagement between political candidates and political parties, which are determined by the relative strength of the candidates.
The case of Mr Baswedan and Mr Uno is the most common, where candidates are considered electable and highly visible, but not overwhelmingly so. These candidates strike convenient alliances with strong political parties to exploit the party machinery for their campaign efforts.
As personal appeal outweighs party affiliations in such direct elections, political parties tend to play a secondary role when it comes to the election of regional leaders.
The case of Mr Agus Yudhoyono, who made his name in the military and is totally new to the political scene, is more a case of a political party seeking to turn a political unknown into a heavyweight.
PD was founded as an electoral vehicle for SBY's contest for the presidency in 2004. With SBY stepping down as president in 2014, the party, afflicted by corruption scandals and without a popular figure to inherit SBY's mantle, began to lose ground in the polls.
In fact, even after the 2013 national convention to search for credible presidential nominees, the PD failed to find a suitable candidate and eventually backed Gerindra's Prabowo Subianto for the 2014 presidential elections.
Thus, the nomination of Mr Agus Yudhoyono can be seen as PD's bid to create a new political figure that, the party hopes, can capitalise on SBY's influence and popularity.
Even if the younger Mr Yudhoyono fails to win the Jakarta governorship, the campaign will greatly raise his public profile and increase the chances of future success at the polls. Moreover, starting with a clean image can be an advantage in Jakarta's corruption-ridden political arena, especially if his campaign team knows how to capitalise on it.
The case of Ahok is one where a political figure has made so much of an imprint on public consciousness that he could run as an independent candidate, which was his stated intention until very recently.
Although Ahok is a Christian of Chinese origin (a double minority in Jakarta), and has been controversial in the way he rolled out his policies, his no-nonsense and clean image has gained him a significant following.
Over the past year, a volunteer group known as Teman Ahok (Friends of Ahok) has been rallying support for Ahok's nomination by collecting photocopies of potential voters' identity cards (ktp). Independent candidates would need to have the support of at least 7.5 per cent of the population in order to qualify for nomination. This translates to 532,213 copies of ktp, but Teman Ahok has surpassed that goal by garnering one million.
The emergence of a non-partisan group like Teman Ahok signifies dissatisfaction with existing political parties.
It suggests that a significant cross-section of the electorate has become alienated because they see political parties as being corrupt, nepotistic and prone to transactional politics, protecting the interests of the elite few at the expense of the welfare of the general population.
The fact that Ahok had remained unaffiliated with any political party since he left Gerindra in September 2014 had made him appear more independent and thereby more appealing to voters who have lost their faith in political parties.
If Ahok had really snubbed the political parties, he would most likely have been successful in being nominated as an independent candidate, and have a fighting chance at winning the governorship. This would seriously sideline political parties, and affect public confidence in them. It would also signal a victory for the disgruntled non-partisan constituency.
However, since politics is not only about getting elected but about governing as well, Ahok would have to consider seriously whether he wanted to pit himself irreconcilably against political parties.
If he had gone independent, even if he gets elected, he would have to deal, in matters of governance, with a Jakarta Council in which he has no allies. The Jakarta Council acts as the legislature of Jakarta Province, and is constituted by elected members representing political parties.
Having chosen to be backed by four political parties holding 49 per cent of the seats in the Council, Ahok will have a much easier time pushing his policies through the Council.
While some of Ahok's supporters are visibly disappointed and upset, Ahok continues to lead in the opinion polls.
A recent CNN Indonesia Twitter poll found that 66 per cent of 2,857 respondents think that Ahok will win, while those that think that Baswedan-Uno and Mr Agus Yudhoyono will win trail at 18 per cent and 16 per cent, respectively.
Highly-electable political celebrities have held great sway in the election of regional leaders, so much so that the role of political parties have been downplayed and sidelined.
However, the case of Ahok shows the limits of political figures in Indonesian politics.
Although they hog the limelight on the electoral stage, they still have to contend with the institutional role of political parties in the day-to-day grind of governance.
ABOUT THE AUTHORS:
Hui Yew-Foong and Deasy Simandjuntak are Senior Fellow and Visiting Fellow respectively at the ISEAS-Yusof Ishak Institute.