What next for PH after yet another (crushing) by-election loss?
With another victory for the Barisan Nasional (BN) coalition in Saturday's (Nov 16) Tanjung Piai by-election, the ruling Pakatan Harapan (PH) seems to have lost its winning formula.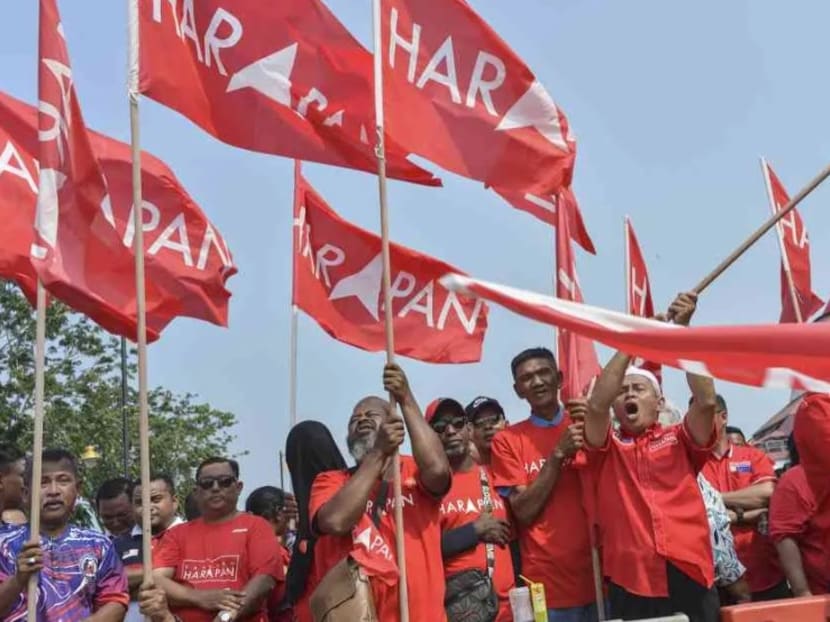 With another victory for the Barisan Nasional (BN) coalition in Saturday's (Nov 16) Tanjung Piai by-election, the ruling Pakatan Harapan (PH) seems to have lost its winning formula.
Since breaking BN's 61-year-old grip on power with its shock victory in the May 2018 General Election, PH has lost four out of nine by-elections, with two seats changing hands to the opposition.
In 2019, PH's by-election defeats included those in Malay-Muslim majority seats in Selangor, Pahang and Negeri Sembilan. PH won the fourth by-election in Sandakan, Sabah, in a Chinese-majority ward. Now, with polling in Johor's Tanjung Piai concluded, PH has lost four out of five by-elections this year.
Defeat in the Tanjung Piai by-election, called after the sudden death of incumbent Md Farik Md Rafik, is significant because 42 per cent of its 52,986 eligible voters are Chinese, which means the community's voice could shape the electoral outcome.
The Chinese voters have indeed spoken by supporting BN's Wee Jeck Seng. Mr Ahmad Zahid Hamidi, president of BN lynchpin party United Malays National Organisation (Umno), was quick to hail the community's contribution to the landslide victory, asserting that it has returned to support BN.
In all, BN's majority of 15,086 votes is 30 times more than that of PH's majority victory for the same ward in 2018. Md Farid had won the seat in May 2018 narrowly by a mere 524 votes.
While the by-election this time was a six-cornered fight, the contest was in fact between PH's Karmaine Sardini and Mr Wee from the Malaysian Chinese Association (MCA), a BN component party. The other four candidates obtained less than 3,000 votes altogether, which means the mandate for BN is clear.
It is also the largest margin of defeat BN has dealt PH in a by-election since it took power.
The huge margin of defeat is embarrassing for PH, especially given how virtually all its political heavyweights went on the campaign trail to rally support for Mr Karmaine and the coalition deployed substantial resources in the by-election.
The reality is that BN's grassroots connections remain strong in Johor, a state it had always ruled until May 2018.
In a media statement on Monday, Prime Minister Mahathir Mohamad admitted that he did not expect PH's margin of defeat to be so huge, expecting PH to lose by not more than 2,000 votes. He has called on PH to carry out a post-mortem to understand the causes of the loss.
During the campaign, both sides accused each other of playing the race card. For example, leaflets were distributed depicting Mr Karmaine with a caption "Buy Muslim First". While the source of the leaflets remains unknown, Dr Mahathir had admitted they were meant to make Chinese voters feel angry towards PH.
On the other hand, PH leaders were quick to accuse Parti Islam Se-Malaysia (PAS) of double standards in supporting MCA, when in previous elections, it had called for voters to support Malay-Muslim unity. Rumours that Mr Wee is anti-Islam were also floating around, something which the MCA candidate denied.
Undeniably, the Tanjung Piai by-election outcome centred on socio-economic issues, and the lament of ordinary citizens that their lives have not improved since 2018.
It was notable that PH still campaigned like an opposition, blaming the BN for the country's problems.
While BN must accept the blame for the country's problems, PH needs to shoulder some responsibility for its inability to win over voters 18 months after coming to power. Inter-party and intra-party splits within the ruling coalition too are causing some unhappiness among voters.
On the flip side, BN can now claim that the formal pact between Umno and PAS is accepted by the Malays and non-Malays alike. Tanjung Piai is the first by-election held after Umno and PAS signed a National Unity Charter in September.
PAS' decision to stay out of this contest, and to instead support MCA, demonstrates it is not as rightist as what many have described.
Not all is lost for PH, however. Even former BN minister Hishammudin Hussein commented that the opposition should work harder and not be complacent.
In all by-elections, voters vote strategically, knowing that it will not topple the government of the day, but it sends a signal if things are not going right. Moreover, Tanjung Piai has always been an MCA strong seat before May 2018.
The question then is: What is next for PH?
It must seriously reflect on the Tanjung Piai defeat, not only if it wants to stay in power after the next election, but to ensure it can govern smoothly throughout its remaining three-odd years.
PH now has to double its efforts to fulfil its election promises. The image that PH politicians want to stay in power at all costs, with little regard to delivering good policies, must be shed.
In addition, it must stop all the speculation of leadership transition for now, and focus on tackling socio-economic problems faced by the people.
Housing, education and elderly care remain issues of great concern for those in the bottom 40 per cent of income earners, and Tanjung Piai voters are a microcosm of that group.
PH also must stay away from racial and religious politics. Tanjung Piai demonstrates how the Chinese are less concerned about Umno-PAS unity, because PH too is guilty of playing to the Malay-Muslim gallery.
Among other things, Dr Mahathir attended the Malay Dignity Congress in October and refused to deport controversial Indian preacher Zakir Naik after the latter made racially-insensitive remarks. The government's plan to introduce Arabic calligraphy in schools had also caused some unease.
BN won Tanjung Piai by sticking with Mr Wee, who had previously been MP there. But in doing so despite some intitial objections from PAS, BN has also undercut criticisms that it pays lip service to multiracialism.
Time is still on PH's side if it wants to leave a strong legacy before the next election. The ongoing trial related to 1MDB and perceptions of the previous government's culpability on corruption could yet be PH's lifeline.
But transparency and clean governance do not put food on the table and PH needs to figure out ways to improve the lives of Malaysians and effect change at the grassroots level.
ABOUT THE AUTHOR:
Norshahril Saat is Fellow at Iseas-Yusof Ishak Institute. He is the author of The State, Ulama, and Islam in Malaysia and Indonesia.
CORRECTION:
An earlier version of this commentary wrongly stated that the winning candidate was MCA President Wee Ka Siong. It should be another member of MCA, Mr Wee Jeck Seng. We apologise for the error.