Why I went from a 'chill' mum to a 'helicopter' parent
While my friends were climbing the corporate ladder soon after graduation, I was backpacking and volunteering in developing countries. A believer in the school of hard knocks, I vowed that I would be a "chill" mum when my son went to school. You know, the antithesis of the helicopter mom — the hands-off mom who would allow my child to make mistakes and pick himself up.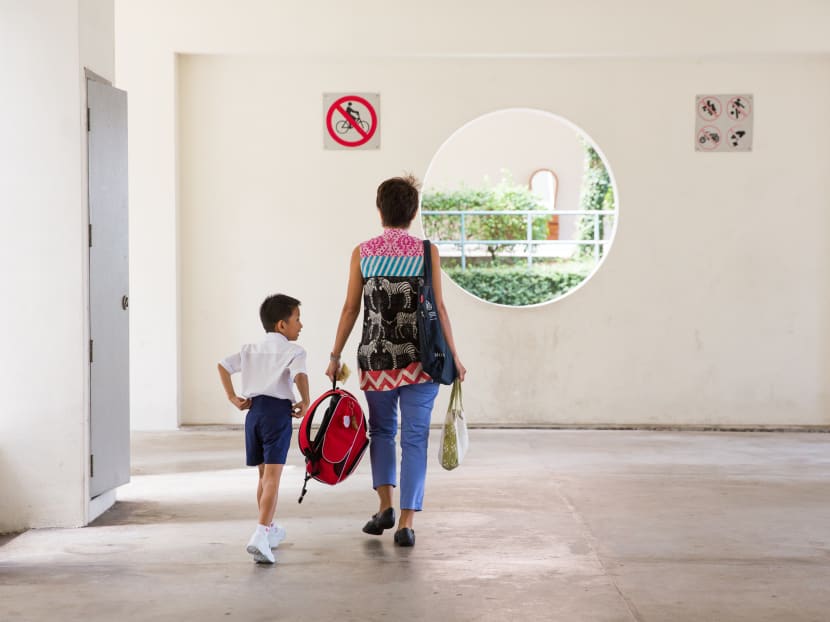 While my friends were climbing the corporate ladder soon after graduation, I was backpacking and volunteering in developing countries. A believer in the school of hard knocks, I vowed that I would be a "chill" mum when my son went to school. You know, the antithesis of the helicopter mom — the hands-off mum who would allow my child to make mistakes and pick himself up.
Resisting the urge to check bags and supervise homework, I stuck to my guns that he would suffer the consequences of undone homework. And for the early years, we got by on this principle.
His grades were mediocre, but I told myself that his multiple intelligences ("body smart", "music smart" and "people smart") were not what the mainstream education system was primarily testing for.
At home, we worked on values, character and life skills development. So we volunteered regularly, took long walks, backpacked and attended maker classes.
But in his Primary 5 year, the first "F" arrived at the first semestral exam; it was quickly followed by others.
His Mathematics teacher, who was extremely patient with him, told me that he was the top of the class — for the greatest number of corrections. His work was riddled with careless mistakes. To worsen matters, he was talking incessantly in class — unable to focus and becoming a distraction for others. He often couldn't remember not doing his work. Overall, it was a disconcerting picture. 
My first move was to turn to tutors. What else could a working, divorcee mum do? There was simply no time to go over school work after I came home. And the thought of tutoring him myself on weekends was off-putting.   
Plus, I was indignant that I shouldn't have to "suffer" with him. I had paid my dues three decades ago. It added to my reluctance to get more involved.
But when he returned with an F and three borderline passes at the final Primary 5 exams, and the teachers continued to complain about his distractive nature, I could no longer "act cool".
If he continued this trajectory, how would he pass his Primary School Leaving Examination (PSLE)? Anxiety gnawed at me as doomsday scenarios filled my head.
That marked the start of the emotional rollercoaster: I swung from days of mild panic as I fretted about my son's precarious future, to days of calm when I reminded myself of the many who succeeded in spite of their poor scores.
Self-doubt laced with guilt sunk in, as I questioned my decision to be stubbornly hands off. I also felt hapless for being financially incapable of giving him an educational alternative like the Green School in Bali, for instance, which would have been a perfect match for his outdoorsy nature with its wall-less learning in the natural environment.
And of course, I got upset for getting upset about the PSLE. Who was I becoming and where had the chill mum gone?
At the same time, I grew more certain that my son might have attention deficit/hyperactivity disorder (ADHD).  But this was dismissed by even my closest friends because my son wasn't "in your face" hyperactive.
To them, I was just finding an excuse for a boy who was just "unmotivated" and "uninterested". After a month of weighing the pros and cons, I went with my gut and sought professional help. By mid-February this year, my son was formally diagnosed with the condition.
Determined to develop her son in a more well-rounded way, the author introduced him to a variety of outdoor activities from camping to kayaking, as well as volunteer work.   Photo courtesy of Bridgette See  
It was then that things finally clicked. I saw why my son could talk about anything under the sky and not stop. It explained his struggle with focus, which obscured his ability to grasp concepts. Being highly impulsive, he rushed through work, making careless mistakes. Filing — an easy task for us — was insurmountable.
A psychologist advised that if I did not become more "helicopter" and closely supervise his daily work and even the packing of his bag, he would eventually acquire "learned helplessness".
This is the state that occurs after a person experiences a stressful situation repeatedly — in his case, being berated for missing homework or receiving poor results — and begins to believe that he can no longer control or change the situation, so he gives up trying.
Empathy was now the order of the day. I had to put myself in his shoes to understand what he was experiencing and find ways to help him cope with his speedster mind.
For a start, we would have to go back to basics to re-learn all the concepts he had not grasped. So, in March, I said a reluctant hello to the helicopter mom.
I joined the legion of parents who spent their weekends studying with their children. The planner in me kicked in: I scrutinised his syllabus (yes, I did not know previously what exactly he was studying) and made a plan to cover as much ground as we could in the remaining months. We were very late but I wasn't going to give up.
I made checklists to help him organise his life. An informal support group of two classmates and a parent was formed to help him keep track of his assignments. I kept close tabs on his behaviour and performance through his teachers.
In June, after participating in a maker camp in Busan, we came back and studied intensely for another week. After he had a final medical checkup, he was prescribed with ADHD medication, which the psychiatrist said would "lift the fog" from my son's mind. The first day he took it, my son reported in delight that he "noticed the sesame seeds on my hamburger for the first time!"
I was elated but also dismayed that I had failed to grasp the severity of his inattentiveness.
Thankfully, our interventions, the tuition as well as the medication helped him to cope better. He began handing in school work on time in his third term. Once, he even came home with a 15/15 for a math test. This boosted his confidence, motivating him to want to do even better. He was savouring the fruits of his labour, finally.
As for me, I struggled badly. There were topics in science I don't recall learning in primary school (reproduction, for instance). Math was worse: Those "double ifs", "constant difference", "constant total" concepts were mind-boggling.
One day, I threw my hands up in dismay and turned to my son for help. Surprisingly, he delighted in becoming my "teacher". From then on, he would challenge me to see who could solve the problem sums more quickly. I was comforted that there was a use for my incompetence after all.
If anything, I hope he saw that mum never gave up despite developing headaches from tackling those darned sums.
Diving into his syllabus has helped me to understand how difficult his work is. I no longer wonder why children are so stressed or why their parents are getting wound up by the PSLE. I will never judge why a parent chooses to be a "helicopter" or otherwise.
Being fully involved has also strengthened our bond. My son loves that I have taken the effort to know what he is up against. I no longer question if he is giving his best. Instead, I'm filled with gratitude and admiration for his fortitude in the face of challenges.
Knowing his diagnosis has also reframed my perspective and helped me reach out to my son in a more effective way. I am no longer seized by irrational fears about his future because I am in a better psychological place myself.
The PSLE is finally over, and the results will be released at the end of November. But I don't need to wait till then to tell my son that he is already my true champ.
ABOUT THE AUTHOR:
Bridgette See is a former journalist who now works in public relations and content development.