Why I opted for Covid-19 vaccination now, instead of waiting
​According to an online survey in December commissioned by Nanyang Technological University's Wee Kim Wee School of Communication and Information, some 45 per cent of the 999 respondents did not intend to get themselves vaccinated when the Covid-19 vaccine became available in Singapore.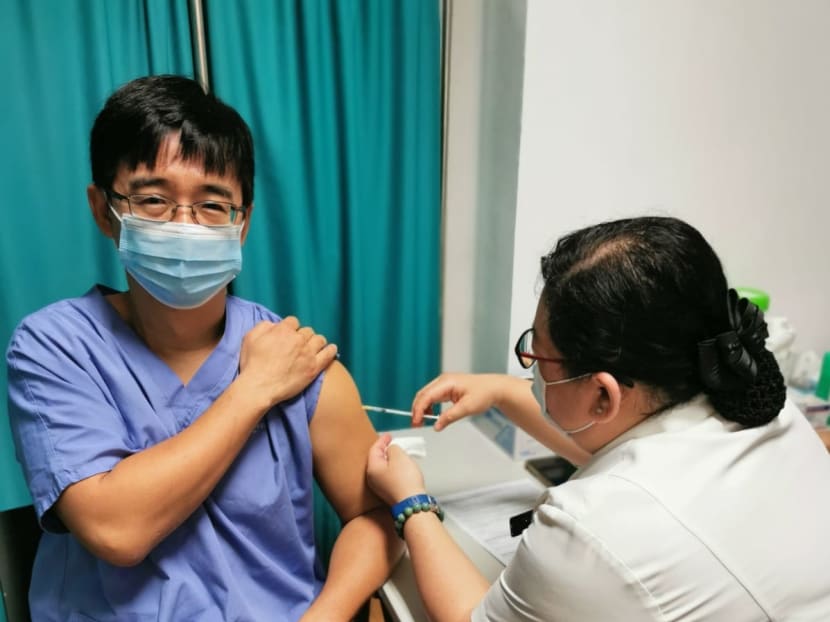 According to an online survey in December commissioned by Nanyang Technological University's Wee Kim Wee School of Communication and Information, some 45 per cent of the 999 respondents did not intend to get themselves vaccinated when the Covid-19 vaccine became available in Singapore.
Misperceptions and fake news about the vaccines were thought to be the main reason for the suboptimal response.
Interestingly, a TODAY report this week also noted that not all healthcare workers are keen on getting the jab even though Singapore's Covid-19 vaccination exercise has been underway for nearly two weeks.
I just had my Covid-19 vaccination on Wednesday (Jan 13) and I would like to share my personal reasons for getting inoculated. Hopefully, those hesitant about being vaccinated would change their minds.
First, I trust the science of the vaccine.
Doctors like myself practise evidence-based medicine. We were taught to scrutinise clinical studies on any new medical intervention before applying them in our practice.
An examination of the clinical efficacy and safety of the Pfizer-BioNTech vaccine was published in the New England Journal of Medicine (NEJM), one of the top medical journals in the world.
The study was published in the Dec 31, 2020 issue. A total of 43,448 participants were randomly assigned to receive the Pfizer-BioNTech vaccine or a placebo.
Nine Covid-19 infections were observed in the vaccine group, and 169 cases occurred in the placebo group over a follow-up period of three months.
The study showed there was a 94.6 per cent efficacy rate in preventing infection.
If one scrutinises the data further, protection by the vaccine occurred about 10 days after the first injection.
Very few significant adverse effects were observed in both groups.
Based on this landmark study, the United States Food and Drug Administration (FDA) has approved the use of the Pfizer-BioNTech for the general public.
I have no doubt that the vaccine is safe and effective.
Second, I trust the committee behind the vaccine implementation programme in Singapore.
In addition to the standard appraisal by the Health Science Authority (HSA), the Ministry of Health (MOH) has set up a 14-member expert vaccine committee to appraise the vaccine's clinical safety and efficacy. Both the HSA and the expert committee independently approved the use of the vaccine in our local population.
I have worked with several members of the expert committee since 1989. Professor Tan Chor Chuan and Associate Professor Benjamin Ong were both formerly Director of Medical Services at MOH. Both were my head of department when I was a junior doctor. 
Dr Danny Soon, chief executive officer (CEO) of Consortium of Clinical Research and Innovation Singapore and a member of the expert committee, was my classmate in medical school.
These are highly intelligent, experienced medical practitioners and scientists.
I trust their opinion.
Third, I trust my friends who have already had the vaccination since it was rolled out in Singapore.
Many of my doctor friends, including CEOs of hospitals, heads of departments and senior doctors, have already had their vaccination since its launch.
They add to my confidence that the vaccine is safe and effective.
Fourth, I do not need to wait and see anymore.
Some friends and even colleagues prefer to see if there are any adverse effects among those who have been vaccinated first before they have their own jabs.
According to data collected by Bloomberg, as of Jan 13, more than 30.5 million doses of Covid-19 vaccines have been administered in 43 countries.
The US Centers for Disease Control and Prevention (CDC) and the FDA have been monitoring any serious adverse effects of the vaccines closely.
So far, the approved vaccines are still deemed safe and effective.
Fifth, I do not believe in fake news and fake statistical analysis.
I have come across a report saying a nurse contracted Covid-19 after vaccination.
But remember that the vaccine offers protection only 10 days after the first dose.
The 95 per cent protection rate requires two doses of vaccination 21 days apart. So it is not surprising that someone can contract the virus immediately after the first dose.
Some social media posts put up anecdotal cases of severe adverse effects and even death after vaccination.
While some could possibly be real, they were merely case reports.
We ought to examine the causal relationship between the causes of death and the vaccination and the rate of the occurrence over the total number vaccinated, which is 30 million.
Besides, we need to consider the probability of those deaths occurring in the general public for other reasons.
Actually, in the study published in NEJM, two participants died after receiving the Pfizer vaccine.
But it does not mean that they were killed by the vaccine. The same goes for the four participants who died after receiving the placebo during the same period.
Experts have studied the cause of their death and concluded none of the six deaths was related to the vaccine or the placebo.
Sixth, I am worried about getting infected with Covid-19.
Singapore may be doing well now with few community cases. But no one knows how long this will last.
Hong Kong had very daily few cases for more than two months before a second wave hit in November 2020, with no sign of tapering even now.
Singapore has been touted as having one of the lowest mortality of Covid-19 infections in the world.
But this does not mean Covid-19 is not dangerous.
In fact, Lancet, another top medical journal, just published a study on the post-Covid-19 syndrome in its Jan 8, 2021 issue.
Researchers from Wuhan, China followed 1,733 discharged Covid-19 patients for six months and found that 76 per cent had at least one of the following symptoms: Fatigue or muscle weakness, sleep difficulties, hair loss, smell disorder, palpitations, joint pain, reduced appetite and taste disorders.
Other smaller studies have suggested that Covid-19 infection may cause long-term damage in patients' brain, heart, and lungs.
Seventh, the supply of the Covid-19 vaccine may not be guaranteed.
The Singapore Government has said that it has procured sufficient doses of Covid-19 vaccines for all residents.
But we cannot rule out the possibility that the supply could be disrupted.
Back in January 2020, Taiwan halted exports of face masks, affecting many countries, including Singapore.
Later in April 2020, President Donald Trump invoked the Defense Production Act to compel 3M, the company that manufactures the N95 respirator masks, to sell to the US as many as it needs.
This is why I would rather get myself vaccinated now, rather than later.
Finally, get vaccinated before the next outbreak.
Besides Hong Kong, many other countries are seeing a new wave of infections, resulting in partial lockdown of some cities, or in the case of our nearest neighbour Malaysia, a state of emergency.
Vaccinating the public requires lots of logistical effort and manpower. Should there be another outbreak in Singapore, resources will be stretched.
It is not clear whether that might affect the vaccination programme.
I got my vaccine shot at 8.26am and was observed for half an hour for any side effects.
By 9.30am, I was back at work in my clinic, happy that I had been inoculated. 
I had moderate pain on my left deltoid 12 hours after the injection. I could still function normally but there was soreness over my left upper arm. Fortunately the pain was gone by itself the next morning. 
I could do my routine pull-up exercises two days after the vaccination. So for me, the jab is not entirely painless but the pain lasted only for a short while.

I urge all my friends, patients, and citizens to get vaccinated when they have a chance to do so.
ABOUT THE AUTHOR:
Dr Desmond Wai is a gastroenterologist and hepatologist in private practice.