Why we should care about caring in schools
Two bits of news caught my eye in the last couple of weeks. The first piqued my professional curiosity. The second broke my heart.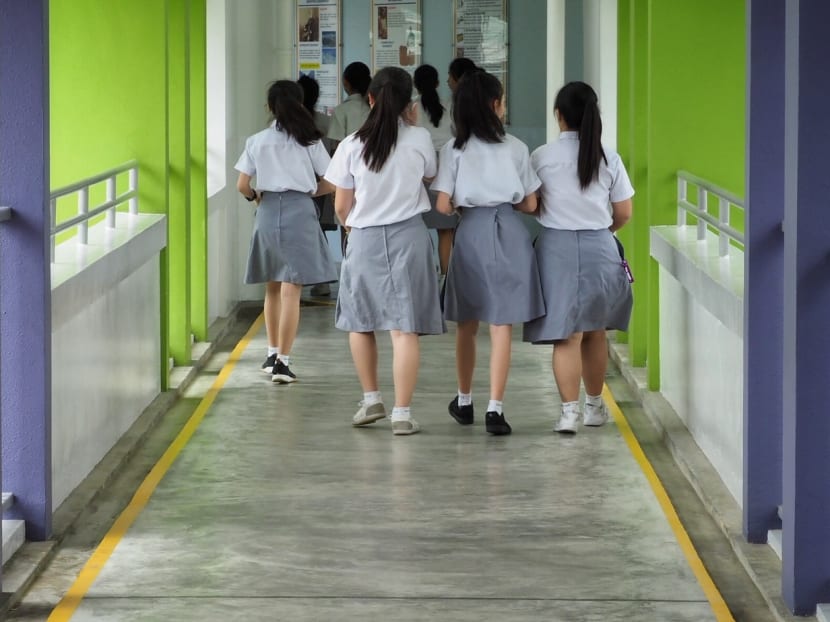 Two bits of news caught my eye in the last couple of weeks. The first piqued my professional curiosity. The second broke my heart.
The first was a July 24 op-ed in the Los Angeles Times, "The rise of the Zoombies: Lifeless, detached students have returned to my classroom", by Jeremy S Adams, a writer and a teacher.
Mr Adams wrote of a "lost generation" of students who, after bouts of Covid-19-impelled home-based learning, returned to the classroom as "Zoombies".
These students are physically back in school, but they are disengaged, uncurious, and "oddly obedient".
Correspondingly, the spirit of the classroom became "deadened" and "undefined".
As his neologism suggests, schooling is barely alive. Undead, in other words. Mr Adams concluded his essay by saying that "at its finest, education is not remote but intensely personal".
It therefore behoves us to ask, why have despair and anxiety come to define the everyday experiences of modern education systems everywhere for so many students?
Such feelings existed before Covid-19, and the pandemic merely brought them into sharp relief.
The second piece of news stunned the nation: The death of a River Valley High School Secondary 1 boy, allegedly killed by a Secondary 4 schoolmate, on the school grounds on July 19. 
It was an apparently random act, and all the more tragic for its senselessness. As investigations unfolded, we learned of a history of mental health issues plaguing the accused.
The Ministry of Education has since announced a suite of measures to ensure the safety and well-being of those in our schools.
Many of these measures focus on mental health, such as training teachers in mental health literacy, recruiting and deploying more counsellors, and dedicating more time to checking on the well-being of students at the start of every school term, among others.
Many questions come to mind: Is this enough? Is it too little, too late? To me, these changes are very welcome and better late than never. But will these measures over-burden our already stressed-out teachers (many of whom are parents themselves)?
As I reflected on these recent events and our responses to them, I realised with painful irony that we are now trying to bring care back and to put it front and centre in our schools. Surely care had always been at the heart of education; how had it come to be displaced?
In my reflections, I recalled an incident some years back when one of my sons first entered secondary school and I attended a meet-the-teachers session.
In a conversation with a veteran teacher, I asked her, "I'm sorry, you teach…?", expecting an answer along the lines of mathematics or geography or some such.
She paused. And then smiling sweetly, she replied simply but pointedly, "I teach boys."
If she really meant what she said, then therein lies the answer to the present malaise that plagues our education system. 
Because the full implications of what she said is that we need a pedagogy of care in which the point of departure is building a relationship with that unique flesh-and-blood young person, and embracing each unique set of circumstances as it is.
When we imagine the future of education, we tend to think of technology and apps, artificial intelligence and augmented reality, and all manner of algorithms that can anticipate your learning needs. 
While all of that is important, I believe the road to the future of education must take a detour to the past.
The Brazilian educator and philosopher Paulo Freire, writing from the 1960s, criticised what he referred to as the mainstream "banking model of education".
The metaphor referred to how education consisted of depositing knowledge into the hitherto empty bank accounts that are young minds. 
In the transmission of knowledge, the teacher did the heavy-lifting and the student passively absorbed, and both were bound in a hierarchical relationship of power asymmetry.
Freire's alternative called for pedagogy to go beyond the instrumentalism of subject teaching. He argued instead that pedagogy must be based on a relationship of mutual respect and reciprocity between teachers and students.
In his classic "Pedagogy of the Oppressed", he wrote that "education must begin with the solution of the student-teacher contradiction, by reconciling the poles of contradiction so that both are simultaneously teachers and students".
Note the reciprocal "and": There is much that students can teach teachers, and teachers can learn from students.
To Freire, that relationship is fundamental to breaking down the paralysing alienation and anonymity that students, and indeed teachers too, feel in schools. 
And despite dating from the 1960s, Freire's ideas are a welcome counterpoint to an education system that risks becoming exclusively de-personalised technocratic practice, if not already.
The American professor and social activist Gloria Jean Watkins, better known by her pen name bell hooks, in "Teaching Critical Thinking", emphasised the importance of trust and authenticity. 
To cultivate trust in the classroom means to be mindful of what we — again, teachers and students — say and how we say it.
It is to be mindful of another's well-being. She argues that teachers must engage students beyond the superficial and, dare I say, tokenistic, and really get to know them.
Her priority as a teacher? Creating a shared safe space of mutual participation. 
How? 
She is adamant that teachers must first risk their own vulnerability and share something of themselves. It's not about the authority-reward-punish nexus, but making a human connection. The algebra and plate tectonics come later.
This, then, is what it means to teach boys and girls, trans and cis.
The ideas that Freire and hooks promulgate lie outside the mainstream of the modern education system that, more than ever, is seized with practical issues and measurable statistics such as mastery of the syllabus and employment outcomes.
The things they call on teachers to do take considerable energy and time. And as every teacher will tell you, before you put something else into the curriculum, you have to take something out. 
These things are also very risky.
This is a complex issue par excellence. I have not even talked about what needs to change on the parenting and home fronts. And frankly, I don't know how much more we can ask of our teachers.
But this much is clear: Care in our schools cannot be an afterthought. If we treat it as such, then it is tantamount to putting plasters on the very wounds that we are inflicting on ourselves.
If we as a society agree that care and well-being should be at the heart of schools, and given the constraints of time and space, then we — policymakers, educators, and parents — will have to rethink the purpose of education. 
We will have to decide what gets put in and what gets taken out, which key performance indicators (KPIs) we want to sacrifice, how to properly resource the carers, and especially how to care for the carers.
Because if we don't, another set of worrying numbers — numbers that track depression, burn-out, self-harm, suicide, and all the things we dread — will start to rise.
ABOUT THE AUTHOR:
Dr Adrian W J Kuah is director, Futures Office, National University of Singapore. He is a father of three boys. This is his personal comment.