Will WP leaders' doubling down on their positions on the Raeesah Khan saga pay off?
Those of us who were expecting thunder and lightning at this week's Parliament sitting on Tuesday (Feb 15) were not disappointed.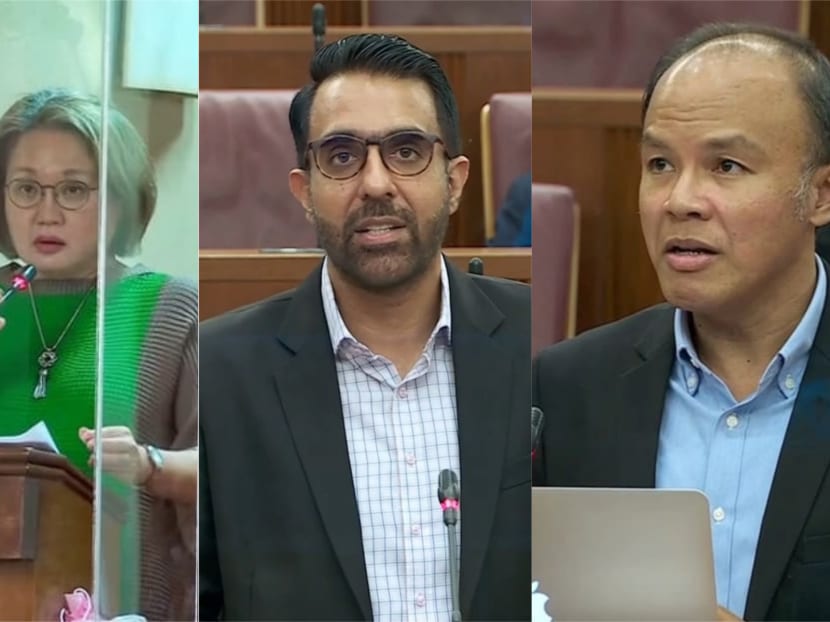 Those of us who were expecting thunder and lightning at this week's Parliament sitting on Tuesday (Feb 15) were not disappointed.
The Workers' Party (WP) leaders spoke out for the first time after the Committee of Privileges (COP) had published a report of the findings of its investigation into the lies told by former WP Member of Parliament (MP) Raeesah Khan last year.
WP secretary-general and Leader of the Opposition Pritam Singh went on the offensive, rejecting the COP report outright and saying that it contained "many questions, gaps and omissions", which by extension suggested what he termed "political partisanship".
The party's chairman, Ms Sylvia Lim, questioned the "strenuous" nature of questioning employed by the committee, while WP vice-chair Faisal Manap rejected the claim that himself, Mr Singh and Ms Lim had advised Ms Raeesah to continue to lie in Parliament.
Parliament was debating two motions raised in relation to the COP's recommendations to fine Ms Raeesah $35,000 for lying in Parliament, and to refer Mr Singh and Mr Faisal to the Public Prosecutor for possible offences under the Parliament (Privileges, Immunities and Powers) Act.
Prime Minister Lee Hsien Loong took the WP leaders to task in a 45-minute-long speech. He spoke about how a democratic system needs MPs with good norms and values to function, the importance of public trust in the government, and how trust built on honesty is non-negotiable if democracy is to work well.
It was interesting to note that, beyond the passion and bombast, there was not a lot that was new in the WP's response to the COP report.
Indeed, it would seem that the three leaders who spoke, in particular Mr Singh, held to earlier points — that at no point had they instructed Ms Raeesah to lie, and that he had not sought to use her mental state to cast aspersions on her testimony.
In fact, he and Mr Faisal had intentionally kept their comments on the COP report brief, as they said they were prepared to cooperate fully with the Public Prosecutor in any subsequent investigations.
To use a term popular in gambling, the WP leadership chose to double down on their initial position, instead of introducing new facets or information to bolster their arguments.
There are some interesting potential outcomes that could result from this strategy.
WIN-WIN?
Pro-opposition camps have insinuated that the Government and the ruling People's Action Party (PAP) were seeking to "fix" the Opposition throughout this episode.
Such theories and rhetoric typically rile up Opposition supporters, and can potentially strengthen a "martyr narrative", where a lone hero or heroes stand up against oppressive forces for a greater cause despite overwhelming odds and almost certain defeat.
This sentiment was expressed in Mr Faisal's speech, delivered in Malay, when he concluded with a short poem or pantun:
"Perajurit ke medan pertempuran
Semangat berjuang demi kebenaran
Lumrah perjuangan perlukan pengorbanan
Hasil pengorbanan terlahir perubahan"
Translated, it means:
"Soldiers march to the battlefield
With the spirit to fight for the truth
The nature of battle requires sacrifice
Out of sacrifice, change is born"
The images of soldiers, battle, and sacrifice in the name of change certainly would not be out of place in a martyr narrative.
And this strategy might pay off for WP in the medium term.
A fresh investigation will be conducted for the Public Prosecutor to decide if criminal charges are warranted.
If he is charged, Mr Singh will have the opportunity to defend himself in court and cross-examine prosecution witnesses.
If he is found innocent, it would be a major win for the WP, and for himself as a politician.
If he and Mr Faisal are found guilty and the punishment meted out by the courts is severe enough for them to lose their seats in Parliament, this could prompt the rest of the WP team in the Aljunied GRC to resign strategically to force a by-election in the GRC ahead of the next General Election.
This would set the stage for a "by-election effect".
Voters in the GRC, which has been held by the WP since 2011, would be free to cast their ballot for the Opposition to act as a check on the ruling party, knowing full well that their by-election ballot will have no impact on who forms the Government.
It is also likely that the WP campaign would position the by-election as a referendum on the PAP Government's performance and policies since the 2020 general election — through the Covid-19 years and even up to the planned increase in the Goods and Services Tax.  
Given that Aljunied GRC is a WP stronghold, the martyr narrative coupled with any by-election effect could even see the party improving its percentage of votes over the last election in 2020, where they secured almost 60 per cent, itself a massive improvement over the nail-bitingly close victory it eked out in 2015.
Such a result might restore some wind to the WP sails, albeit at the expense of its current leader.
UNEASY IS THE HEAD THAT WEARS THE CROWN
Regardless of the outcome, the weeks and months ahead spell a challenging time for Mr Singh at the helm of the WP and indeed the entire Opposition.
Beyond the looming legal process, there is also the possibility of potential challenges to Mr Singh's leadership of the party.
Such internal strife would not be new for the WP. Mr Singh's predecessor and WP stalwart Low Thia Khiang successfully faced down a challenge to his leadership by Mr Chen Show Mao in 2016, the first time this had happened since he took up the post in 2001.
Prime Minister Lee said in his speech on Tuesday that Mr Low had been a formidable political opponent but was also a patriotic Singaporean.
"He set a different tone for the Workers' Party. He said he hoped the Workers' Party could help to build a first-world Parliament for Singapore. He must be saddened that, instead, this is what his successor has done," Mr Lee added.
It's worth noting that Mr Low has thus far not overtly expressed support for Mr Singh, and instead has said in a media interview last week that there are "many talents" in the party, and that the recent developments are thus not a cause for concern.
He also did not rule out a return to politics, saying only that it would be "up to the residents" to ask him if they wanted him to do so.
During Tuesday's debate in Parliament, none of the other WP MPs spoke on the issue. This could represent a closing of ranks, or a desire not to be dragged down with a potentially sinking ship.
Regardless, it will be interesting to watch for changes in the complexion of the WP in the lead-up to the next elections in 2025.
Since 2018, Mr Singh has led the WP and the Opposition as a whole to a new level in Singapore politics, as evidenced by his official appointment as Leader of the Opposition.
What he does in the next three-odd years may determine whether that progress is sustained or reversed.
ABOUT THE AUTHOR:
Nicholas Fang is a former Nominated Member of Parliament. He has previously worked as a journalist for over 18 years and currently runs a strategic communications consultancy.