Working with difficult bosses
"How's the weather?" is a common phrase you hear in an office where employees are trying to ascertain the mood of a difficult manager. The answer will usually determine how they operate at work that day to minimise conflict.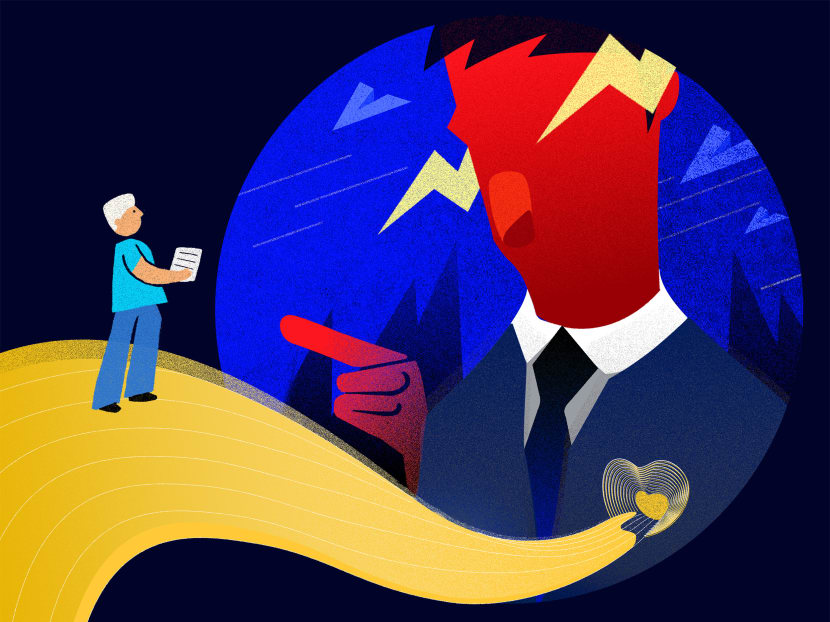 "How's the weather?" is a common phrase you hear in an office where employees are trying to ascertain the mood of a difficult manager. The answer will usually determine how they operate at work that day to minimise conflict.
Those who have been in the workforce long enough will have their share of stories to tell about bosses from hell. Examples range from bosses who pick on staff, overload them with work, to those who appraise their staff poorly despite good performance.
Although one's first instinct could be to steer clear of conflict, avoidance will only get you so far. As you progress in your career, there will always be personalities that may be more challenging to work with. It is important to learn how to manage the situation with professionalism while getting the job done.
State the facts
It is easy to get emotional when working with a difficult boss. But that will be counter-productive.
Instead, it is important to be calm and base your discussions on facts. Being mentally prepared will help you overcome fears of having a difficult conversation since it is not based on feelings.
First, identify the work issue and collect all the supporting documents. This can be in the form of emails and messages.
Go through the documents to get a firm grasp of the situation, including the stakeholders involved, their respective roles and responsibilities, as well as what is required to make progress. It is also important to think through the various scenarios, anticipate your boss' possible reactions and have constructive responses prepared. 
Whether you have a difficult boss or not, this advice should apply to your day-to-day professional life.
Understand your boss' motivations and triggers
Managers who have to answer to many stakeholders are under tremendous pressure and deal with many issues that keep them awake at night. In order to understand these stresses and manage upward, find out what your boss' priorities are.
Some of them may seem trivial, but they could be real concerns to your manager, including the need to look good to their own bosses.
I once worked with a manager who seemed perpetually stressed and angry. His mood made him difficult to approach to clarify work issues. One of my braver colleagues took the opportunity, while he was ordering coffee, to ask him how he was and if there was anything the team could do to help.
Although taken aback by this show of concern, the manager was touched by this show of concern and proceeded to share some areas where the team could help alleviate his pressures. 
Understanding your manager's motivations and triggers can help you rationalise their demands. It is also an opportunity to be proactive and offer solutions to some of these problems.
Recap and ask relevant questions
Some bosses have the tendency to forget their instructions. Hence, it is a good practice to recap important discussions in an email to ensure that all parties are on the same page.
Also, do not be afraid to ask questions and clarify what they are requesting. Either refer to a previous piece of work done that they liked or ask them if they have an example to share. This would help manage expectations, timelines and outcomes.
It is also helpful to understand the manager's preferred way of working.
For example, I had a manager who ran a tight day-to-day schedule using her Outlook Calendar. In order to get my questions answered, I would book time with her and send her an agenda ahead of time to ensure that I had her undivided attention for at least 15 minutes to review my work and address any issues.
Be a team player
In the workplace, everyone has his or her respective roles and responsibilities that contribute to a larger team effort. 
Achieving success as a team will reflect well on your manager. Hence, it is important to be able to work cross-functionally to achieve business outcomes.
Recognising how you and your colleagues contribute to achieving the company's goals will also help identify initiatives that will benefit the team and the organisation. This will enable you to have a productive discussion with your managers and inform priorities.
Reflect and be willing to listen to honest feedback
Some employees lament what seems to be their consistent bad luck for being stuck with bad bosses. In such cases, they would do well to reflect on their own approach and attitude to work and be willing to ask for and receive honest feedback.
This may take a mind-set change — to be willing to adapt and learn, as well as be open to new ideas.
How to avoid bad bosses in the future?
It is a useful exercise to list down what you want in a good boss and look out for those traits when you meet your prospective employer. The interview process is a two-way street during which you need to ask the relevant questions that will guide you in decision-making.
You can also tap into informal social networks to find out more about individual personalities. This can be done either in person or through apps such as LinkedIn and Glassdoor, to find out more about the company and the management.
Build resilience
There will always be personalities who are more challenging to work with than others are.
Managing people, including difficult bosses, is a soft skill that will serve every employee in the long term. As with all experiences, it boils down to how you choose to view and manage the experience in order to make the most of it.
ABOUT THE AUTHOR:
Kenneth Lam is a career advisor with NUS Business School's Career Services Office, which works closely with business undergraduate and postgraduate students to prepare them for their careers ahead. This is part of a series of career-related commentaries which TODAY is running in partnership with the school.