Art education key to developing an innovative mindset
Education researchers identify critical thinking, creativity and collaboration as crucial 21st-century competencies for a fast-changing and unpredictable world.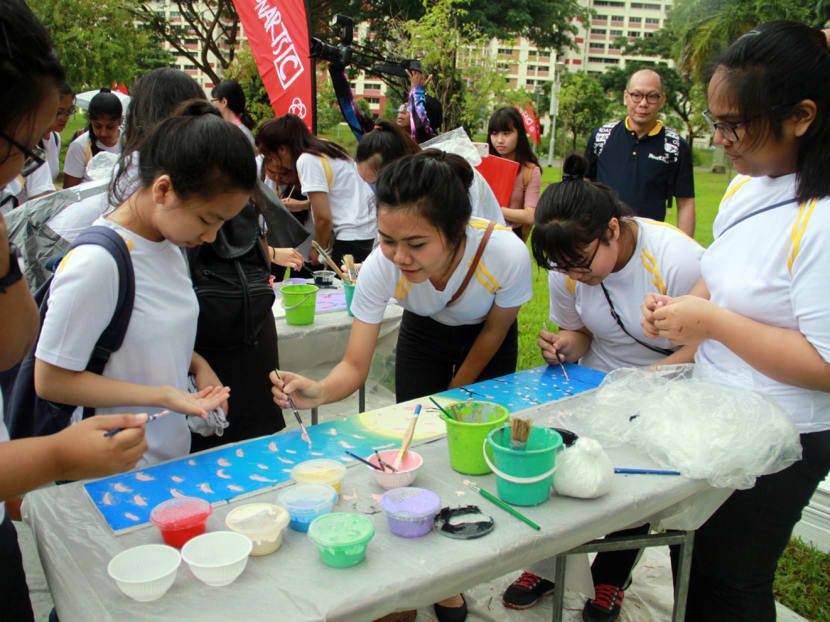 Education researchers identify critical thinking, creativity and collaboration as crucial 21st-century competencies for a fast-changing and unpredictable world.
Students today require resilience, strong adaptability and relational skills to thrive anywhere in the world.
When I served as Head of Visual Arts faculty at the School of the Arts Singapore, teachers of other subjects observed that art students did not seem to require additional incentives to study and deepen their knowledge and practice of art.
Students also seemed to respond positively to criticism and failure, seeing these as motivating factors to strive for excellence. These teachers wondered what it is about an art classroom that develops such self-motivation and resilience in children.
Several academic studies have shown the academic benefits of art education, including one from the Guggenheim Museum in New York which suggested that art education can improve their literacy and critical thinking skills.
Thorough description, hypothesising and reasoning powers are abilities well-developed through art and have wider applications beyond the field.
Art education is premised on openness and diversity.
It opens our eyes and minds to different cultures and expressions, and fosters curiosity and thoughtfulness.
The art classroom is, therefore, a space in which imagination and ideas are encouraged, where different viewpoints are discussed, and where experimentation, playfulness, risks and mistakes are considered part of the learning process.
Such environments are crucial to the development of an innovative mind and a resilient spirit.
STARTING YOUNG
Parents and teachers have a huge role to play in creating an environment that encourages creativity. When nurtured at an early age, creativity lays the foundation for curiosity, critical thinking, self-motivation and resilience to be developed over time.
Research has shown that children are most creative, imaginative and open to new ideas before they reach their teenage years. Knowing that children under the age of seven years respond best to kinaesthetic play and tactile exploration, parents can introduce different materials such as plasticine, clay and even Blu Tack for them to create little ceramics and sculptural artworks.
A simple way for parents and teachers to encourage creativity in children, which may feel counter-intuitive at first, is to refrain from asking children "why?". Instead of asking "Why did you paint this red?", teachers and parents can ask questions such as "What does the red remind you of?", "How does the red make you feel?" or "If you had a bigger piece of paper, what would you do differently?"
This way, the adult's role is to give children more freedom, space and leeway to create, rather than burden the children with having to explain the reasons behind their decisions and creative expression.
Children aged seven to 11 years old take well to storytelling and imaginative thinking. Educators can encourage creative thinking in these children not only through art-making, but also through story-writing and poetry in response to art.
At the National Gallery, teachers use art to discuss complex topics such as war, poverty and social injustice with older students. This can help to develop multiple viewpoints and an interconnected view of history, sociology, literature and art in our students.
In the last decade, there has been a shift by museums towards making visitor experiences more interactive and participatory. Writing in The Participatory Museum, a guide on how community members and visitors can make cultural institutions more dynamic and relevant, museum director Nina Simon advocates a visitor-centric focus where experiences are designed to encourage visitors to find their own personal connections with art.
The best way to nurture creativity in children, thus, is to provide lots of time and space for discovery and imaginative learning.
Kindermuseum Creaviva at Zentrum Paul Klee in Bern, Switzerland, provides a series of interactive exhibitions where children explore and learn in a self-driven manner.
Children encounter an arboreal bridge, create urban landscapes using wooden blocks and share complex ideas on themes such as angels and rascals, mysteries and dreams, and war and utopia. Closer to home, children at the National Gallery's Children's Biennale are given the opportunity to respond to and experience the power of art and emotions.
They create an original print in response to visually impaired multimedia artist Chng Seok Tin's story of creativity and resilience expressed in a large-scale woodblock, and experience a community participatory effort of filling The Obliteration Room with colourful stickers, a project first developed by Japanese artist Yayoi Kusama in 2002.
These experiences provide kids with different ways of exploring materials, subject matter and concepts in an open-ended, non-prescriptive manner. Ultimately, art can be an open space where children and youths feel they have a voice and can develop a love for artistic creation and culture.
Artists often talk about exploration, experimentation and risk-taking as crucial aspects of the creative process. In our technologically intense world, adaptability, openness and innovation are a necessity.
Art education is crucial to helping children become open-minded, critical and innovative thinkers with a sense of self-motivation for new experiences in the 21st century.
It gives students a chance to explore and experiment, and leads them to find meaning in a complex world.
ABOUT THE AUTHOR:
Ye Shufang is Deputy Director of Education at National Gallery Singapore