Feeling the pain, a nation searches for relief
Singapore — Over the past four years, Madam Noraini Mohd Ali (picture) has been popping painkillers regularly to help her cope with the debilitating pain from osteoarthritis in her right knee. The degenerative joint disease occurs when the protective cartilage between the joints wears down.
Singapore — Over the past four years, Madam Noraini Mohd Ali has been popping painkillers regularly to help her cope with the debilitating pain from osteoarthritis in her right knee. The degenerative joint disease occurs when the protective cartilage between the joints wears down.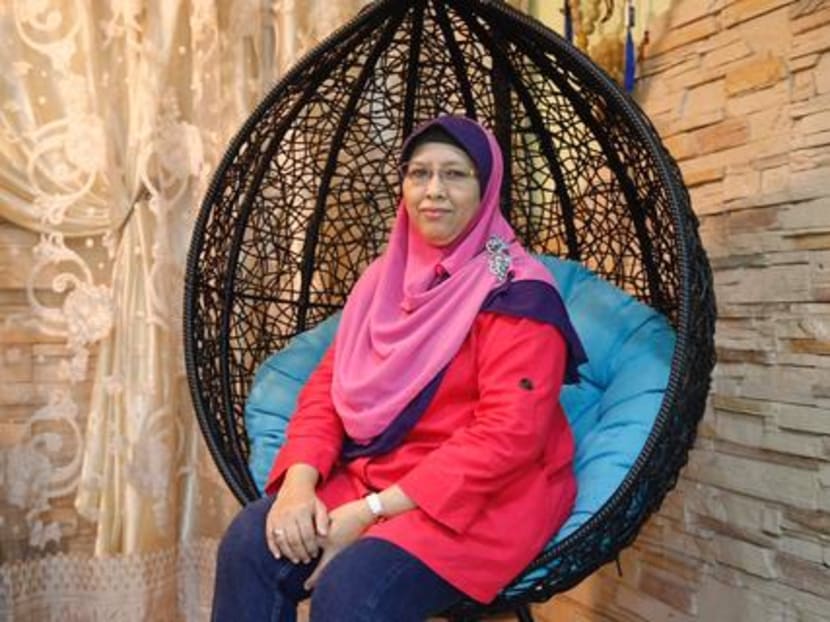 "I try to tahan (tolerate) the pain and took the painkillers only on alternate days. I was worried about becoming too reliant on them," said the 56-year-old freelance surveyor.
Her condition suddenly took a turn for the worse two years ago, when the pain became so bad she could not walk while at a shopping mall. "I remember feeling a sharp pain and could not lift my leg. My family rushed me to the hospital where I was diagnosed with knee osteoarthritis. The pain got better after physiotherapy but it didn't totally go away," she said.
Local studies suggest that many people in Singapore are well-acquainted with chronic pain, a term that encompasses any persistent or recurring pain that lasts for more than three to six months. It includes mild to severe pain, such as migraines, arthritic pain and nerve pain associated with diabetes.
About one in five (19.5 per cent) elderly aged 60 and above suffer from chronic pain, according to the Well-being of the Singapore Elderly (WiSE) study published in the Pain Research and Management journal last year.
Other studies suggest a higher prevalence of pain. About nine in 10 people may experience back pain at some point in their lives, said Dr Tan Kian Hian, director of the Pain Management Centre at Singapore General Hospital (SGH).
Singapore ranks among the highest in the world for body and head pain, according the 2017 GSK Global Pain Index which surveyed 19,000 adults across 32 countries. About 85 per cent of 500 Singaporeans surveyed reported having experienced head and body pain, with four in 10 suffering body pain every week.
MORE SEEKING TREATMENT
To cope with the pain, more sufferers are seeking treatment. For instance, SGH's pain management centre saw a 10 per cent jump in the number of patients in the past year. It currently sees more than 6,000 patients each year, a number which is expected to rise exponentially with the rapidly ageing population, said Dr Tan.
The rise in patient load has spurred SGH to expand its team of pain management doctors. There are now 14 anaesthesiologists with a special interest in pain management, compared with four of them five years ago.
"Numerous studies have demonstrated higher prevalence of chronic pain in the elderly population. The most common types we see are back, neck and nerve-related pain such as painful diabetic neuropathy, which is nerve pain associated with diabetes," said Dr Tan.
In the elderly, age-related degenerative changes and inflammation can cause pain, said Dr Yoon Kam Hon, director of El Shaddai Arthritis and Rheumatism Specialist Medical Centre, who sees more than 400 patients with chronic pain every month. Common areas of pain in older adults include the knees, back, neck and nerve pain in the legs, he said.
In the general population, persistent head and body pain may be due to an unhealthy lifestyle. For instance, high stress levels, anxiety, sleep issues, muscle tension, poor posture and consuming too much caffeine and alcohol could trigger pain, said Dr Yeo Sow Nam, director of The Pain Specialist at Mount Elizabeth Hospital. But sometimes, the cause of pain may be a total mystery, he added.
Feeling pain on a regular basis is not normal, even for the elderly. Dr Yoon said it is a sign of "ongoing damage" in the body, which needs to be rectified before it leads to other health issues.
"My opinion is that the elderly should be treated as aggressively as younger adults, as small effects can lead to bigger consequences. For example, an elderly person who cannot walk because of knee pain may become bedridden, which in turn causes him to lose muscle mass and become weakened," said Dr Yoon.
DAMAGING EFFECTS OF CHRONIC PAIN
The experts said the effects of pain can be devastating and intrude into many aspects of life. Some patients experience a pain score of 10 out of 10 (the maximum on the pain rating scale), said SGH's Dr Tan.
"For example, patients with a form of chronic pain known as trigeminal neuralgia can experience severe and unpredictable 'lightning-like' pain in the face. These severe pain episodes are even worse when it is chronic. Imagine living with severe pain for many years — it can affect quality of life dramatically," said Dr Tan.
Even niggling pains like headaches and body aches should not be ignored as they can have a ripple effect on the sufferer's relationships and workplace productivity, warned Dr Yeo.
Findings from the GSK Global Pain Index survey revealed that Singapore workers took an average of three days of sick leave because of pain in the past 12 months. Those who worked through their pain were 15 per cent less productive. The missed work days and lower productivity were estimated to cost the local economy S$8.4 billion each year.
The survey also uncovered low levels of education about pain relief medication among Singaporeans, and about a third delay pain relief by weeks or even longer.
RELIEF THROUGH DRUGS — AND ACUPUNCTURE?
At SGH, doctors use a combination of treatment approaches including medications, minimally-invasive injections and exercise.
Some patients are also referred for psychological intervention, such as cognitive behavioural therapy.
"Multiple scientific publications have shown that psychological interventions can make a difference in the management of pain. Pain is an unpleasant sensory and emotional experience, and it is inevitable that the emotional aspects of a person will also be affected," said Dr Tan.
Presently, there are three main types of pain relief medications, including non-steroidal anti-inflammatory drugs (NSAIDs), opioids and paracetamol. The latter is commonly used as the first line of defence for pain and fever and can be bought over the counter, said Dr Yeo.
According to him, most milder and moderate forms of pain such as migraines, headaches, muscle and body ache, and period pain can be relieved using over-the-counter medication. But those who experience persistent pain for more than five days should see a doctor who may prescribe a combination of solutions.
There is some evidence to suggest that alternative treatment like acupuncture, said to stimulate naturally-occurring pain relievers in the body, may offer respite.
A 2012 analysis by researchers from various countries on about 18,000 chronic pain patients found that those who received acupuncture reported relief more often than those who got none or who got "sham" acupuncture, in which the needles were not properly placed.
But Dr Yoon has concerns about using alternative therapy to manage pain, particularly if it delays actual medical diagnosis and treatment.
"For example, if the person is suffering from arthritis, especially rheumatoid arthritis where the joint damage occurs at a faster rate, a delay in proper medical treatment could lead to further deterioration (of the joint) and the damage may be irreversible," he said.
Desperate to put an end to her pain, which left her unable to walk properly or kneel to pray, Mdm Noraini resorted to a herbal remedy her friend bought from across the Causeway. It worked like a charm but she stopped after learning from media reports that it contained dangerously high levels of steroids.
After switching doctors several times, Mdm Noraini may have finally found a way to manage her pain more effectively. Earlier this year, she consulted a rheumatologist and underwent visco supplementation, a treatment that involves supplementing the fluid in the knee via injections.
Above: Mdm Noraini Mohd Ali, a 56-year-old freelance surveyor who suffers from chronic pain due to knee osteoarthritis, works out on her exercise bicycle, Sep 18, 2017. Photo: Najeer Yusof/TODAY
Together with the daily stretching and strengthening exercises that she picked up from a physiotherapist, Mdm Noraini said her knee pain is now better managed.
"I still have trouble kneeling but I definitely feel a lot fresher and can walk without limping. 'Previously, whenever the intense knee pain came on, I just felt like curling up to sleep.
''Now, I can cover about 15 to 18 households in four hours on the job, compared to just seven to 10 when I was experiencing severe knee pain. It is very hard to be productive when you're in pain," she said.
IS IT POSSIBLE TO BECOME ADDICTED TO OVER-THE-COUNTER PAIN MEDICATIONS?
While opioid-based painkillers can be addictive, common over-the-counter (OTC) pain medications such as paracetamol or ibuprofen are not known to cause dependency when taken as directed, said Dr Wong Li Lian, senior lecturer at the Department of Pharmacy at National University of Singapore.
But all medications have side effects. And even OTC medications can cause problems when used improperly, such as taking higher-than-recommended doses or through accidental overdose due to multiple medications, said Dr Wong.
When purchasing and taking OTC pain medications, consider the following tips from Dr Wong.
1. Talk to your pharmacist. He or she can address any questions and help you choose the right pain medication for your condition, as well as point out any potential drug interactions between your existing prescription drugs and OTC medication.
2. Know the active ingredient in the medication. This reduces the risk of taking more than one medicine with the same ingredient.
3. Read the label carefully and take only the recommended dose. It is important to adhere to the correct timing between doses, take only the number of doses allowed in 24 hours and use the product only for the specified number of days.
4. Check the expiry date. Store all medications in original packaging, in cool and dry areas.
5. See a doctor when severe pain is not relieved by OTC pain medication.