The exercise prescription
SINGAPORE — Imagine seeing your doctor for elevated blood sugar levels or hypertension, but being prescribed a tailored exercise plan instead of a clutch of pills.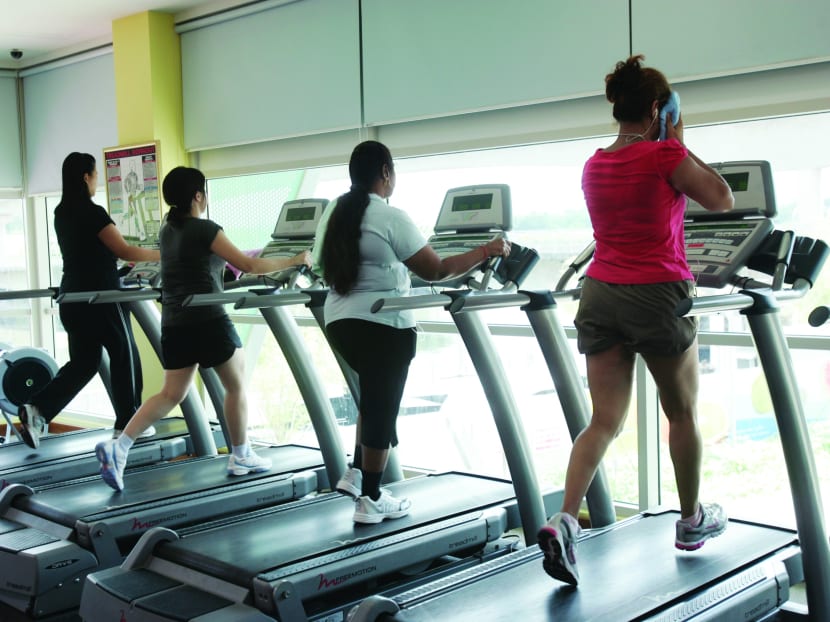 SINGAPORE — Imagine seeing your doctor for elevated blood sugar levels or hypertension, but being prescribed a tailored exercise plan instead of a clutch of pills.
Using physical activity to treat chronic lifestyle diseases is a concept gaining ground both overseas and in Singapore.
At the Changi General Hospital (CGH) for example, patients with chronic illnesses such as obstructive sleep apnoea, coronary artery disease and stroke are routinely referred to relevant exercise programmes.
The hospital is also in the midst of rolling out an initiative called Physical Activity as a Vital Sign to all clinical departments.
In addition to having their vital signs — resting heart rate, blood pressure and temperature — recorded, patients will also have their physical-activity level history assessed and documented.
"Once we know the patient's physical activity level, we can then compare it against the desired 150 minutes of moderate intensity cardiovascular exercise per week (according to the National Physical Activity Guidelines), and counsel the patient accordingly," said Dr Ben Tan, chief of Sports Medicine at CGH.
One of the speakers at the Medical Fair Asia Medicine and Sports conference earlier this month, Dr Tan said a sedentary lifestyle is a fast-growing public health problem that contributes to a variety of chronic diseases and health complications. It is the fourth-leading risk factor for deaths worldwide, according to the World Health Organisation.
Dr Tan also chairs Exercise Is Medicine Singapore (EIMS) and South-east Asia, part of a global initiative that aims to make exercise a standard part of medical treatment by encouraging doctors to include it in their patients' treatment plans.
Lifestyle diseases such as diabetes are on the rise in Singapore, where two in five residents lead a sedentary lifestyle or exercise less than once a week, according to the 2010 National Health Survey.
A report by the International Diabetes Federation (IDF) revealed that Singapore has the second-highest proportion of diabetics among developed nations after the United States. It affects around one in 10 people here, while hypertension affects almost one in four adults, according to Ministry of Health figures.
Exercise is known to play a role in preventing these chronic diseases, but emerging evidence shows an exercise prescription can also be an effective part of treatment.
More than generic advice to "get moving", patients who get an exercise prescription are recommended fitness plans specifically designed to safely manage their underlying health issues.
"Just as a patient collects his drug prescription from his doctor and takes it to the pharmacist to fill it, the doctor prescribes the exercise while an allied health and fitness professional 'fills out' the exercise prescription," said Dr Tan.
EXERCISE BETTER THAN DRUGS?
In certain situations, exercise might be as effective as the pharmaceutical approach, or even trump it. According to Dr Tan, physical activity has been shown to be superior to drugs for the management of strokes, and at least as effective as drugs for most other chronic illnesses.
In a study published in the journal BMJ in 2013, researchers reported no detectable differences between people using exercise therapy and those on drug therapy when it came to preventing diabetes and additional cardiac events for heart patients.
Stroke patients were found to benefit the most from exercise.
Exercise has also been shown to lower the risk of a relapse in cancer survivors, and improve outcomes for people with depression, particularly when they engage in group sports, said Dr Dinesh Sirisena, associate consultant at Khoo Teck Puat Hospital's Sports Medicine Centre.
Together with lifestyle changes, the right dose of exercise might help reduce the need for medication in certain patients.
"There is evidence to show that when pre-diabetic patients with a high body mass index and sedentary lifestyle start exercising, they can avoid the need for medications. For diabetic patients already on multiple medications, they can reduce the amount they take, with exercise," said Dr Dinesh.
But doctors said more work is needed to improve physical activity levels in Singapore patients.
An EIMS survey found that only one in five local patients reported receiving exercise advice from their doctors, although 87 per cent of doctors said they prescribe exercise.
"There's a discrepancy because when a doctor sees 100 patients and prescribes exercise to one or two out of this 100, he would say yes, he prescribes exercise," said Dr Tan, who added that time constraints and a lack of confidence are the top two reasons primary care doctors are not prescribing exercise.
To address this issue, EIMS runs certification courses for doctors to train them to prescribe exercise in a fast, efficient and safe way. It also runs courses for allied health and fitness professionals to supervise patients based on their exercise prescription.
Dr Dinesh said getting sedentary patients to adhere to the prescription can be challenging.
"Walking around the running track six times is not as easy as taking a pill. To many patients, the pill is the easier option but, over time, its efficacy can wane and they may need more and more medications to control their condition.
"Exercise may be hard work but its long-term health benefits are worthwhile," he said.