7 biggest soft drink firms vow to cut sugar content
SINGAPORE — By 2020, at least seven in 10 of all packet, canned or bottled sugared drinks here will contain no more than 12 per cent sugar, the Ministry of Health (MOH) said on Tuesday (Aug 22).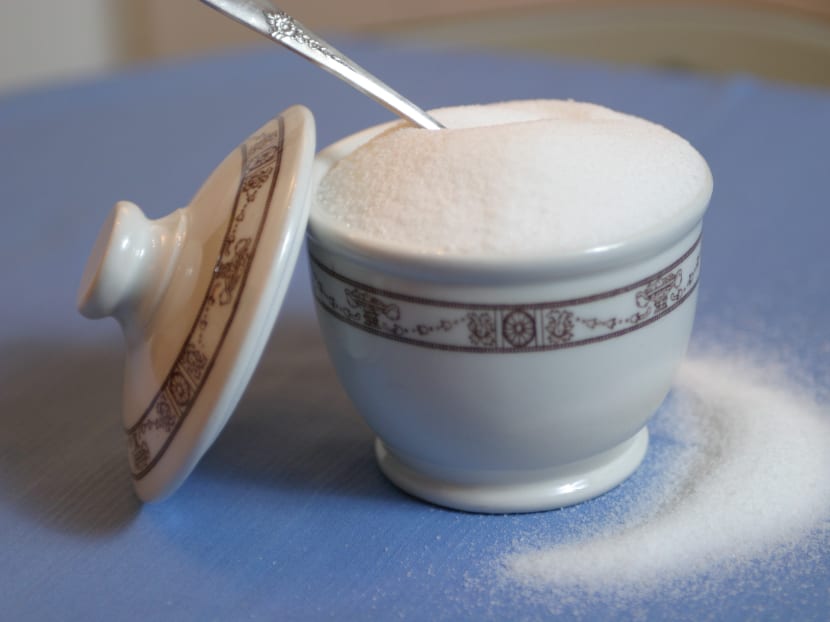 SINGAPORE — By 2020, at least seven in 10 of all packet, canned or bottled sugared drinks here will contain no more than 12 per cent sugar, the Ministry of Health (MOH) said on Tuesday (Aug 22).
Besides the Government's pact with major manufacturers in its war against diabetes, the ministry said a national task force tackling the disease is studying other measures, including a sugar tax, warning labels and advertising restrictions. 
The Diabetes Prevention and Care Taskforce will consult stakeholders in the coming months to "discuss these ideas and the implementation details".
The seven beverage producers approached by the Government — Coca-Cola, F&N Foods, Malaysia Dairy Industries, Nestle, PepsiCo, Pokka and Yeo Hiap Seng — corner 70 per cent of the pre-packaged sugared drinks market in Singapore. 
Their pledge could cut sugar consumption from such beverages by about 300,000kg each year, the MOH said. The 12-per-cent cap could translate to a maximum of 39.6 grams — or about 10 teaspoons — of sugar in a 330ml canned drink, for example.  
The move was announced by Prime Minister Lee Hsien Loong on Sunday in the National Day Rally; tackling diabetes was one of three areas of focus. 
According to the ministry, 60 per cent of Singaporeans' sugar intake comes from sugary beverages such as soft drinks, juices, coffee and tea, while the remainder comes from sugar in food such as cakes. The average person consumes more than 1,500 teaspoons of sugar from pre-packaged sugared drinks per year.
One in nine Singaporeans has diabetes. Of those older than 60, three in 10 are diabetic. 
Drinks manufacturers said they are re-thinking their recipes.
Less than 5 per cent of Pokka's drinks contain more than 12 per cent sugar, said Pokka International chief executive Alain Ong. These include its Soursop and Guava Juice Drinks (12.3 per cent) as well as Kickapoo (12.8 per cent) and Sinalco (12.3 per cent).
The company has begun looking into reformulating its Soursop and Guava drinks, and will work with its partner brands such as Kickapoo to tweak recipes to meet the sugar guideline, he added.
Mr Ong noted that more than 40 per cent of its drinks already have a sugar content of 6 per cent and lower, and meet the authorities' Healthier Choice criterion.
Coca-Cola Singapore said that on top of the industry pledge, it will cut the sugar content of its sugared beverages by 10 per cent by 2020. "We're innovating to launch new low- and no-sugar options as well as proactively rethinking the recipes of many of our brands and drinks in Singapore," said Mr Tony Del Rosario, general manager of Coca-Cola Singapore, Malaysia, Brunei and Cambodia.
Right now, three of its drinks — A&W Sarsaparilla, Schweppes Bitter Lemon and Fanta Strawberry — have a sugar content exceeding 12 per cent. 
Forty per cent of Coca-Cola's more than 40 beverages are lower- or no-sugar options, including Coca-Cola Light and Sprite Zero, said Mr Del Rosario.
Nestle Singapore's marketing communications and corporate affairs director Chow Phee Chat said all its beverage products, such as Milo and Nescafe, contain "well below 12g of total sugars per 100ml".
Its recent products with reduced sugar include Milo Gao Siew Dai, which contains 5.4g of sugar per 100ml. 
At Yeo Hiap Seng, less than 1 per cent of its range — such as its Tamarind juice drink — contains more than 12 per cent sugar, and steps are being taken to cut the rate, group chief executive Melvin Teo said.
Homegrown firm Malaysia Dairy Industries said all its beverages under the Marigold and Vitagen brands already contain less than 12 per cent sugar. The company will continue its efforts to develop and introduce drinks "below that sugar level", said its general manager Leong Yin Hoe. 
None of F&N Foods' beverages contain more than 12 per cent sugar, said general manager Jennifer See. The company will continue reducing the "sugar-content average", and promote its Healthier Choice drinks. 
For PepsiCo, 80 per cent of its beverages sold here contain 12 per cent or less added sugar. 
The companies do not think lower sugar levels will hurt sales.
Mr Ong noted only a small proportion of Pokka drinks are affected by the new guideline, while Mr Del Rosario said more consumers are going for less sugar: "Meeting people's desire for more choice to suit their tastes, lifestyles and diets is good for our consumers and … our business.