Reducing loss of muscle mass in the elderly
SINGAPORE — A slow and unsteady gait, weakening muscle strength, poor coordination and frail demeanour. Most people accept these traits as an inevitable part of growing old.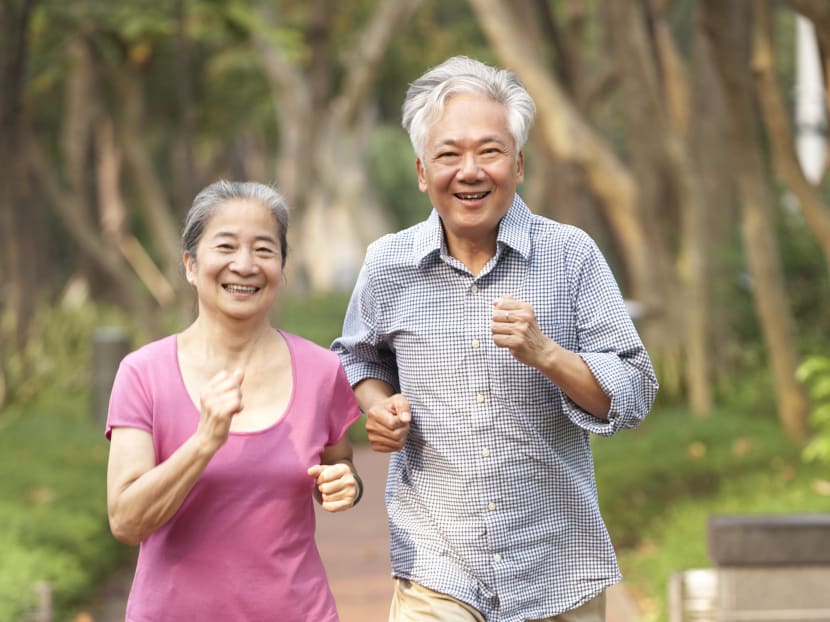 SINGAPORE — A slow and unsteady gait, weakening muscle strength, poor coordination and frail demeanour. Most people accept these traits as an inevitable part of growing old.
Now, studies have found that it is possible to avoid these characteristics of ageing, which result from a condition called sarcopenia.
Sarcopenia refers to the progressive loss of muscle mass and strength or daily function that occurs with ageing, explained Dr Tan Thai Lian, head of department and senior consultant at the Centre for Geriatric Medicine at Tan Tock Seng Hospital (TTSH).
However, exercise and good nutrition can help improve muscle mass. Dr Jean-Pierre Michel from the Geneva Medical School, Geneva University in Switzerland, who analysed 52 studies on physical interventions and 14 on nutrition interventions for sarcopenia, found that the pairing of resistance exercise and protein-based supplements has a positive effect on muscle mass, strength and performance in adults versus supplements alone. Resistance exercises include weight lifting and the use of exercise bands.
He said supplementing with vitamin D, which about 50 to 70 per cent of Asians are deficient in, can also help.
There is no local data on how common sarcopenia is in Singapore. However, it is estimated to affect up to a third of the elderly population above the age of 60, said Dr Michel.
With a rapidly ageing population in Singapore, its incidence is expected to increase, said Dr Tan.
YOUR MUSCLES MATTER
More than only maintaining strength and mobility, muscle mass plays a vital role in overall health.
"Our muscles also affect the body's metabolism. Severe loss of muscle mass can lead to many negative consequences such as lower immunity, higher risk of falls and infection," said Dr Michel.
For an elderly person, battling both sarcopenia and illness can be a double whammy because severe muscle loss reduces a person's ability to recover from surgery or illness.
Dr Tan said the body requires and consumes more energy in times of infection or inflammation, but illness can affect appetite, which leads to poor nutritional intake. Add prolonged bed rest or hospitalisation to the equation and the patient might end up with rapid muscle loss.
"This combination of factors weakens an elderly person with severe muscle loss even further and can lead to a state where he becomes frailer even after his underlying illness has been treated," said Dr Tan.
When this happens, the elderly patient may end up being trapped in a vicious circle of complications that can prolong his hospital stay or even lead to death, he added.
As such, it is important for healthcare practitioners to recognise and identify the condition in older adults and intervene, said Dr Michel.
Latest statistics from the Ministry of Health showed that patients aged 65 and above are occupying more hospital beds in the public sector, from 28.6 per cent in 2006 to 33.4 per cent last year. The average length of hospital stays for this group also lengthened to 8.2 days last year, up from 7.8 days in 2010.
WATCH FOR SIGNS
Dr Michel said most people lose about 24 per cent of their lean muscle mass between 40 and 70 years old, and an additional 15 per cent for every decade after the age of 70.
However, certain factors such as a sedentary and inactive lifestyle can accelerate muscle loss, added Dr Tan. Under-nutrition and infection or inflammation, which raises energy consumption, can have the same effect.
One warning sign of sarcopenia is weight loss. Occasionally, other symptoms such as weakness, slower movement or instability may also manifest, said Dr Tan.
The person may also experience difficulties with daily living activities, such as climbing stairs, getting in and out of a car and lifting objects.