The latest nip/tuck trend: Recycling excess fat
This 43-year-old housewife's boob job was carried out without the use of artificial implants.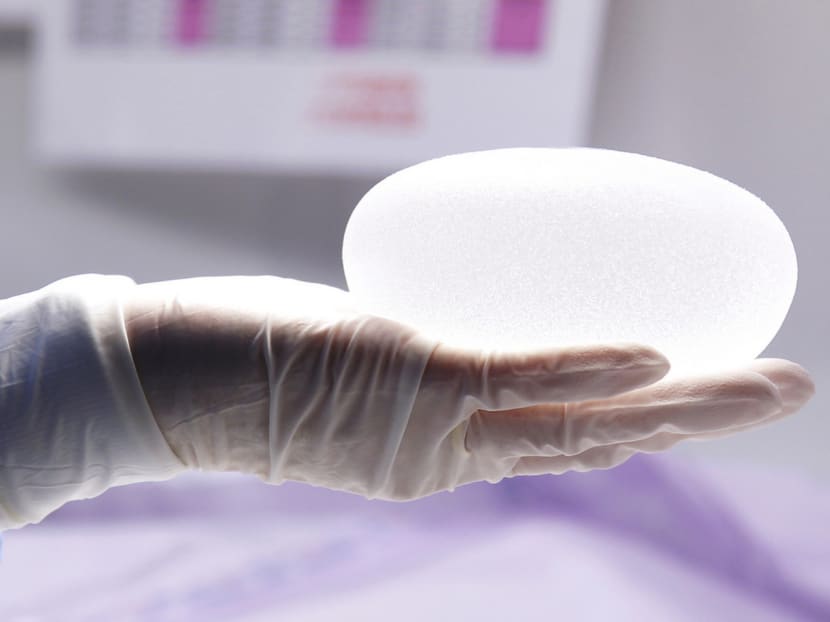 SINGAPORE — Despite going to a plastic surgeon to increase her bust size by almost two cup sizes last year, 43-year-old housewife Ms Agnes Lim (not her real name) can claim that her newly enhanced breasts are all natural. Her boob job was carried out without the use of artificial implants.
Instead, about 1 litre of fat was extracted from her upper thighs and buttocks over two sessions to pad her breasts, originally a cup A size. The result, she said, is a "natural-looking", fuller bustline and shapelier figure.
Ms Lim had silicone breasts implants for 12 years but removed them as they caused her backaches and some autoimmune issues.
"The result (from the fat grafting) is amazing as it looks and feels so much better and more natural than silicone implants. At the same time, my thighs are thinner and my buttocks are smaller," said Ms Lim, who has a two-year-old child. She paid about S$24,000 in total for the fat grafting treatments.
TWO-IN-ONE TREATMENT OPTION
When it comes to achieving fuller breasts and rejuvenating tired-looking facial features, going under the knife was the mainstream option. Now, a cosmetic treatment known as fat grafting or fat transfer, which involves transferring fat from one part of the body to another, has caught on among Singaporeans looking for a more "natural" alternative to enhance their figure or looks.
Dr Leo Kah Woon, a plastic and reconstructive surgeon at Dr Leo Aesthetic Plastic and Reconstructive Surgery at Mount Elizabeth Hospital, who did the fat grafting for Ms Lim, described fat grafting as a "two-in-one" procedure: Using liposuction techniques, unwanted fat is harvested from areas such as the tummy, buttocks and thighs. After the extracted fat is processed to remove blood and body fluid, it is then re-injected into selected areas.
Doctors TODAY spoke to said the minimally invasive procedure, which does not require the use of synthetic materials or implants, can be used to slightly increase the volume of the breasts for a fuller bustline. It is usually done as a day surgery procedure under intravenous sedation, said Dr Leo.
A spokesperson from DocfinderKorea, a medical concierge service provider, said that Singaporeans made up more than 40 per cent of the total number of clients who underwent fat grafting in Korea last year.
Local doctors offering this cosmetic treatment said they are also seeing a growing interest in fat grafting here.
Compared to one fat grafting procedure every two to three months about five years ago, Dr Tan Ying Chien, a consultant plastic surgeon at The Sloane Clinic Plastic Surgery Centre, now does two to three procedures each month.
Aesthetic doctor Dr David Loh, medical director of Dr David Loh Surgery, declined to give exact figures but said "the numbers have grown in tandem with (his) liposuction practice".
Dr Leo has seen a 10 to 20 per cent increase each year over the last five years. About a third (30 to 40 per cent) of the fat grafting procedures he performs are for breast augmentations while the rest are used to enhance the face. "In the past, more than 90 per cent of breast augmentations were carried out with silicone implants. However, this percentage is declining as more patients see the advantages of the two-in-one fat grafting procedure (which can offer) larger breasts and a slimmer body," he said.
On the face, fat grafting can be used to smoothen and achieve a rounded convex forehead, fill up sunken temples, frown and laugh lines, flat cheeks and small chins, said Dr Chua Jun Jin, plastic surgeon at JJ Chua Rejuvenative Cosmetic and Laser Surgery at Mount Elizabeth Hospital.
The treatment used to be more popular among older adults above the age of 40 as a means of rejuvenating ageing facial features. However, the number of patients in their 20s has risen in recent years, said The Sloane Clinic's Dr Tan. "The younger adults do it to reshape their facial contours," he said.
About half of DocfinderKorea's Singapore clients who underwent fat grafting in Korea last year were in their 20s and 30s.
In Dr Loh's practice, younger mothers make up the majority of those seeking fat grafting for the breasts. "After breastfeeding, they want to sculpt some body areas, as well as re-inflate the breasts slightly," he said.
Another group that Dr Leo sees are those who have undergone breast implant surgery previously, who wish to have the implants removed and replaced with their own fat during the same surgery.
He said the growing interest in fat grafting could be partly due to controversies such as the 2010 PIP (Poly Implant Protheses) implant scandal which have shaken patient confidence in the use of breast implants. Implants made by France's PIP were banned in 2010 when they were found to contain industrial-grade silicone, which has more contaminants than the medical-grade gel that should have been used.
However, Dr Leo stressed that breast augmentation using implants is safe in Singapore as doctors only use United States Food and Drug Administration (US FDA)-approved implants here.
While fat grafting is not new, the procedure started gaining popularity only in the last five years or so due to more refined techniques which have improved fat survival, said Dr Leo.
"Initial techniques resulted in poor survival of fat cells and hence poor cosmetic outcome," he said.
RISKS AND LIMITATIONS
Transplanted fat requires oxygen and blood supply to survive, and how many re-injected fat cells survive the transfer depends on the blood supply in the area, said Dr Loh.
This can pose a few limitations. For instance, Dr Loh estimated that about 50 to 60 per cent of the re-injected fat cells will remain after several weeks, which translates to a one cup size increase at best. This makes the procedure unsuitable for women who wish to drastically increase their bust size in one go.
"The most important point that I stress to my patients is that they must primarily want to do liposuction to sculpt the abdomen or thighs in the first place. Otherwise, one cup size breast enhancement would be hard to achieve," he said.
Patients may undergo repeated sessions, but that would involve higher costs and risks. Fat injections to the breasts may cost around S$10,000 to S$15,000 per session while breast implants may cost approximately S$12,000 to S$18,000, said Dr Leo.
Fat grafting is not suitable if the person does not have excess unwanted fat in the first place, and those with very loose skin will still require breast or facelift surgery, said Dr Leo.
Some of the side effects of fat grafting include infection and bleeding. When injected into the face, it can lead to blindness, said Dr Chua.
To increase the size of the breasts, Dr Chua believes that implants remain "the safest and simplest breast enhancement method". A reason he cited is that the procedure is reversible and the implant can be completely removed.
"Fat transfers to the breasts cannot be cleaned out completely, since the cells are deposited all over the base of the breast tissue, unless the entire breast is surgically removed. Uneven survival (of fat cells in either breast) may also lead to unequal increases in cup sizes," said Dr Chua.
According to him, fat cells that do not survive can form scars in the breasts, which can appear within a few months or up to 20 years later. "These scars may mimic the appearance of breast cancers and may lead to unnecessary surgery," said Dr Chua.
But according to Dr Leo, advancements in radiological imaging of breast tissue now allow radiologists to differentiate between calcification from fat injections and breast cancer.
Dr Loh said the risks of fat grafting are similar to other cosmetic treatments, and are usually minimal in trained and experienced hands. Breast implant-complications can range from infection, hard lumps which may be mistaken for cancer to nipple or breast sensation changes, according to the US FDA.
In Singapore, fat grafting can be performed by plastic surgeons and aesthetic physicians, said Dr Chua. While facial fat grafting can be done in approved GP and plastic surgery clinics (as smaller amounts of fat are extracted and re-injected), fat transfers to the breast involve a larger volumes of fat which must be carried out in a day surgery facility or in a hospital, said Dr Loh.