Sharing the gift of water
Mr Soe Tint, a 59-year-old general worker in Ma Kjee Kan village, used to have to walk 10 minutes to collect water from a shallow 12m well.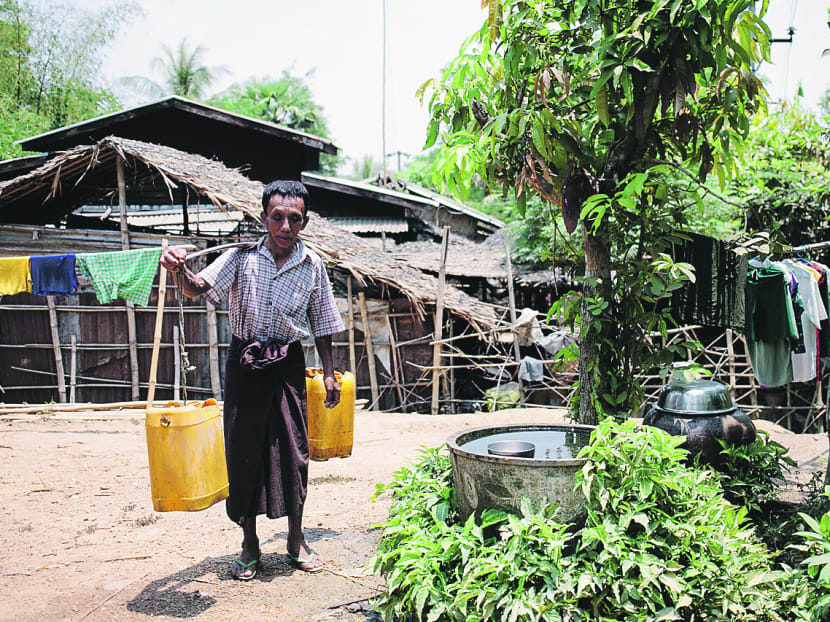 Mr Soe Tint, a 59-year-old general worker in Ma Kjee Kan village, used to have to walk 10 minutes to collect water from a shallow 12m well.
He did this with two recycled plastic bottles attached to a pole — and as these could not hold more than 4 litres of water, he had to make several trips daily for his family's drinking, washing and bathing needs.
Mr Soe Tint is one of nearly 40 million people in Myanmar who live in the countryside, where limited access to water sources, clean water and basic health facilities poses implications for health and livelihoods.
Villagers typically rely on ponds or shallow wells where water collects during the monsoon season. Over the hot dry months from March to May, these water sources get depleted and become heavy with sediment.
"My children fall sick with diarrhoea if they drink the water without boiling it," he says. "It costs about 10,000 kyats (S$13) per trip to the Kaw Hmu Hospital. Buying firewood costs us 100 to 500 kyats."
For Mr Soe Tint's family, which has a combined daily income of 2,000 kyats, the costs add up.
When Cyclone Nargis hit in 2008, villages in the Irrawaddy Delta suffered — water, sanitation, electricity and communication were cut off. According to a 2010 survey by the United Nations Development Programme (UNDP), less than 30 per cent of the population in the delta region had access to safe drinking water.
Mr Soe Tint's situation changed in April this year, when a 122m-deep community tube well was installed in Ma Kjee Kan village with the help of volunteers from Singapore.
Now, the villagers need only turn on a tap for clean drinking water that does not need to be boiled — it comes from deep groundwater reserves which are purer than surface water. The well operates with an electric pump, which the villagers share the cost and maintenance of.
Thirty-six such wells are being installed over three years in the townships of Kaw Hmu and Kungyangon under the Singapore International Foundation's (SIF) Water for Life (Yangon) programme in partnership with local non-government organisation Mingalar Myanmar and sponsored by Keppel Land and the Singapore Red Cross.
In the village of Zee Kone, their own new tube well has enabled provisions seller Ma Maw, 39, to plant and sell betel leaf all year round, instead of for only a few months. It also helps in watering the livestock.
"My income and livelihood have improved," she says. "We are so thankful for the well."
Water for Life (Yangon) will also conduct community education programmes on basic hygiene and nutrition for villagers, and refurbish five rural health centres and two district hospitals. Medical staff will be trained by specialist volunteers recruited via the SIF.
The foundation's Chairman Euleen Goh describes it as "stretching out many hands of friendship ... between the people of Myanmar and Singapore, and between the villagers and volunteers". Five Keppel Land employees gave their time for the April launch of the project and regular volunteering opportunities are now offered to the company's staff and the Keppel Group.
Indeed, Keppel is not the only corporation that has taken to offering employees volunteering opportunities overseas as a way of giving back to the community.
Deutsche Bank Asia — which has sponsored the SIF's Water for Life project in Siem Reap, Cambodia, since 2010 — recently called for applications from staff for a volunteer trip there, as part of the Deutsche Bank Asia Foundation's 10th anniversary. It received 200 applications, of which 22 made the cut.
Over the two-day trip, 20 bio-sand filters were built and installed in villagers' homes, giving more than 200 Cambodian villagers access to clean drinking water — a matter of life and death in a country where infant mortality rates are among the highest in Asia, largely due to water-borne diseases such as diarrhoea, Hepatitis A and typhoid.
Charlene Poon