A Singaporean's Laotian mission
Waking up every three hours to feed a Malayan sun bear cub is not something most Singaporeans will ever experience. But for the past six months, Mr Ong Saylin and his staff at the Animal Concerns Research & Education Society (ACRES) Lao Wildlife Sanctuary have been doing just that.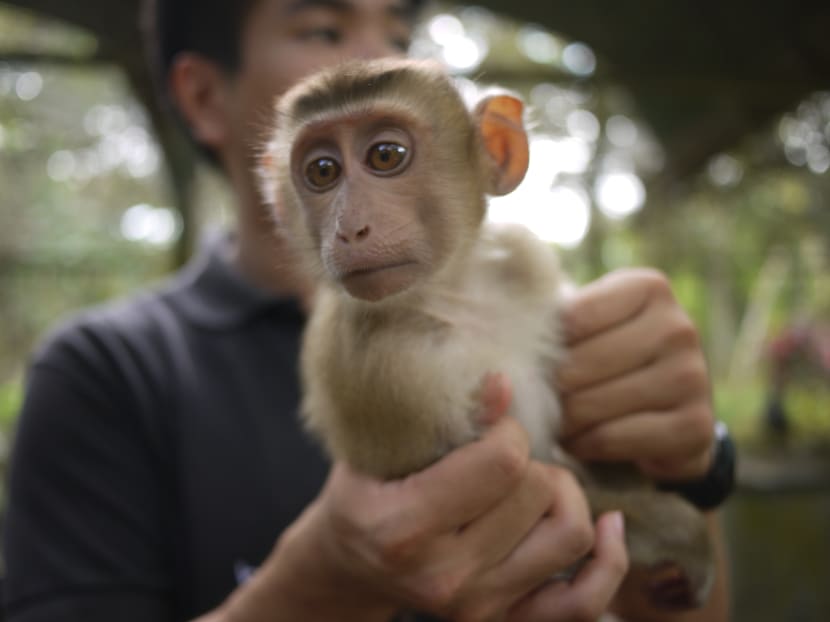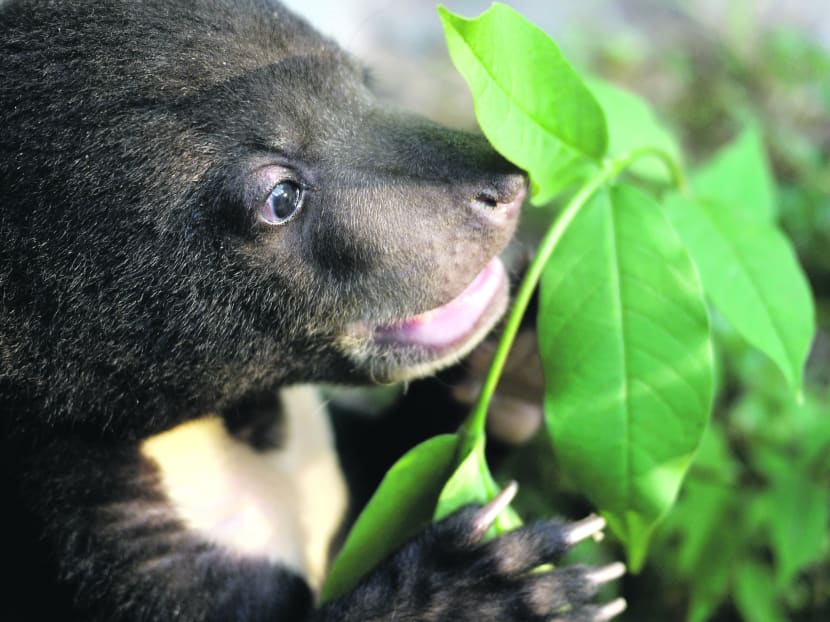 Waking up every three hours to feed a Malayan sun bear cub is not something most Singaporeans will ever experience. But for the past six months, Mr Ong Saylin and his staff at the Animal Concerns Research & Education Society (ACRES) Lao Wildlife Sanctuary have been doing just that.
The two-and-a-half-month-old cub, Neung (which means one in Lao), grew up in a guesthouse in the tourist region of Vang Vieng — known for its raucous bars until the government shut them down in September last year.
Neung was the first bear the sanctuary rescued and Mr Ong, 26, vividly remembers their first encounter.
"She was totally famished — she was very grumpy, very fierce. And I literally carried her into our vehicle to take her to our sanctuary," he says.
Mr Ong got involved in animal welfare work at 21. After graduating from the National University of Singapore (NUS) with a life sciences degree four years later, he landed a job as Executive Director of the sanctuary in Laos set up by ACRES Singapore.
His job: Rescuing bears in Ban Kern village, roughly a two-hour drive from downtown Vientiane, the country's capital.
"I wanted to try something new, something different while I was young," Mr Ong says as we chat in his office inside the sanctuary, which comprises a zoo housing 80 species of animals but sees few visitors.
The bear bile trade
There is more to the ACRES Lao Wildlife Sanctuary than rescuing bear cubs kept as pets. ACRES' main purpose in setting up shop in Laos is to deal with a bigger problem: The emerging bear bile trade which, Mr Ong believes, may be run by the same networks involved in drug and human trafficking.
Bear bile farming, he says, mostly happens in North Korea, Vietnam and China. "But now ... bear bile traders are saying they are coming to Laos to catch bears because they cannot find them in the forests (in the other countries) any more. In Laos, we estimate that there may be 200 to 300 bears. And the traders are starting to move here."
Last year, ACRES partnered the Laos Zoo — the country's only zoo — to turn it into a wildlife sanctuary.
Now, one-and-a-half years after its inception, the sanctuary is working on improving its animal welfare — "grouping the animals and putting them in state-of-the-art enclosures that are more naturalistic", says Mr Ong.
Next year, the sanctuary plans to ink a Memorandum of Understanding with the Laos government, which will enable it to begin rescuing captive bears from the bile farms.
The end game, he says, is to release rehabilitated bears back into the wild.
Plugging the NGO gap
"A lot of NGOs said that ACRES in Laos is a good thing because we can fill a gap in this whole big network of conservation. Many times we read online or see on television that an animal smuggling attempt was intercepted. Everybody is happy, the media comes ... But nobody really knows what happens to these animals," says Mr Ong.
"Does anybody know how to rehabilitate and release them into the wild?"
Here is where the sanctuary comes in. While it has rescued only one bear so far, it has taken in other animals and built new enclosures for over 30 rescued macaques and sheltered snakes, turtles, lizards, an owl and an eagle.
Together with the Wildlife Conservation Society, it is caring for some 30 Siamese crocodile hatchlings — a highly endangered species with fewer than 150 in Laos — and will release them into the wild when they are older.
Apart from his administrative and accounting duties, Mr Ong is also involved in tasks such as preparing medication for crocodiles suffering from a fungal infection, deciding on material for the fence for the bear enclosure and introducing a rescued macaque to the sanctuary's two existing tribes.
The sanctuary takes in many macaques because they are popular as pets in Laos, yet many people are unequipped to care for these sociable monkeys which, in Mr Ong's words, "do not make good pets".
He says owners tend to give them the wrong food and the macaques get frustrated as "it's unnatural for them to be alone, they start getting aggressive, making a lot of noise". "(Most owners) didn't know what to do until ACRES came in ... they realised we're taking in rescued animals so they give (them) up (to us)," he says, sharing that some of these macaques have been abused.
Among the macaques at the sanctuary, one lost an eye after getting hit on the head by its owner, while another walks with a limp after spending most of its life crouched in a small laundry basket. Yet another, which used to be fed a diet of cigarettes and beer, is displaying behavioural problems.
A Singapore boy in Laos
While ACRES has since engaged a tutor to teach Mr Ong the Lao language, settling in a foreign country still has its difficulties. He misses the comforts of home, such as the shops and restaurants at the malls — there are no Starbucks or McDonald's in Laos and the nearest English-language cinema is an hour across the border in Thailand.
"It's simple things like going home to your family, going out with a friend, meeting people ... It's all missing."
"Working in a foreign country that is different from Singapore and speaks a totally different language, you have to understand the culture. It can get very challenging if you don't understand what sets people off and how sensitive people are."
He says his parents were initially "very apprehensive" about his move and some of his friends questioned if "an NGO salary" was enough. "They asked me how I was going to go back to Singapore on such a salary. But I do have friends who are very supportive."
His family and friends have visited him. His 19-year-old sister, who has followed in his footsteps by taking a life sciences course at NUS and regularly volunteering at ACRES Singapore, visited last December. About 10 friends have dropped in as well.
"People are generally interested to know what my work is like!"