Your toddler is in trouble if he's an iPad 'genius'
SINGAPORE — Even before he could walk or talk, two-year-old Jack (not his real name) could navigate touchscreen devices. What began as 30 minutes of daily screen time from the age of six months had crept up to six hours daily by his second birthday.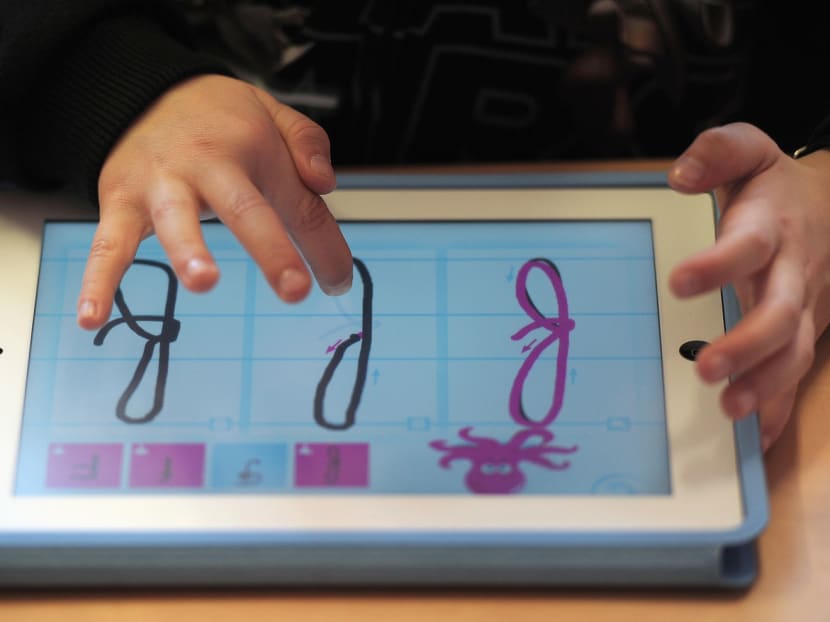 SINGAPORE — Even before he could walk or talk, two-year-old Jack (not his real name) could navigate touchscreen devices. What began as 30 minutes of daily screen time from the age of six months had crept up to six hours daily by his second birthday.
Jack's plugged-in childhood is not unusual. Since the iPad debuted in 2010, the subsequent boom in mobile touchscreen devices has drastically changed childhood play habits.
A new local study found that about 30 per cent of infants under the age of six months are regularly exposed to some form of screen time (such as the television, mobile phone or tablet) the average being 60 minutes per day, said Dr Aishworiya Ramkumar, associate consultant at National University Hospital's (NUH) Child Development Unit. By the age of two, almost nine in 10 children would have had regular screen time.
Of greater concern was poor parental awareness in this area. Only 20 per cent of the parents surveyed were aware of professional guidelines regarding screen time in children, and 60 per cent supervised their children's screen-time use at all times, said Dr Aishworiya.
Research has shown that too much television exposure is harmful to child development, increasing the risk of attention problems and poorer language skills.
Mounting evidence suggests similar effects of excessive mobile screen time, one of the concerns the Media Literacy Council singled out during its recent Better Internet Campaign.
For instance, a study presented last month at the 2017 Paediatric Academic Societies Meeting revealed that the more time young children spent on using handheld devices, the more likely they were to experience speech delays.
Researchers from the University of Toronto, who looked at information from nearly 900 children at their 18-month check-up, also found that for every 30-minute increase in daily screen time, the risk of potential delays in expressive speech increased by almost 50 per cent.
THE TOUCHSCREEN EFFECT
While there are no formal statistics to track the phenomenon here, experts told TODAY they are observing the first wave of negative effects in some children who have had too much screen time.
The most significant development issues observed in this group of pre-schoolers are language and social delays. Jack was a recent patient of Dr Jennifer Kiing, senior consultant at the NUH's Child Development Unit.
"By the time I saw the child, he was getting up to six hours of screen time a day. He had no meaningful words, had poor eye contact, did not respond consistently to his name and had short attention span," said Dr Kiing.
Chief executive officer and principal of schools of Julia Gabriel Education, Ms Fiona Walker, said today's pre-nursery children, who are turning three, appear less comfortable expressing themselves.
"Our teachers have informal chats with the children before they are enrolled to gauge their conversational skills. Over the last two years, we've found that the pre-nursery children across all centres are less chatty than those from the previous cohorts. It is likely that this generation of young children would have been regularly exposed to mobile screen time in their early years," said Ms Walker.
Some experts believe that if left uncontrolled, an indulgent digital diet could impact the overall development and health of babies and toddlers in the long run.
According to Dr Kiing, a newborn's brain triples in size in the first three years of life, and experiences during this time will shape the adult brain.
What a child is exposed to in the early years has a lot of impact on his overall development, said Dr Daniel Fung, chairman of the Medical Board at the Institute of Mental Health.
"You may say that screen time has benefits because it exposes the child to a more interactive world. But the problem with what's on screen is that it provides children, particularly the very young, with only a very narrow view of the world while taking them away from day-to-day interaction with their environment," said Dr Fung.
"The basic rule is that too much screen time affects physical and mental health — and that is something that cannot be compensated, even with physical activity. Just giving the child 10 hours of physical activity does not undo the effects of 10 hours of screen time," he added.
NO SCREEN TIME BEFORE TWO?
Some experts feel there is room for negotiation, given the ubiquity of digital technology.
The American Academy of Paediatrics for instance, recently relaxed its "no screen time before the age of two" stance. According to its newly-revised guidelines, parents of children aged 18 to 24 months may introduce high-quality programming if they choose, and watch it with their children.
However, Dr Kiing maintains her belief that electronic devices should not have a place in the life of a child under the age of two. "What exactly constitutes such 'high quality programming' that can prove to be better than having a parent play and talk with the child? Rather than watch a programme with children under the age of two, parents are far better off playing and engaging with them," she said.
Furthermore, apps and digital programmes marketed as "educational" have not been substantiated by research to prove they benefit children under the age of two, although some programmes like Sesame Street have been shown to benefit older children aged five and above, she said.
"A toddler who knows how to swipe the device and enter a four-digit password is not a genius. The child is in trouble and at risk of speech delay, attention and cognitive deficits if screen time is not kept in check," she cautioned.
Dr Fung said that games and videos are also intentionally designed to be engaging and addictive.
"Letting children binge on screens will provide an addiction that results in them seeking more stimulation," he said. "If the child prefers screen time to interacting with people, that is not a good sign."
Caregivers should be equipped with the necessary skills to interact and engage their child in a meaningful way that enhances the child's development, said Ms Tan Peng Chian, assistant director of AWWA Early Intervention Centre.
Babies and young children thrive and learn best when they are in a meaningful and nurturing relationship with a caregiver and, if parents and caregivers are tied up with chores, the next best alternative is a playpen with safe, age-appropriate toys to occupy the child, said Dr Kiing.
Even in older children where increasing screen-time use is inevitable, parental supervision is still important.
"This also allows parents to vet for inappropriate content such as violence and aggression, (to) which overexposure could result in more aggressive behaviour in vulnerable children," said Dr Fung.

Screen Time Guidelines
Among the AAP revised recommendations for screen time use:
- Babies younger than 18 months - Avoid use of screen media other than video chatting (with family members)
- Toddlers aged 18 to 24 months – Choose high-quality programming. Parents should watch it with their children to help them understand what they are seeing
- Preschoolers aged two to five years – Limit screen use to 1 hour per day, and to high-quality programmes. Parents should co-view with children.
- Children aged six and older – Place consistent limits on time spent using media, the types of media and ensure it does not take the place of adequate sleep, physical activity and other behaviour essential to health.
For more precautionary measures against excessive screen use, visit www.betterinternet.sg
 
Is Your Pre-schooler Addicted To Screen Time?
Watch for the following signs. Your preschool child:
- has a massive meltdown every time you take the device away
- looks for every opportunity to play or watch an electronic device
- becomes angry or aggressive when not having screen time
- pleads and bargains for more time on the device when told to stop
- school grade/ performance deteriorates
- becomes more inattentive than usual
Source: Dr Jennifer Kiing, Child Development Unit, National University Hospital